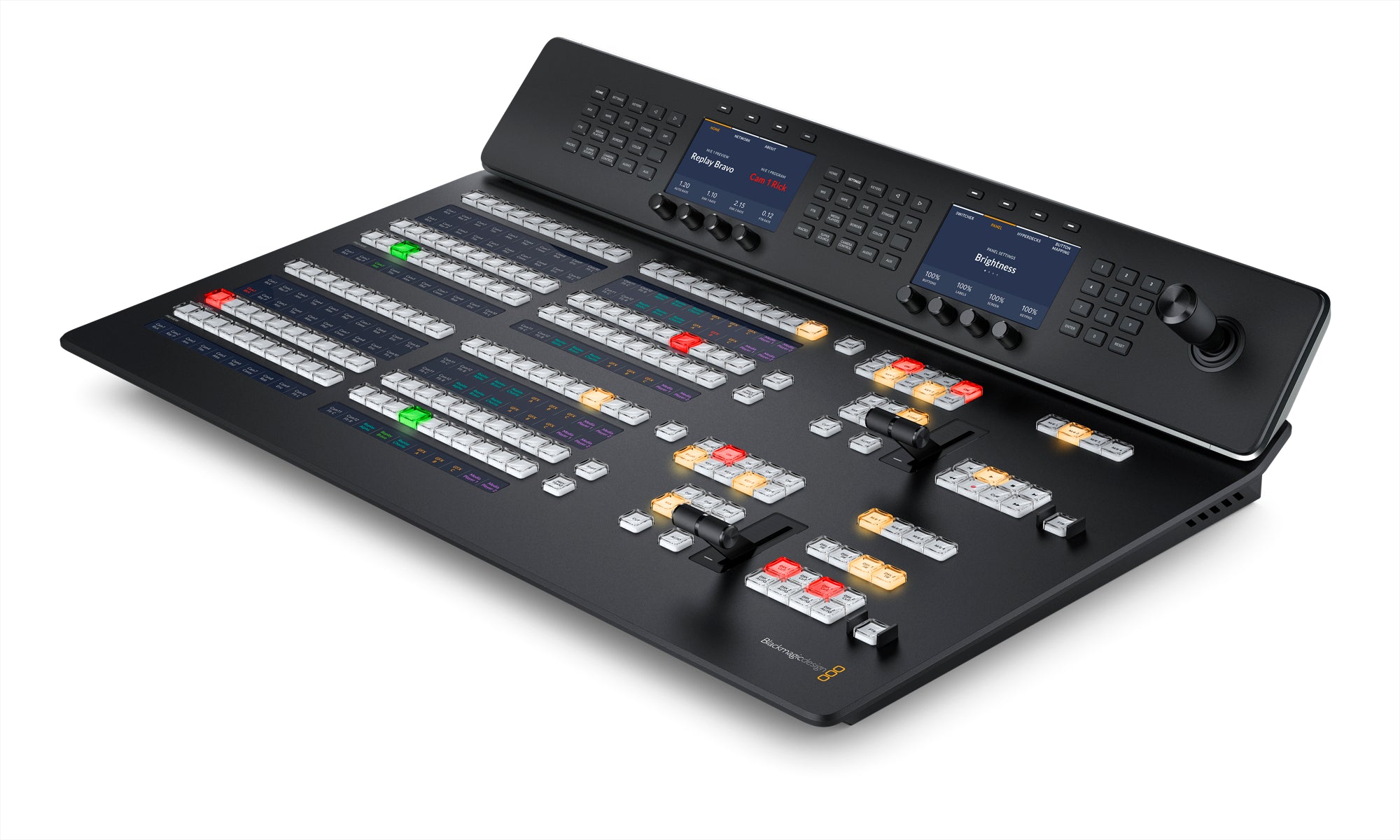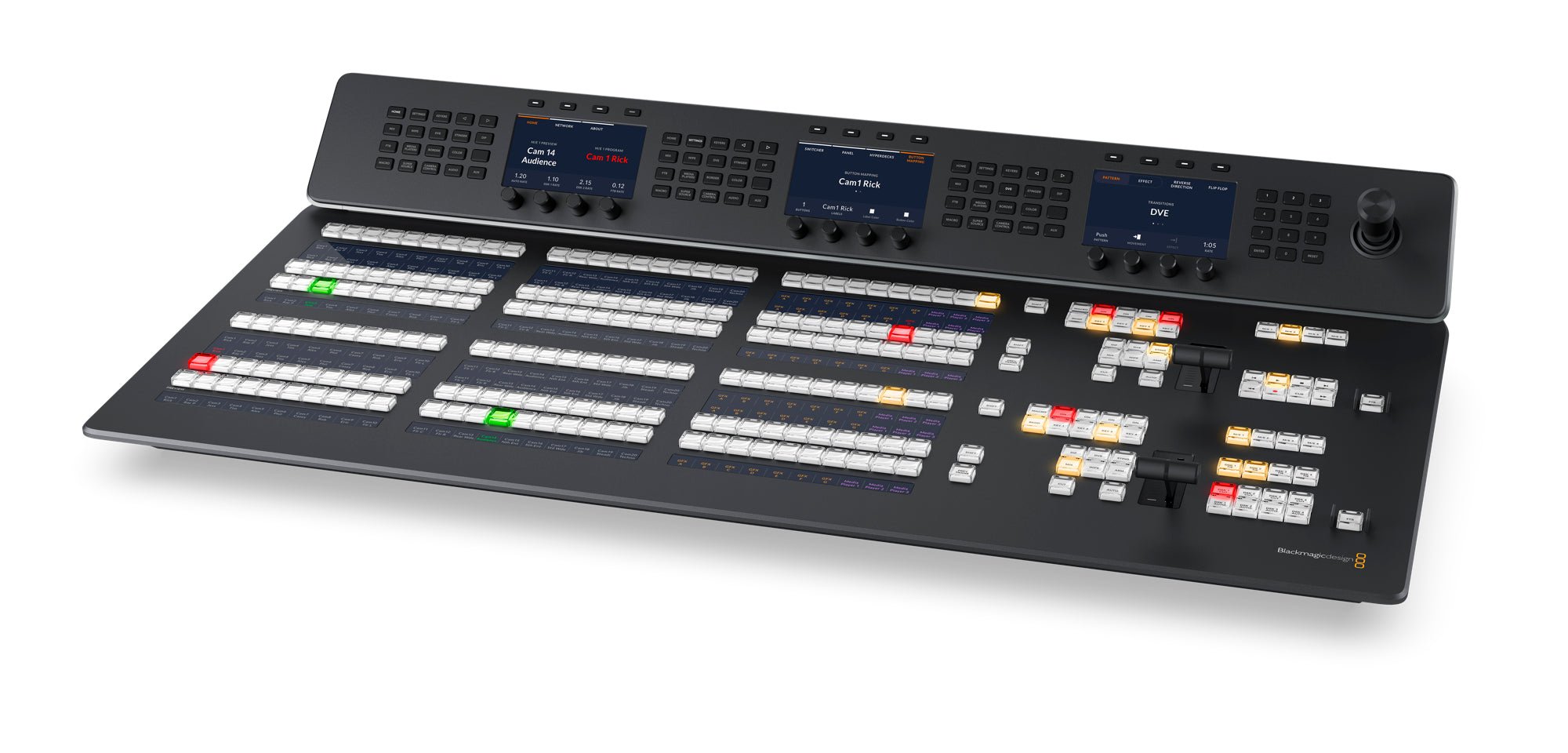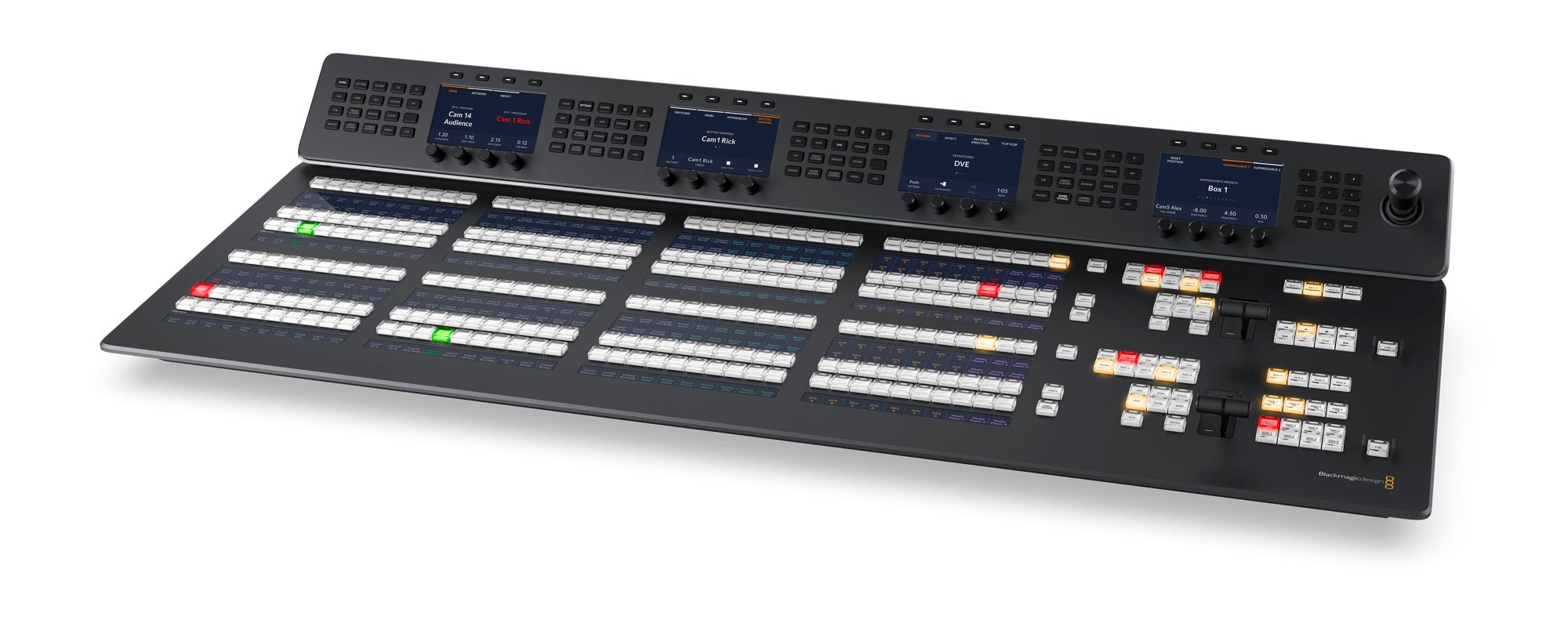 Blackmagic Design ATEM 2 M/E Advanced Panel
Configuration:
2 M/E Rows 20 Input Buttons
Pickup available at 9420 E DoubleTree Ranch Rd #107
Usually ready in 2-4 days
Blackmagic Design ATEM 2 M/E Advanced Panel
2 M/E Rows 20 Input Buttons
9420 E DoubleTree Ranch Rd #107
Pickup available, usually ready in 2-4 days
9420 E DoubleTree Ranch Rd #107
Scottsdale AZ 85258
United States
480.386.6981
FREE Shipping for orders $100 above
Add $25 for 2-day expedited shipping
Ask about our Refer a Friend Program!

Got A Question? - Ask Our Team
ATEM 2 M/EAdvanced Panel
The Blackmagic Design ATEM 2 M/E Advanced Panel features 2 M/E rows with 20 input buttons and 2 independent system control LCDs for each row. Plus each row can control up to 4 M/Es in larger switchers. Both rows and all input buttons include LCDs for custom labeling. Each row also includes an independent select bus!
Accelerate live production!
Production is easier and fun with an ATEM control panel!
Select Sources
Switch cameras to air instantly!
Blackmagic Design ATEM 2 M/E Advanced Panel Constellation has been designed to give you the most advanced live switching workflow. Internally, ATEM Constellation has separate program and preview buses that you can use to quickly and accurately switch sources. ATEM Constellation lets you see your preview bus selection by using an aux output or on the multi view. Then all you need to do is make selections on the preview bus of the advanced panel, which will appear on your preview screen, allowing you to see your source before it goes on air. Then you can bring the source online by pressing cut or auto! You can also switch sources on the program bus if you need them to go live immediately!
Transition Control
Select and customize transitions
Get total control over your transitions with a dedicated hardware button for each transition type! When selecting transition types, a system control LCD screen will display the options for that transition, so you can change its parameters without navigating through complex menus. It's all instantly available! That gives you multiple ways to switch. Simply select a new source on the preview bus, then press CUT for a cut transition, or AUTO to use the selected transitions such as mix, dip, wipe or DVE! You can even cut directly on the program bus. With ATEM Advanced Panels you get all the controls you need to access all transition types fast.
Transition Styles
Mix, dip, wipe, DVE and more!
ATEM switchers give you a huge range of transition styles! Mix transition will smoothly blend between sources just like an NLE cross dissolve. Standard SMPTE wipes are included, and wipes can have edge softening for smooth dreamy transitions that are more exciting than simple cross dissolves. Dip transitions create a dip to color effect, however because you can dip to any video source, you could create really innovative effects! DVE transitions use the DVE to create crazy moves where the whole foreground image moves! Plus you can combine the DVE and a still image from the media pool to create graphic wipes! The t-bar fader even lets you manually position the transition for total control!
Wipe Transitions
Transform wipesinto exciting effects!
Power up your wipe transitions by accessing parameters to transform them into exciting effects. While you can select the wipe pattern directly on the LCD, you can also add lots of customization to suit your production style. You can adjust parameters such as symmetry and softness, but there are also adjustments for colored borders with variable width and softness, as well as the position of the centre of the wipe. You can even use the dedicated joystick to set precise wipe pattern positioning!
DVE Transitions
Amazing digital video effects
Nuzira's ATEM Advanced Panels are perfect for positioning the DVE for custom picture in picture effects because they include a joystick. The joystick allows the position to be set precisely and rotating the knob will change DVE size. You can also use the soft knobs and menus on the LCD to adjust the DVE position, size and other DVE features such as lighting and drop shadow effects. The DVE can be setup to fly graphics into frame or select any of the pre programed push and squeeze transitions.
Keyer Control
Get perfect green screen keying
The system control knobs are ideal when doing chroma keying because you can finely adjust each parameter for clean key edges and seamless multi layer compositing effects. Unlike software control where you need to look at the user interface, the ATEM Advanced Panels have control knobs that you can hold while adjusting key parameters and looking at the video output live to ensure the key is seamless. Only fine adjustment of key settings live while watching the video, ensures your key is perfect.
Fader Bar
Manually blend transitions
Amazing live performances often require transitions that need to be controlled manually. The ergonomically designed t-bar control lets you ride transitions perfectly as part of the live performance! Sometimes the emotion of a live event means you need to feel a transition to get it perfectly in sync with the camera operators and talent. Like a conductor, your ATEM Constellation is part of the performance and drives the mood as the production unfolds.
Auto Transition
Perfect and predictable transitions!
Just below the Blackmagic Design ATEM 2 M/E Advanced panel fader bar is the auto transition button. Selecting auto will instantly perform the transition type you have set. This ensures you can accurately select your source and transition type before triggering the action, so you always know what is going to happen and there's much less chance of mistakes going to air. Auto transitions can be programed for durations from 1 to 250 frames and the benefit is each transition is consistent through your program.
System Control
Change switcher settings from the menus!
You get full control right from the panel using the system control LCDs. Each system control LCD has a direct access keypad with a button for each function, and LCD and soft knobs and buttons. Simply push a keypad button to see the parameters displayed in the large LCD so you can use the soft buttons and knobs to change each setting. It's incredibly easy and very fast! There are hundreds of switcher parameters available for keyers, transition selection, DVE, color generators as well as switcher video standard, multiview setup and even input button remapping! You can even save and recall 10 individual panel set ups and store them in the panel! Plus the Blackmagic Design ATEM 2 M/E Advanced Panel model as 2 totally independent system control menus, while the 4 M/E model has a massive 4 independent system control LCDs!

Panel for BMD ATEM Switchers
High-Quality Buttons / Knobs / Controls
2 x M/E Rows with 20 x Buttons per Row
2 System Control LCDs, Control 4 M/Es
4 x Gigabit Ethernet Loop Output
Custom Labeling, Redundant Power Supply
8 x On-Air Indicators, 20 x Cross Points
3-Axis Joystick, Keypad, 2 x Faders
USB Type-C Input for Firmware Updates
Ethernet Connector
4 x RJ45, 10/100/1000 BaseT
Other I/O
1 x USB Type-C, Firmware
Buttons
40 x Input Buttons (20 per Row)
Mix Controller
20 x Direct Cross Points
40 x Shifted Cross Points
2 x M/E Rows
2 x BKG Next Transition Selectors, Key 1 to Key 4
8 x On-Air Indicators
2 x DSK Transition Selectors: Auto, Cut, Tie/Preview
2 x Preview Transitions
LCD Display
2 x System LCDs per Row
20 x LCDs (1 x per Button)
Controls
1 x 3-Axis Joystick
1 x Numeric Keypad
2 x Fader Bars
8 x Transport Control Buttons
Redundant Power
Yes
Input Voltage
100 to 240 VAC
Power Consumption
150 W
Dimensions
28.54 x 19 x 6.53" / 111 x 72.5 x 16.6 cm
Weight
24.25 lb / 11 kg
Packaging Info
| | |
| --- | --- |
| Package Weight | 37.25 lb |
| Box Dimensions (LxWxH) | 33.88 x 24.13 x 10.38" |