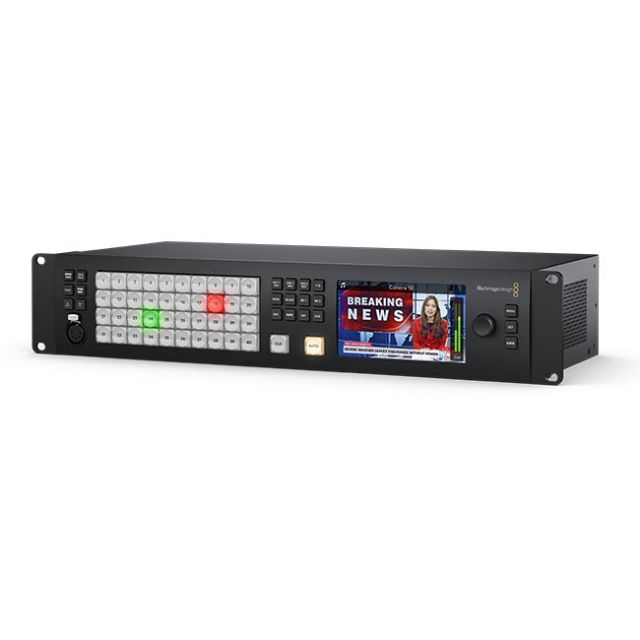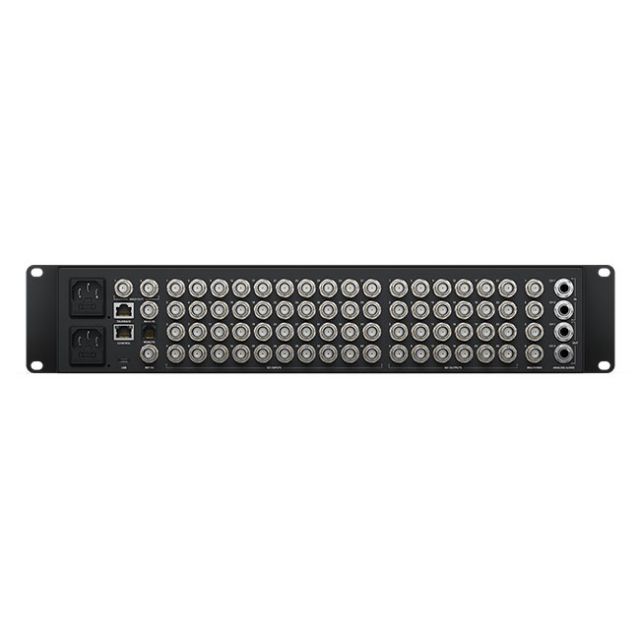 Blackmagic Design ATEM 4 M E Constellation HD
Pickup available at 9420 E DoubleTree Ranch Rd #107
Usually ready in 2-4 days
Blackmagic Design ATEM 4 M E Constellation HD
9420 E DoubleTree Ranch Rd #107
Pickup available, usually ready in 2-4 days
9420 E DoubleTree Ranch Rd #107
Scottsdale AZ 85258
United States
480.386.6981
FREE Shipping for orders $100 above
Add $25 for 2-day expedited shipping
Ask about our Refer a Friend Program!

Got A Question? - Ask Our Team
Product Description: Blackmagic Design ATEM 4 M/E Constellation HD
Unleash Your Creative Vision
Elevate Your Production Quality
With the Blackmagic Design ATEM 4 M/E Constellation HD, the possibilities for creating captivating content are endless. This advanced live production switcher empowers you to unleash your creative vision like never before. Whether you're a professional in the broadcasting industry or an aspiring content creator, this cutting-edge device enables you to produce high-quality live events, shows, conferences, and more with ease.
Seamless Multicamera Control
Experience ultimate control over your multicamera setup with the ATEM 4 M/E Constellation HD. Effortlessly switch between different camera angles, capture every important moment, and deliver a dynamic viewing experience. Whether you're directing a live concert, a sports event, or a corporate presentation, this switcher's advanced features and intuitive interface make it a powerful tool in your hands.
Unparalleled Performance and Flexibility
The ATEM 4 M/E Constellation HD sets a new standard in live production. It offers 40 12G-SDI inputs, allowing you to connect a wide range of cameras, computers, and other sources. Its 16 chroma keyers enable seamless green screen integration, while the built-in SuperSource technology lets you create captivating picture-in-picture effects. With up to 4 M/Es, 16 ATEM Advanced Chroma Keyers, and 96 simultaneous inputs, this switcher provides unmatched performance and flexibility for your productions.
Elevate Your Live Productions
Unleash Stunning Visuals
Impress your audience with stunning visuals and captivating effects. The ATEM 4 M/E Constellation HD supports Ultra HD and HD video formats, ensuring crystal-clear imagery that keeps viewers engaged. With its powerful processing capabilities and real-time effects, you can effortlessly enhance your productions with transitions, keying, graphic overlays, and more. Take your live events to the next level and leave a lasting impression on your audience.
Streamline Your Workflow
Save time and simplify your workflow with the ATEM 4 M/E Constellation HD. Its integrated control panel, coupled with the included software, provides a seamless and intuitive production experience. From setting up your sources to managing transitions and effects, this switcher offers a user-friendly interface that allows you to focus on your creative vision without getting lost in technical complexities. Maximize efficiency and produce professional-grade content effortlessly.
Expandability and Future-Proof Design
Investing in the ATEM 4 M/E Constellation HD means investing in the future of your live productions. This switcher is designed with expandability in mind, allowing you to grow your setup as your needs evolve. Whether you're starting small or planning for large-scale productions, the ATEM 4 M/E Constellation HD can adapt to your requirements. Its modular design and compatibility with a wide range of Blackmagic Design products ensure that you're equipped to handle any production challenge that comes your way.
Unleash Your Creativity Today
Exceptional Live Streaming Capabilities
In today's digital age, live streaming has become a crucial aspect of content creation. The ATEM 4 M/E Constellation HD offers exceptional live streaming capabilities, enabling you to reach a broader audience and expand your online presence. With its built-in streaming engine, you can effortlessly stream your productions to popular platforms such as YouTube Live, Facebook Live, and Twitch. Engage with your viewers in real-time and share your creative vision with the world.
Professional-Grade Features Made Accessible
While the ATEM 4 M/E Constellation HD boasts professional-grade features, it remains accessible to users of all skill levels. Whether you're a seasoned professional or a beginner, this switcher provides a seamless learning curve, allowing you to dive into advanced production techniques at your own pace. Unlock the power of professional live production and achieve outstanding results with ease.
Unleash Your Potential
The Blackmagic Design ATEM 4 M/E Constellation HD is the ultimate tool to unleash your creative potential. Take your live productions to new heights with its unrivaled capabilities, exceptional performance, and intuitive workflow. Whether you're creating content for broadcast, live events, or online streaming, this switcher empowers you to captivate your audience and deliver memorable experiences.
Blackmagic Design ATEM 4 M E Constellation HD Highlights
Elevate your live productions with the ATEM 4 M/E Constellation HD
Seamlessly control multiple cameras with advanced multicamera capabilities
Experience stunning visuals with support for Ultra HD and HD video formats
Effortlessly enhance your productions with real-time effects and transitions
Streamline your workflow with the intuitive interface and integrated control panel
Expand your setup as your needs evolve with the modular design
Engage a broader audience through exceptional live streaming capabilities
Unlock professional-grade features made accessible for users of all levels
Unleash your creative potential and deliver memorable experiences
Invest in the future of your live productions with future-proof design