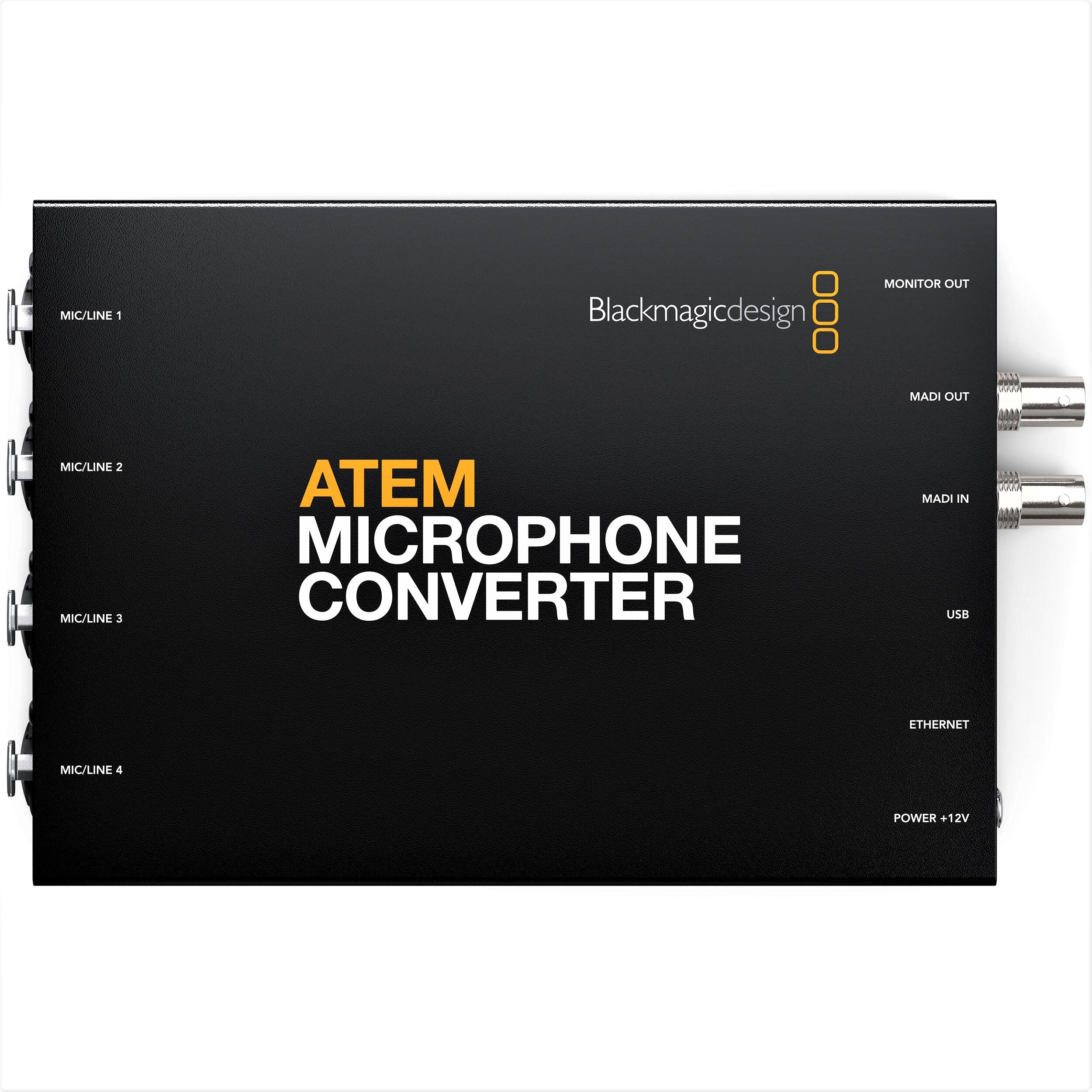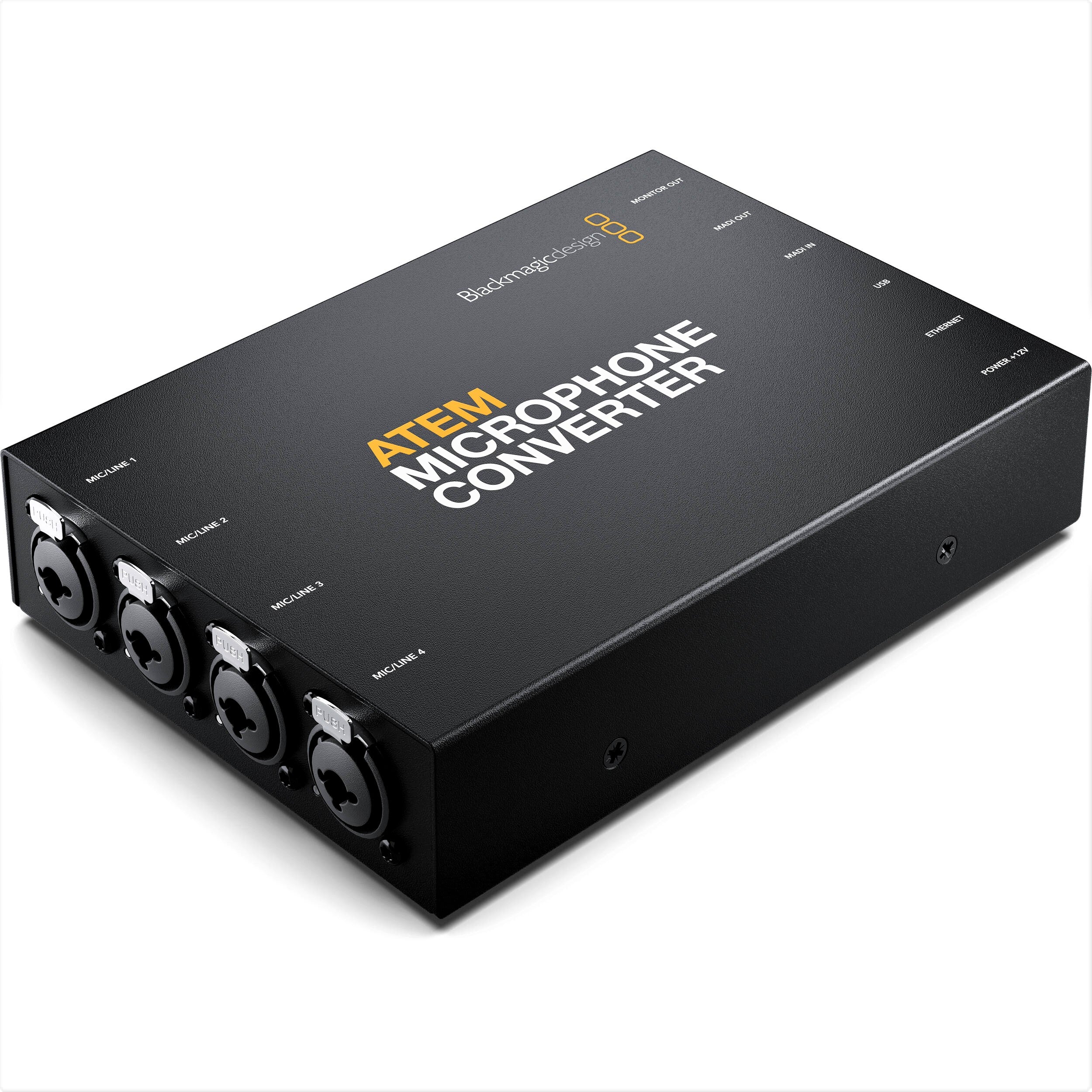 Blackmagic Design ATEM Microphone Converter
Pickup available at 9420 E DoubleTree Ranch Rd #107
Usually ready in 2-4 days
Blackmagic Design ATEM Microphone Converter
9420 E DoubleTree Ranch Rd #107
Pickup available, usually ready in 2-4 days
9420 E DoubleTree Ranch Rd #107
Scottsdale AZ 85258
United States
480.386.6981
FREE Shipping for orders $100 above
Add $25 for 2-day expedited shipping
Ask about our Refer a Friend Program!

Got A Question? - Ask Our Team
Add extra microphones to your ATEM switcher with the Blackmagic Design ATEM Microphone Converter which allows audio-input expansion for your ATEM Television Studio by converting four analog XLR inputs to MADI. Equipped with two BNC MADI I/O ports, this microphone converter simply plugs into the ATEM Television Studio MADI port so there is no complex setup required and additional units can even be daisy chained for more sources. Each converter has 4 analog inputs that are mic/line selectable and have 48V phantom power. The design features amazing audio quality with an extremely low noise floor, a wide dynamic range, and very low distortion. It even uses 8 separate ADCs on each separate input that work together to extend the dynamic range! There is also an HDMI monitoring output with scrolling audio waveforms.
More details:
High-End Converter Style Design - The ATEM Microphone Converter features a familiar converter-based design that has space for the analog electronics required for high-quality analog to digital-audio conversion (ADC). It features combined XLR/TRS input sockets allowing both XLR or jack cables to be connected. It also includes a MADI output with the converted audio, as well as a MADI input which allows multiple ATEM Microphone Converters to be daisy-chained so more than 4 channels of audio can be embedded into a single MADI connection. There is also a 12V DC power connection plus USB and Ethernet for allowing remote admin and software updates.
Connects via MADI for Multi-Channel Audio - MADI, or Multichannel Audio Digital Interface, is a multi-channel audio link standardized as AES10 by the Audio Engineering Society (AES) and it defines the data format for an interface for multiple channels of digital audio. The ATEM Microphone Converter's MADI output embeds the 4 analog inputs as MADI channels 1, 2, 3, and 4. ATEM Microphone Converter also includes a MADI input, which is used to loop multiple converters when you need more than 4 channels of audio on a single MADI link. This means if a second converter is connected to the input of another, the upstream converter will stack its 4 channels above the 4 channels on the downstream converter.
Innovative Analog to Digital Conversion - Each analog input channel has an ultra-low noise, fixed gain preamplifier scaled to drive a high dynamic range audio ADC, which totally eliminates using an analog microphone preamplifier in the design so the input does not suffer from preamp gain step clicks or "zipper noise". The ATEM Microphone Converter steps outside the conventional audio industry design practice of using an individual audio ADC, as each input implements analog to digital conversion using 8 high dynamic range audio ADCs that function collectively as one ultra-high dynamic range audio ADC. This means each input channel's dynamic range is an incredible 131dB(A). Plus you get an incredibly low distortion of only 0.002%.
Extremely Low -129dBV Noise Floor - A common problem with mic converters is the higher noise floor where electrical noise is generated in the preamplifiers. The ATEM Microphone Converter eliminates this problem by using a very different design where the input is converted directly using its ultra-high dynamic range conversion so you pass RAW audio to the switcher where the switcher can then apply as much gain as required for the correct audio level. This means you don't get an injection of noise caused by an analog gain stage, so you get an extremely low fixed noise floor of -129dBV regardless of the digital gain applied. You can then apply digital gain control, which is done in minute ±0.1dB gain steps that are totally inaudible!
Digital Preamplifier Design for Stability - With the wide dynamic range input that eliminates the need for an analog preamplifier, microphone levels are adjusted by a digital preamplifier gain stage that is extremely stable. Different microphone types and brands can vary widely in analog audio levels, so this digital gain stage allows compensation for the specific brand of microphone you use. Best of all, the digital preamplifier is processed in the full internal 32-bit RAW audio bit depth, so you're adjusting with much greater precision than the MADI audio standard can support. This results in an extremely clean and noise-free gain stage.
32-Bit Float Digital Preamps
4 XLR-1/4" Combo Mic/Line Inputs, +48V
64-Channel MADI Digital Audio I/O Ports
8 ADCs/Channel, 24-Bit / 48 kHz Audio
Audio Inputs for ATEM Television Studio
Connects to Switcher via MADI
Easy-to-Use, No Setup Required
HDMI Monitor Out
USB-C and Ethernet Ports
Works with ATEM Software Control App
Blackmagic Design ATEM Microphone Converter

12 VDC Power Supply

Limited Warranty
Whats in the Box?
Blackmagic Design ATEM Microphone Converter

12 VDC Power Supply

Limited Warranty