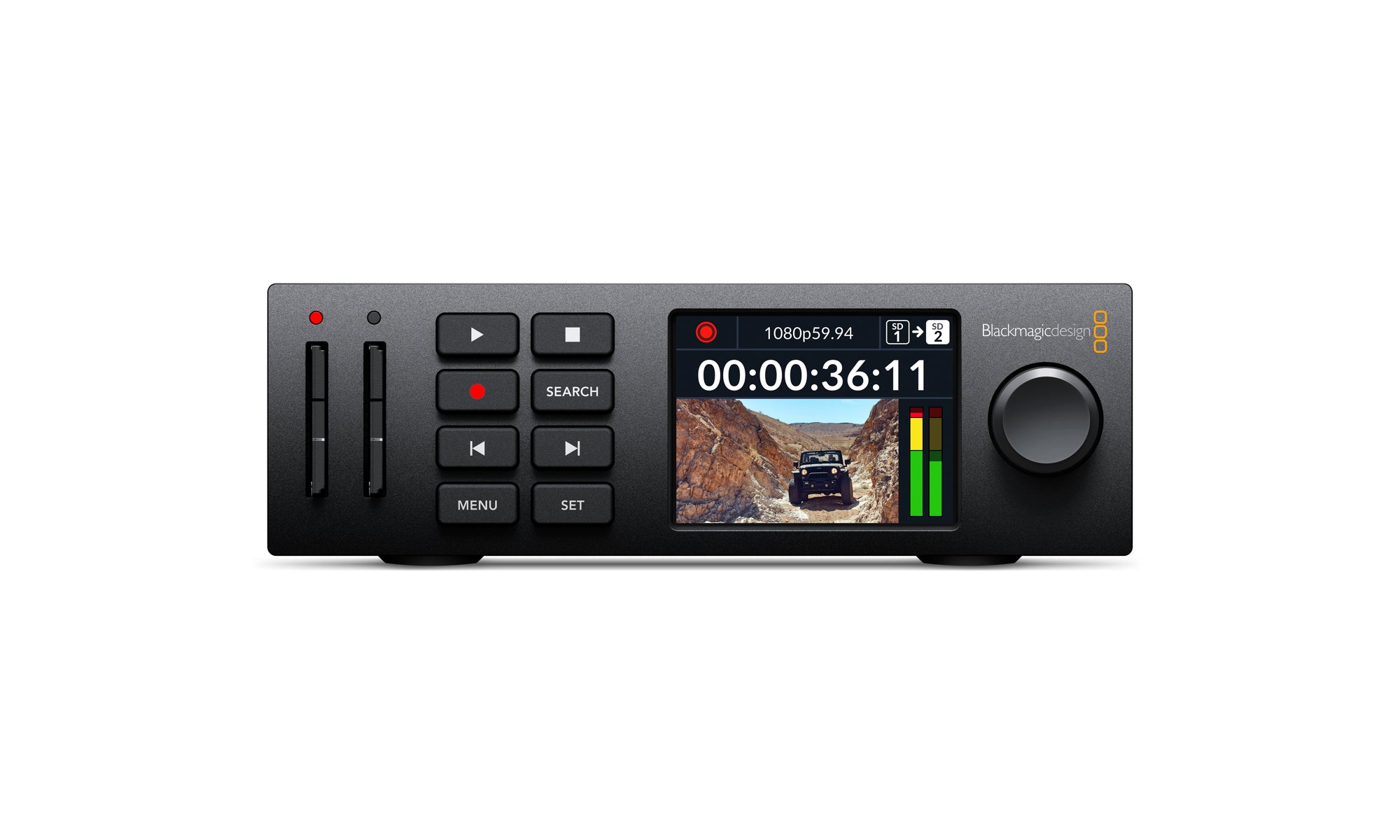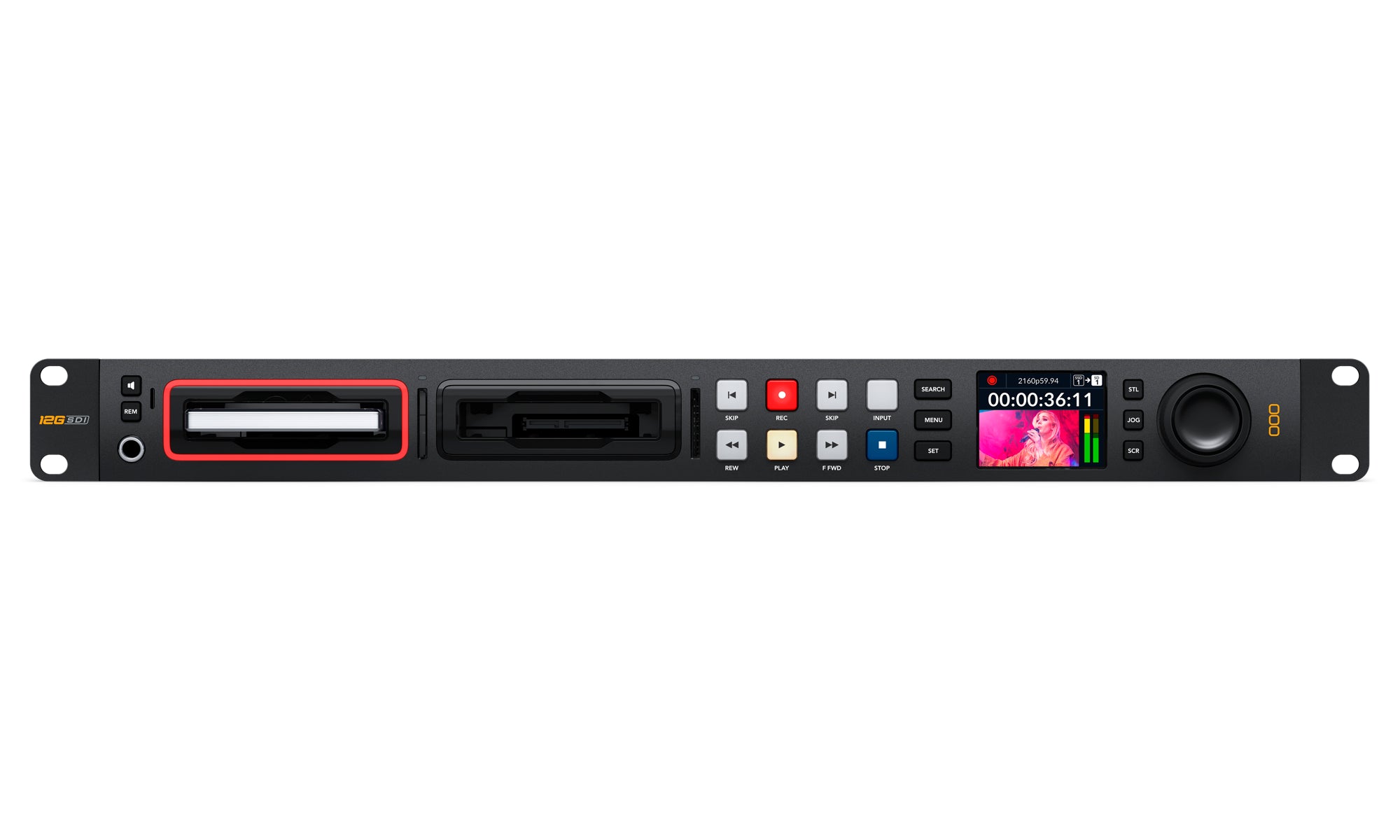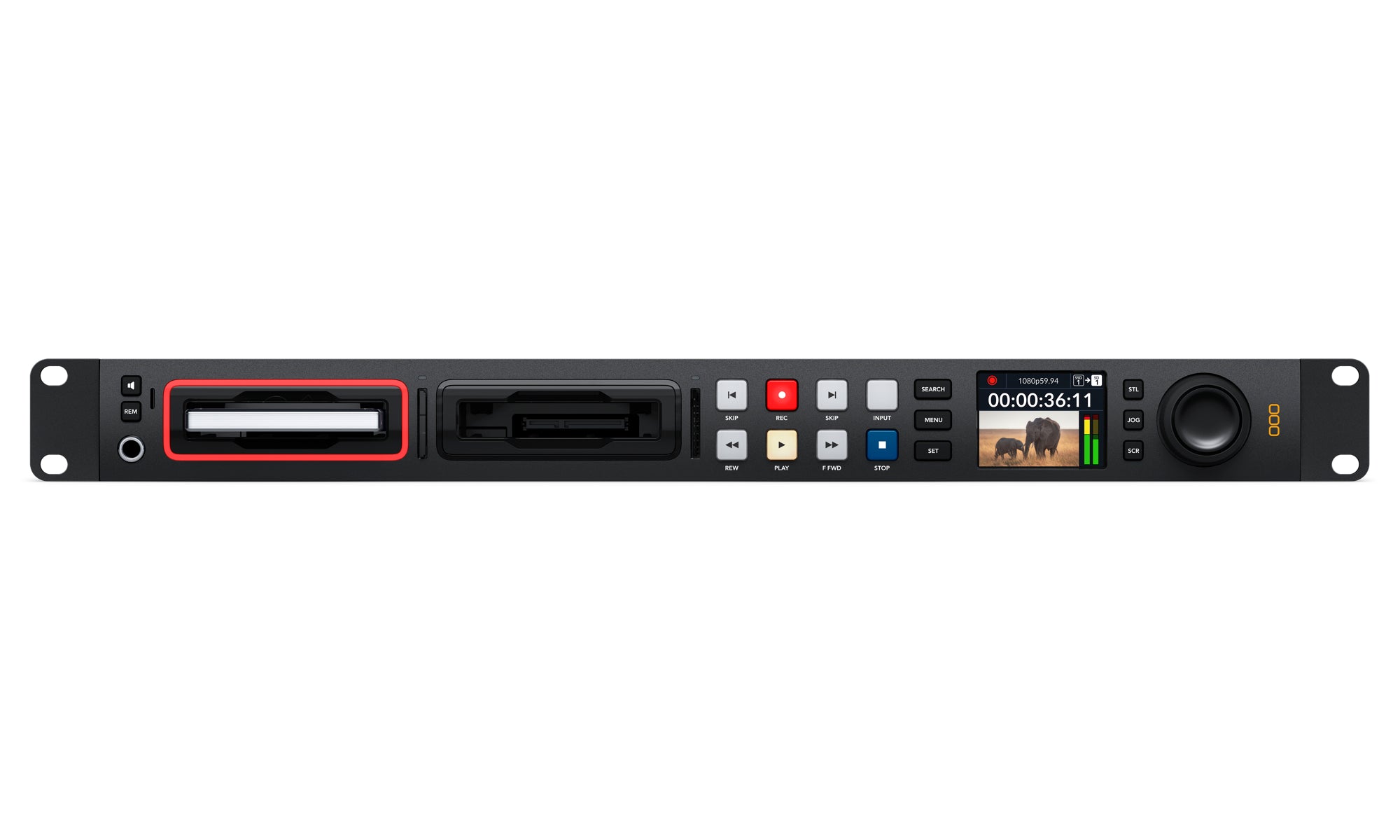 Blackmagic Design HyperDeck Studio
Pickup available at 9420 E DoubleTree Ranch Rd #107
Usually ready in 2-4 days
Blackmagic Design HyperDeck Studio
Studio 4K Pro
9420 E DoubleTree Ranch Rd #107
Pickup available, usually ready in 2-4 days
9420 E DoubleTree Ranch Rd #107
Scottsdale AZ 85258
United States
480.386.6981
FREE Shipping for orders $100 above
Add $25 for 2-day expedited shipping
Ask about our Refer a Friend Program!

Got A Question? - Ask Our Team
Professional broadcast
 

decks that

 

record and playback using SD cards and SSD media!

HyperDeck Studio lets you record broadcast quality video files directly onto SD cards and SSD media! The new redesigned HyperDeck Studios feature modern design with more codecs and quieter cooling. All models now support recording to H.264, Apple ProRes or DNxHD files with either PCM or AAC audio. Plus the 4K model adds support for H.265 files! When you've finished recording, media can be mounted on any computer to access the files using your favorite video software. For ISO recording, there's even built in timecode and reference generators for syncing multiple units! All of these powerful features make HyperDeck Studio perfect for broadcast, live production or multi screen digital signage!
4 Great HyperDeck Models!
There are 4 different models of HyperDeck Studio, perfect for all types of work! The 3G-SDI based HD Mini model records and plays H.264, ProRes or DNxHD files onto SD cards, UHS-II cards or external USB disks in SD and HD formats up to 1080p60. The larger HD Plus model adds better transport controls, front panel headphone and speaker, 6G-SDI with fill and key out, SDI monitoring and records H.264 up to 1080p60 or ProRes and DNxHD up to 2160p30. The full rack HD Pro model is the same as the HD Plus model but adds 2 SSD slots and a machined metal search dial with clutch. The incredibly powerful 4K Pro model records H.264, H.265, ProRes or DNx in SD, HD and Ultra HD in standards up to 2160p60!
HyperDeck
 

Studio HD Mini

The most compact model of HyperDeck Studio is based on the Teranex Mini form factor. This modular design means that you can use a Teranex Mini Rack Shelf to rack mount 3 HyperDeck Studio HD Minis in a single rack unit, or you can combine them with other products such as switchers, converters or streaming processors. It might be small, but you still get powerful features, such as 3G-SDI in and out, HDMI output, dual SD card media slots, built in sync and timecode generators, front panel controls and both AC and DC power inputs. You can even connect the USB to a computer as HyperDeck Studio HD Mini works like a webcam so you can use any video software!
HyperDeck
 

Studio HD Plus

HyperDeck Studio HD Plus includes all the features of the Mini model, but is larger so it has more space for extra controls and extra connections. This model adds 6G-SDI so it can record and playback ProRes up to Ultra HD 30fps, and it includes an SDI loop out and HDR support. Plus the two 6G-SDI outputs allow fill and key playback up to 1080p60. There is also an HDMI input and a dedicated 3G-SDI monitoring output with overlays. Any button pushed on the front panel is sent to a dedicated RS-422 remote output and the DC power is now a broadcast style XLR connector. The front panel is also upgraded with better transport control buttons, a headphone socket and built in speaker.
HyperDeck
 

Studio HD Pro

The HyperDeck Studio HD Pro includes all the features of the Plus model but at a full rack width size, there's space for more features! The larger model has space for two SSD slots but still includes the two SD card slots of the smaller models. This means you can instantly move media cards between different models of HyperDeck Studio. You get the nice transport control buttons as well as a machined metal search dial with electronic clutch for limiting rotation when in shuttle mode. There are also dedicated buttons for jog, shuttle and scroll search dial modes. The rear panel has extra space so the timecode connections have been upgraded to XLR connectors.

HyperDeck
 

Studio 4K Pro

For extreme power, the HyperDeck Studio 4K Pro has all the features of the HD models, combined with incredible processing for working in Ultra HD. This model's SDI has been upgraded to full 12G-SDI with a loop 12G-SDI output. The two SDI outputs are both 12G-SDI so you can play ProRes 4444 files for true Ultra HD fill and key out. The HDMI connections and the ProRes and DNx file formats all switch between SD, HD and Ultra HD television standards. Like the other models, H.264 is included for SD and HD, but then switches to H.265 when recording in Ultra HD. Even the networking has been upgraded to 10G Ethernet for incredible speed! You also get 2 redundant AC power supplies!
Elegantly DesignedProfessional Broadcast Deck

The new HyperDeck Studio recorders have been totally redesigned with dozens of new features! The advanced models have new broadcast style front panel controls and more connections on the rear panel. The LCD screen supports both light and dark modes, plus the transport control buttons are stronger with a firm professional feel. The Pro models feature a machined metal search dial with increased mass and a soft rubber surface that feels nice to the touch. Plus the search dial features an active clutch, just like a traditional broadcast deck! With dual media slots, you can change cards without interrupting recording! The advanced models even include a front headphone connection and speaker!
Mastering Recorder
All models record to H.264, ProRes and DNx files, so are perfect for recording broadcast masters! You can even use PCM or AAC audio, plus the 4K model adds H.265 when recording to Ultra HD files. You get everything you need to send shows to broadcasters and for uploading to YouTub.
ISO Recording
All models feature timecode and reference generators, with outputs to loop to other HyperDecks. This means you can build a rack of HyperDeck Studios for ISO camera recording, allowing multi-cam editing after live events! You can even sync cameras to the SDI output and the SDI input has a frame sync!
Digital Signage
HyperDeck Studio is perfect for digital signage as all models have HDMI output for connecting to large screen TVs and projectors. The built in sync generator lets you combine multiple HyperDecks for large multiscreen video walls. There's even FTP for file upload and a protocol for remote control!
Broadcast Archive
HyperDeck Studio supports all SD and HD standards so it's ideal for archiving old television shows from broadcast decks such as Digital Betacam, Betacam SP, 1", U-matic and VHS. You can even record direct to H.264 to maximize storage. For analog decks, just add a Mini Converter Analog to SDI!
Traditional
 

Broadcast Deck Controls
HyperDeck Studio includes a traditional broadcast style control panel that's very fast to use. Simply press the record button and you instantly start recording the video input to a file! You can also change the record file format from the menu. There are transport control buttons for playback, rewind, fast forward, previous clip, next clip and more. The Pro models have a machined metal search dial that supports shuttle, jog and scroll so you can find clips fast. Any button pressed on the front panel is sent to the rear RS-422 remote output for looping control to multiple HyperDecks. The Plus and Pro models also include a front panel speaker and headphone socket for live audio monitoring.
 Supports SD Cards,UHS‑II Cards or SSDs
All HyperDeck Studio models support recording to common SD cards and UHS-II cards so you don't need expensive custom media. However the Pro models also add two SSD slots so you can use two different types of media! SD cards and SSDs are the perfect choice for broadcast media because they are small and very affordable. When using H.264, the files are so incredibly small you get very long recordings even on smaller low cost cards. Plus, you can even record to external USB disks! With H.265, you can record up to 58 hours in 2160p60 Ultra HD or up to 157 hours of H.264 recording in 1080p59.94 on a 1 TB card. That's over 6 days of recording in HD using a single 1 TB card!
Dual Media SlotsFor Non‑Stop Recording!

All HyperDeck Studio models feature dual media slots for non stop recording. When the recording card becomes full, recording automatically continues onto the next card. That's perfect when recording long live events because you can "hot swap" a full card for an empty card while recording continues in the other slot! Each slot has a status indicator to show which card is being used, either red for record or green for playback. Plus all models now feature very long file recordings to a single file for easy file distribution. HyperDeck Studio is easily repairable with each card slot using an individual PCB assembly that can be replaced if it ever becomes worn out from heavy use.
 Designed for Both
 

Portable or Rack Mount Use!

When you need a portable broadcast solution, the HyperDeck Studio HD Mini model includes most features miniaturized into an elegant 5 inch wide compact design that's only one third of a rack unit wide. That means you can fit 3 recorders in a single rack unit! Just use the optional Teranex Mini Rack Shelf and you can mount the 3 units side by side, then bolt it into a standard equipment rack. Or you can combine HyperDeck Studio Mini with other modules, such as a Teranex Mini Analog to SDI 12G to convert the input from analog to SDI, all in the same rack which is perfect for archive work. HyperDeck Studio HD Mini looks great when it's not rack mounted and simply used by itself on a desktop! 
Perfect for LiveProduction,
 

Broadcast and Archive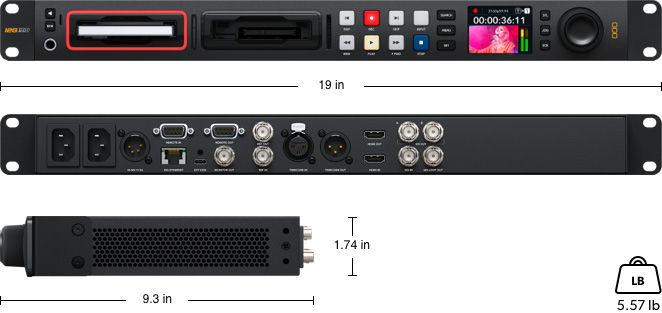 Environmental Specifications
Operating Temperature
0° to 40° C (32°to 104° F)
Storage Temperature
-20° to 60° C (-4° to 140° F)
Relative Humidity
0% to 90% non‑condensing