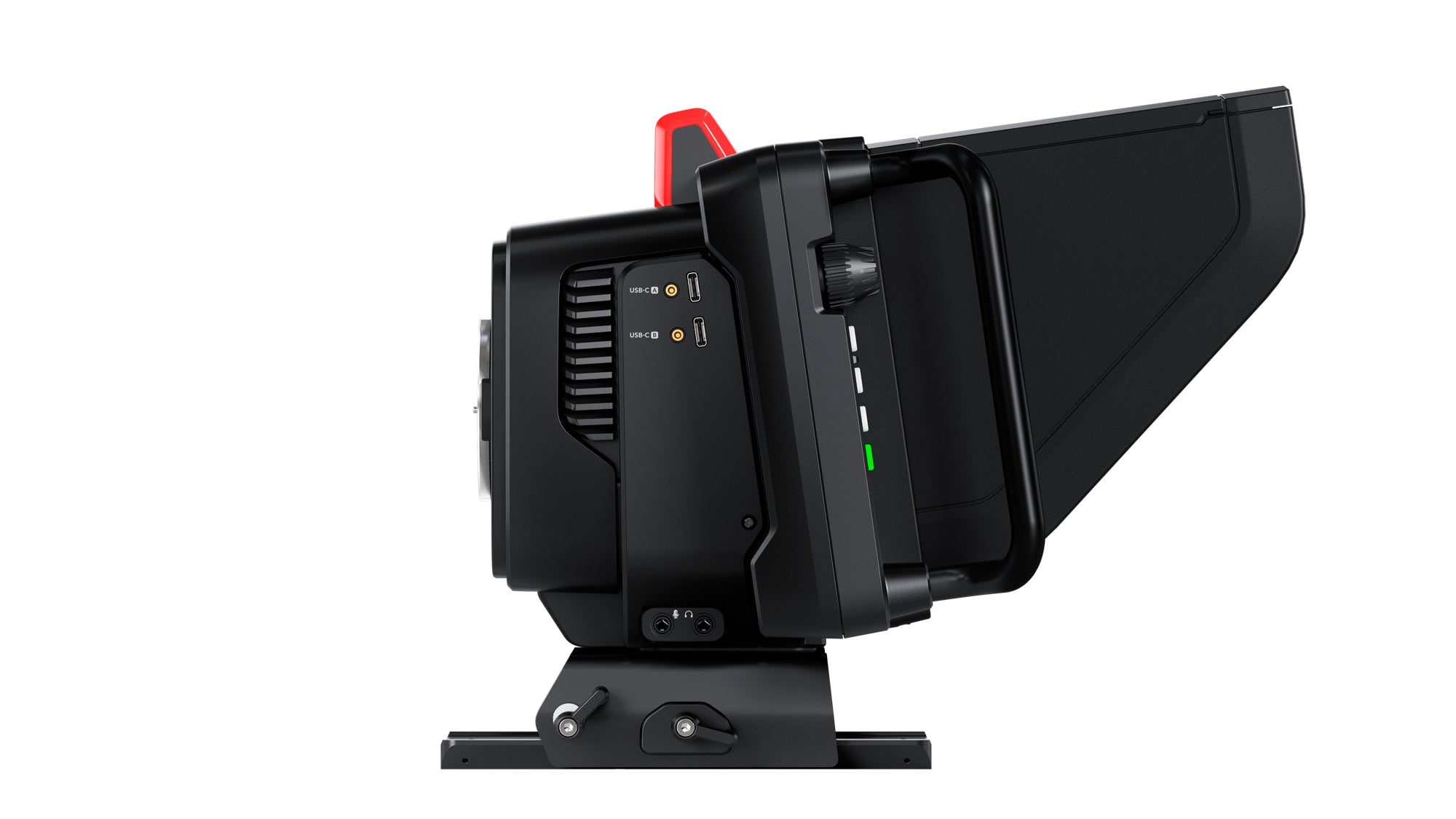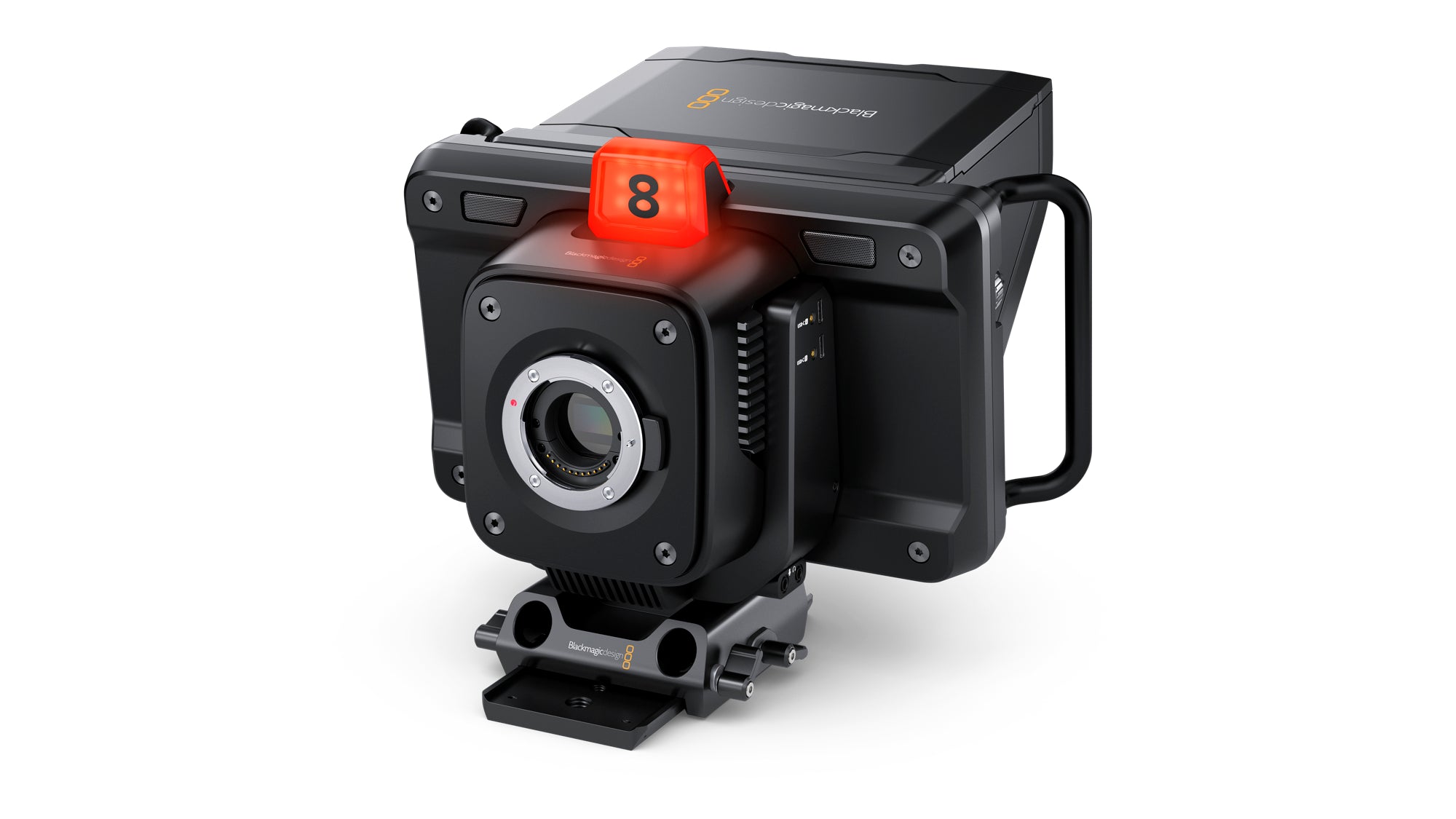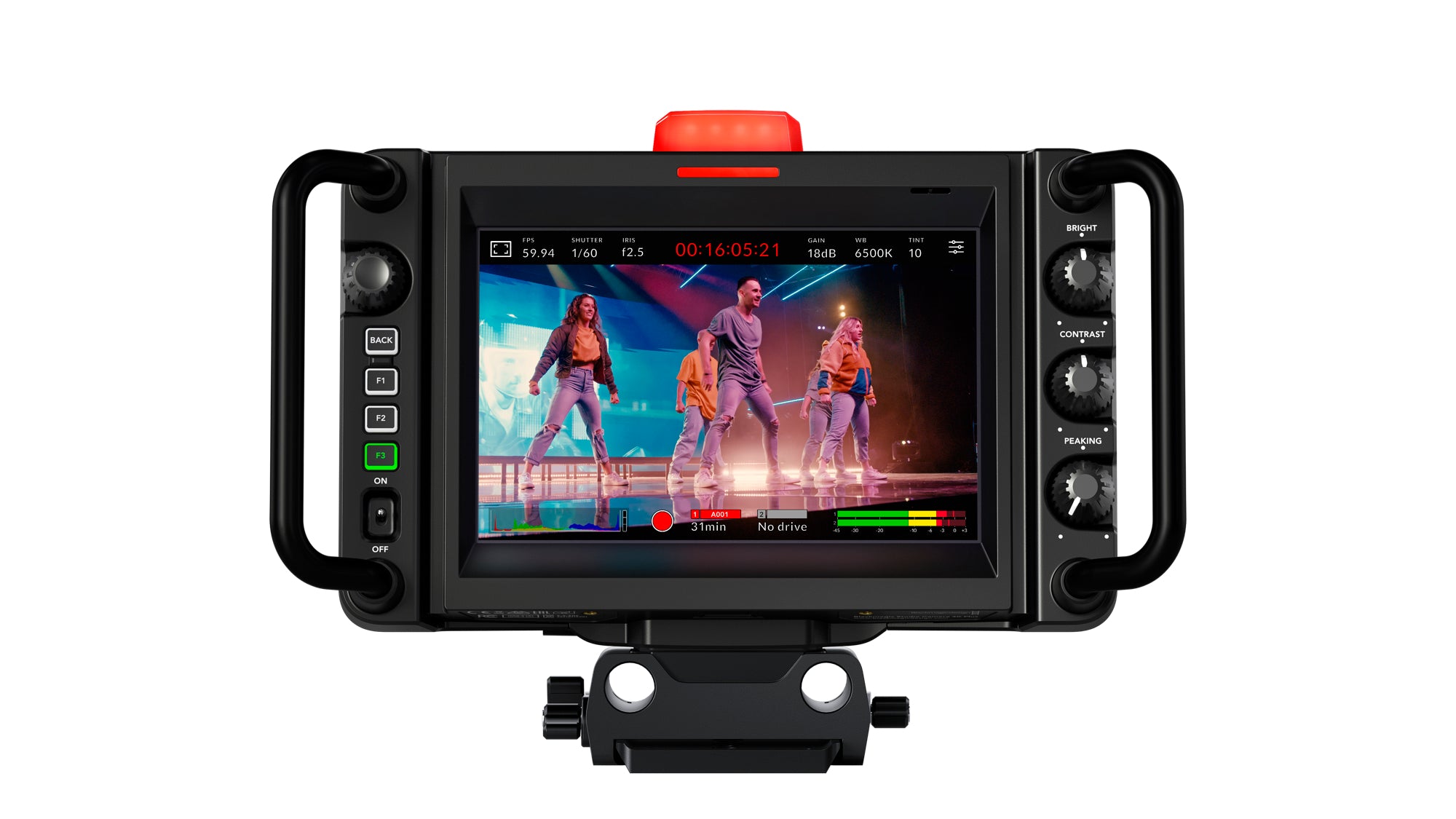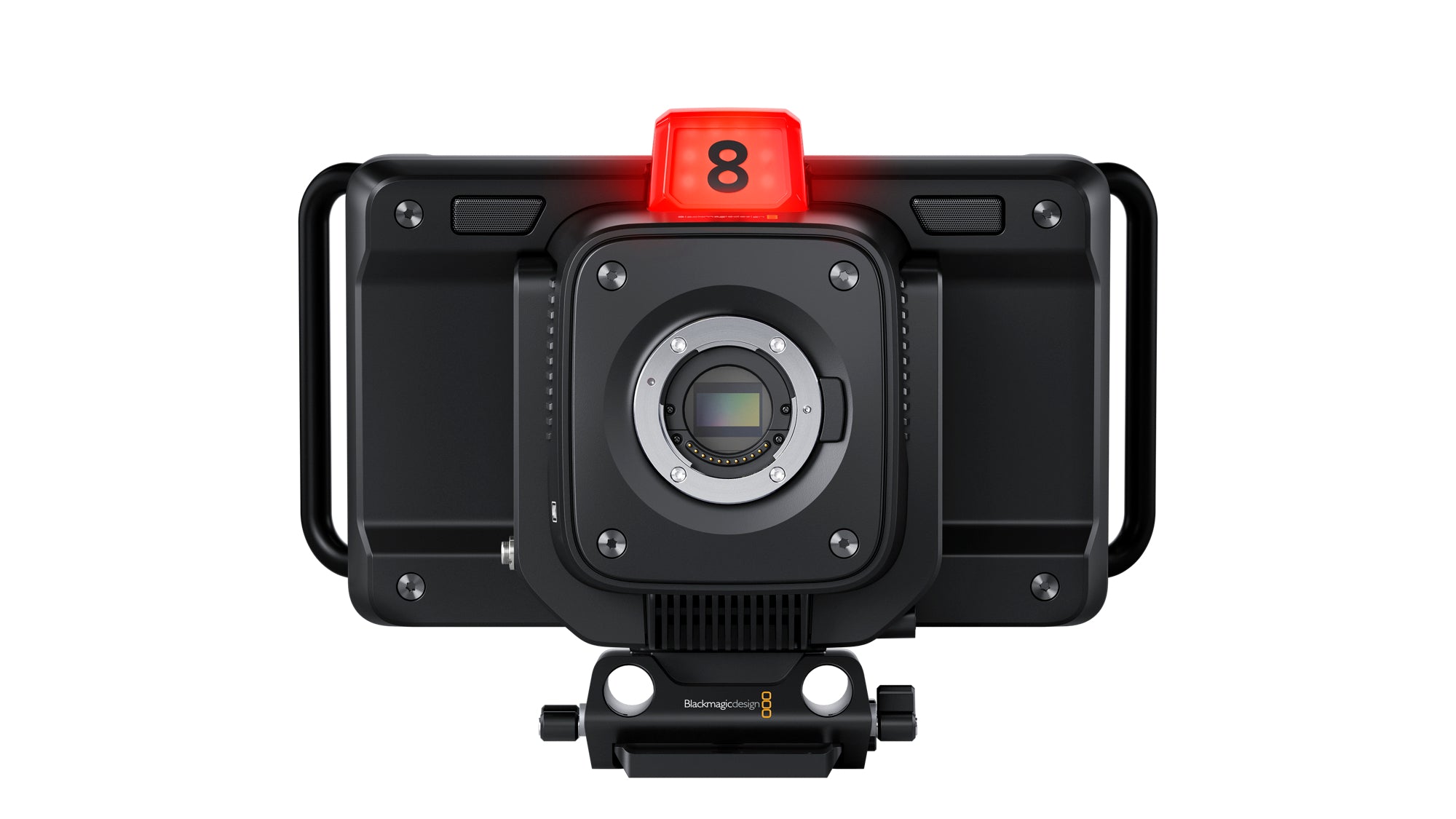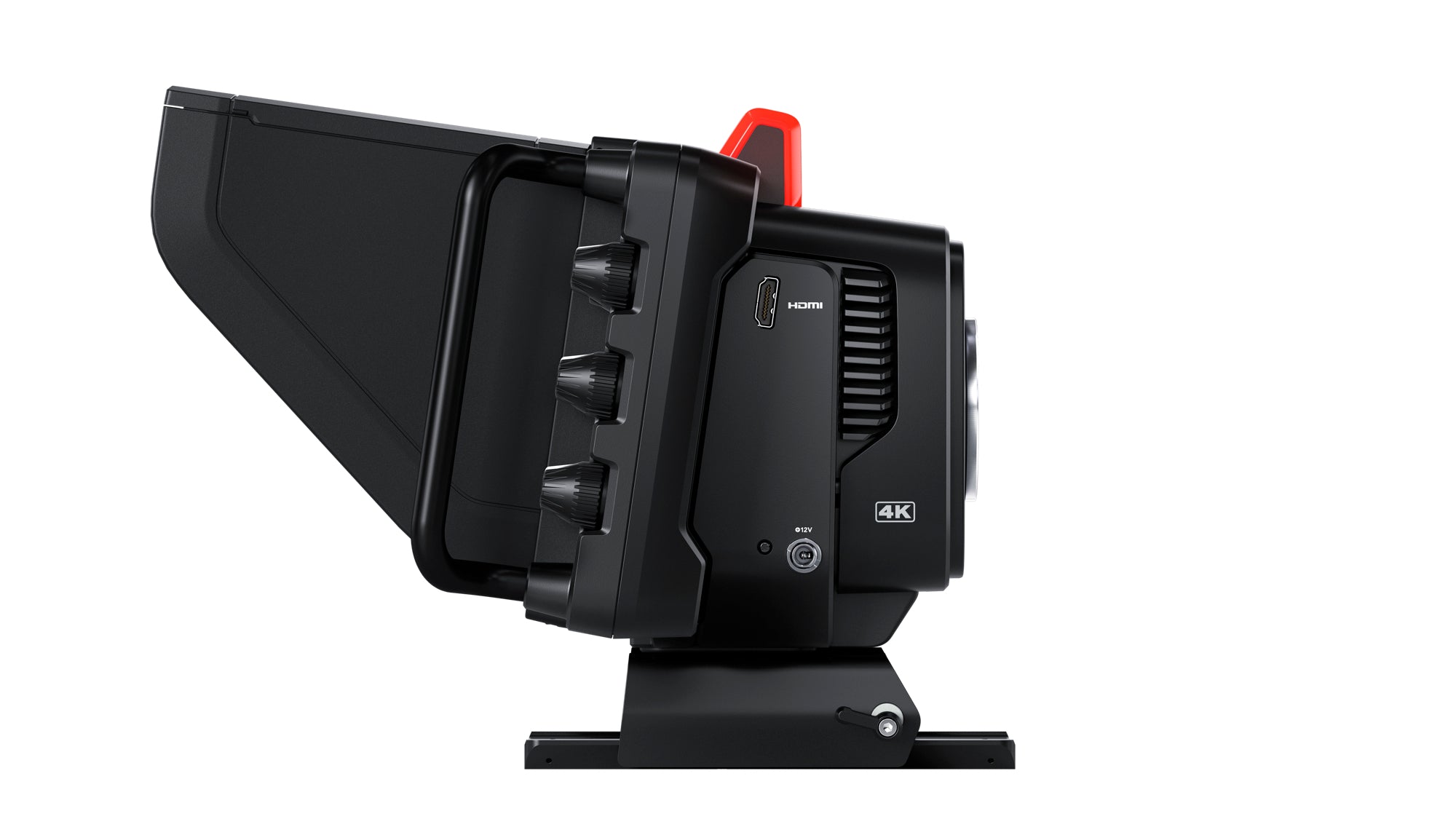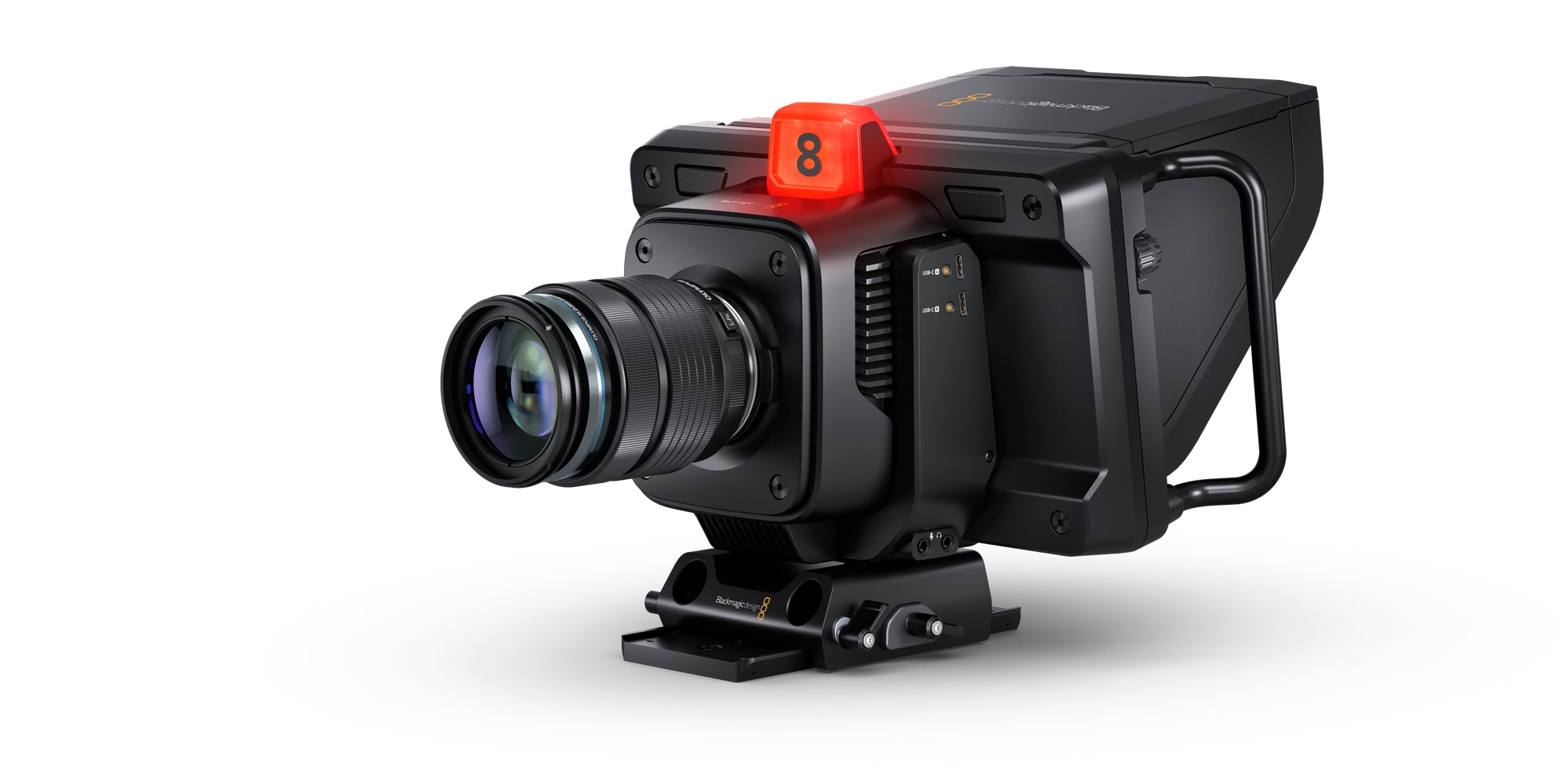 Blackmagic Studio Camera 4K Plus
Pickup available at 9420 E DoubleTree Ranch Rd #107
Usually ready in 2-4 days
Blackmagic Studio Camera 4K Plus
9420 E DoubleTree Ranch Rd #107
Pickup available, usually ready in 2-4 days
9420 E DoubleTree Ranch Rd #107
Scottsdale AZ 85258
United States
480.386.6981
FREE Shipping for orders $100 above
Add $25 for 2-day expedited shipping
Ask about our Refer a Friend Program!

Got A Question? - Ask Our Team
Blackmagic Studio Camera 4K Plus and the ultimate self contained live production camera!  
Designed as the perfect studio camera for ATEM Mini, the Blackmagic Studio Camera 4k Plus has a 4K sensor up to 25,600 ISO, MFT lens mount, HDMI out, 7" LCD with sunshade, built-in color correction and recording to USB disks. 
The Blackmagic Studio Camera 4K Plus has been specifically designed as the perfect camera for ATEM Mini. It's the same high quality broadcast camera, but the HDMI centric design removes all the expensive broadcast connections so it's much lower cost. The HDMI is incredibly powerful as it connects video to the ATEM Mini, while at the same time camera control, tally and the remote record trigger is sent to the camera using the same HDMI connection. That makes it very fast to set up for a job. 
Introducing the world's most advanced self contained studio camera! Blackmagic Studio Cameras have the same features as large studio cameras, miniaturized into a single compact and portable design. Plus with digital film camera dynamic range and color science, the cameras can handle extremely difficult lighting conditions while producing cinematic looking images. The sensor features an ISO up to 25,600 so you can create amazing images even in dimly lit venues. It even works under moonlight! Advanced features include talkback, tally, camera control, built in color corrector, Blackmagic RAW recording to USB disks and much more! You can even add a focus and zoom demand for lens control! 
Designed for Live Production 
While Blackmagic Studio Camera 4k Plus is designed for live production, it's not limited to use with a live switcher! That's because it records Blackmagic RAW to USB disks, so it can be used in any situation where you use a tripod! The large 7" viewfinder makes it perfect for work such as chat shows, television production, broadcast news, sports, education, conference presentations and even weddings! The large bright display with side handles, touch screen and physical controls makes it easy to track shots while being comfortable to use for long periods of time. Because it's so lightweight, it's perfect when you're constantly changing locations and doing different kinds of work. 
Revolutionary Studio Camera Design 
Large broadcasters use expensive studio cameras that are extremely large, so they're not very portable. The distinctive Blackmagic Studio Camera 4k Plus has all the benefits of a large studio camera because it's a combination of camera and viewfinder all in a single compact design. It features a lightweight carbon fiber reinforced polycarbonate body with innovative technology in a miniaturized design. The camera is designed for live production so it's easy to track and frame shots with its large 7" viewfinder. The touchscreen has menus for camera settings, and there's knobs for brightness, contrast and focus peaking. Plus a tripod mount with mounting plate is included for fast setup! 
Exceptional Low Light Performance 
In advanced cameras, ISO is a measurement of the image sensor's sensitivity to light. This means the higher the ISO the more gain can be added so it's possible to shoot in natural light, or even at night! The Blackmagic Studio Camera 4k Plus features gain from -12dB (100 ISO) up to +36dB (25,600 ISO) so it's optimized to reduce grain and noise in images, while maintaining the full dynamic range of the sensor. The primary native ISO is 400, which is ideal for use under studio lighting. Then the secondary high base ISO of 3200 is perfect when shooting in dimly lit environments. The gain can be set from the camera, or remotely from a switcher using the SDI or Ethernet remote camera control. 
Get Cinematic Images in Live Production! 
The amazing 4K sensor fitted on the Blackmagic Studio Camera 4k Plus combined with Blackmagic generation 5 color science gives you the same imaging technology used in digital film cameras. That means you can now use cinematic images for live production! Plus, when combined with the built in DaVinci Resolve primary color corrector you get much better images than simple broadcast cameras. The color corrector can even be controlled from the switcher. With 13 stops of dynamic range, the camera has darker blacks and brighter whites, perfect for color correction. The sensor features a resolution of 4096 x 2160 which is great for both HD and Ultra HD work. Plus, all models support from 23.98 fps up to 60 fps. 
Affordable Photographic Lenses! 
With the popular MFT lens mount, the Blackmagic Studio Camera 4k Plus is compatible with a wide range of affordable photographic lenses. Photographic lenses are incredible quality because they're designed for use in high resolution photography. Plus, the active lens mount lets you adjust the lens remotely! To eliminate the need to reach around to adjust the lens zoom and focus, the optional focus and zoom demands let you adjust the lens from the tripod handles just like a large studio camera! This means you avoid camera shake when adjusting the lens, so you can track shots and operate the camera without taking your hands off the tripod! It gives you the same feel as an expensive B4 broadcast lens! 
Frame Shots with Large 7" Viewfinder 
The large 7" high resolution screen will totally transform how you work with the camera because it's big enough to make framing shots much easier. The Pro model features a HDR display with extremely high brightness, perfect outdoors in sunlight! On screen overlays show status and record parameters, histogram, focus peaking indicators, levels, frame guides and more. You can even apply 3D LUTs for monitoring shots with the desired color and look. The touchscreen also has menus and you can load and customize presets for different jobs. The included sun shade can be folded to protect the screen for transport plus it's compatible with sun shades from the Blackmagic Studio Viewfinder! 
Physical and Touchscreen Controls 
The Blackmagic Studio Camera 4k Plus features physical buttons and knobs as well as controls on the touchscreen. Knobs on the right side of the camera allow adjusting of the brightness, contrast and focus peaking. The focus peaking knob is incredibly useful as it lets you fine tune the detail highlight so you can get perfect focus as you zoom. The 3 function buttons on the left can have functions assigned to them, such as zebra, false color, focus peaking, LUTs and more! Plus you can change the function assigned to each button in the menus. The touchscreen also includes a heads up display with the most important shooting information, as well as menus for all camera settings, LUTs and custom presets. 
Built-in Tally for On Air Status 
The Blackmagic Studio Camera 4k Plus features a very large tally light that illuminates red for on air, green for preview and orange for ISO recording. The tally light also includes clip on transparent camera numbers, so it's easy for talent to see camera numbers from up to 20 feet away! The Blackmagic Studio cameras support the SDI tally standard used on all ATEM live production switchers and the HDMI tally used on ATEM Mini switchers. This means that a director can cut between cameras and the tally information will be sent back to the cameras via the SDI program return feed, lighting up the tally light on the camera whenever it's on air. SDI tally eliminates complex wiring so job setup is faster. 
Powerful Broadcast Connections 
Blackmagic Studio cameras have lots of connections for connecting to both consumer and broadcast equipment. All models feature HDMI with tally, camera control and record trigger, so are perfect for ATEM Mini switchers! You also get headphone and mic connections, and 2 USB‑C expansion ports. 
Four Ways to Connect 
Blackmagic Studio Cameras can be connected in lots of different ways! All models feature HDMI so are perfect for HDMI switchers such as ATEM Mini. The HDMI supports video, tally, control and record trigger for a broadcast style workflow using a single HDMI cable. 
Get Low Cost Camera Control via SDI 
All Blackmagic Design ATEM switchers can control cameras via a protocol embedded into the camera's SDI video connections. Setup is easy because all ATEM switchers broadcast control commands from the switcher's SDI program output to the camera via the SDI program input. The switcher can perform color correction, tally and lens control and these are sent to all cameras. All you need to do is select the correct camera number and it all works. Even ATEM Mini switchers can control Blackmagic Studio Cameras because the HDMI output to the switcher has return data communication that can send control information back to the camera. All this means the camera operator is free to focus on framing shots. 
USB Expansion Port for Accessories 
Blackmagic Studio Camera 4k Plus features a high speed USB-C expansion port that allows you to record to external disks or connect to a wide range of accessories. Plug in an external USB flash disk and the camera can record high quality 12-bit Blackmagic RAW files for later editing and color correction. That means you can just move the disk to a computer to work, and you don't need to waste time with file copying. You can even plug in optional focus and zoom demands to allow full lens control. Plus the USB port will power any phone or disk that's plugged in! 
Incredible Blackmagic RAW Quality 
Blackmagic RAW is a revolutionary new format designed to capture and preserve the quality of the sensor data from your camera. Some file formats such as H.264 are highly compressed, so add noise and artifacts, causing sensor detail to be lost forever. Blackmagic RAW eliminates this problem so you get stunning images with incredible detail and rich color throughout the whole post production pipeline. Blackmagic RAW also saves camera settings as metadata so you can change ISO, white balance and exposure later in DaVinci Resolve. Plus the files are small and fast, so editing responsiveness is incredible. Only Blackmagic RAW gives you the highest quality, smallest files and fastest performance! 
Includes Built-in Microphones 
Blackmagic Studio Cameras include built in microphones so you get sound included in the design making setup much faster. Plus the built in microphones are shock and wind resistant, so you get great sound even in tough conditions! With each microphone placed at the edges of the screen, you get the advantage of the studio camera design for better stereo separation than what is possible on a regular video camera. There's also a 3.5mm audio input for connecting video camera microphones as well as a 3.5mm headphone jack. 
Monitor Program Video 
The Blackmagic Studio Camera 4k Plus lets you view program video from the switcher at the press of a button! Simply press the camera's PGM button and the viewfinder will switch from the camera display to the program return feed from the switcher. Plus the built in speaker lets you monitor the switcher audio. Program return is a fantastic feature as sometimes on large live shows, camera operators can be left waiting a long time for their camera to be used, so program return lets them watch the show while they wait. This means even if the camera operator is a large distance away from the switcher, they can still keep up with what's happening and remain alert. 
Powered by Blackmagic OS 
With the advanced Blackmagic OS, you get an intuitive and user friendly camera operating system based on the latest technology. Blackmagic OS is a true modern operating system where all camera features run independently for smoother control, plus the camera powers on virtually instantly. It features the same controls and menus as other Blackmagic Design cameras so you can move between cameras on set easily. The interface uses simple tap and swipe gestures to adjust settings, add metadata and view recording status. You also get full control over advanced camera features such as on screen focus and exposure tools, 3D LUTs, HDR, metadata entry, timecode, Blackmagic RAW settings and more! 
Supports 3D LUTs for Film Looks! 
When Blackmagic RAW files use logarithmic film gamma to preserve the camera dynamic range, 3D LUTs can be used to convert the images on the viewfinder display from looking flat and washed out. 3D LUTs solve this problem because they convert the image just before it's displayed on the LCD. This allows the film gamma images being recorded to be converted to nicer looking images on the LCD. 3D LUTs are also saved into the Blackmagic RAW files so they can be used in later post production, but they are never burned into the Blackmagic RAW image data, so you always have the option to disable them. This means the 3D LUT is transported in the Blackmagic RAW file, but only used when you enable it. 
Localized in 11 Popular Languages 
The Blackmagic Studio Cameras are designed to be used worldwide so they support 11 popular languages! When setting up your camera, you can choose to work in English, German, French, Spanish, Portuguese, Italian, Russian, Turkish, Chinese, Japanese or Korean. It's easy to switch to another language simply by going into the menu settings. When switching between languages, all the on screen overlays, heads up display, and setup menus will be displayed in the selected language and you can change languages any time you like! 
Powers from DC or 10G Ethernet 
Blackmagic Studio Cameras have lots of different power options! All models have a common 12V DC locking power connector so the cable won't be accidentally pulled out. Plus, the camera includes a power supply with 5 different AC socket adapters for different countries
Effective Sensor Size
17.78mm x 10mm (Four Thirds)
Lens Mount
Active MFT Mount.
Lens Control
Iris, focus, zoom on supported lenses.
Dynamic Range
13 Stops.
Dual Native ISO
0dB and 18dB gain.
Sensitivity at 0dB Gain
f11 with 2160p59.94.
f12 with 2160p50.
at 2,000 lux with 89.9% reflectance.
Signal to Noise Ratio
63dB for 2160p.
Shooting Resolutions
3840 x 2160 (Ultra HD) up to 60 fps.
Frame Rates
23.98, 24, 25, 29.97, 30, 50, 59.94 and 60 frames per second.
Off-speed frame rates up to 60 fps in Ultra HD.
Focus
Auto focus available using compatible lenses.
Screen Dimensions
7 inch 1920 x 1200
Screen Type
LCD capacitive touchscreen.
Screen Brightness
600 nits
Controls
Touchscreen camera settings and menus with rotary settings dial, program button, F1, F2 and F3 assignable function buttons, brightness contrast and peaking dials.
Mounting Options
2 x 1/4 inch tripod mount.
1 x 3/8 inch tripod mount.
Connections
HDMI 2.0 Video Outputs
1
Analog Audio Input
1 x 3.5mm Stereo Input. Can also be used for Timecode input.
Analog Audio Output
1 x 3.5mm mini jack for headphones.
Remote Control
Remote camera control over HDMI.
Computer Interface
2 x USB Type‑C 3.1 Gen 1 (up to 5Gb/s) expansion ports for external recording and focus / zoom demand connection. Software updates using USB‑C Port A.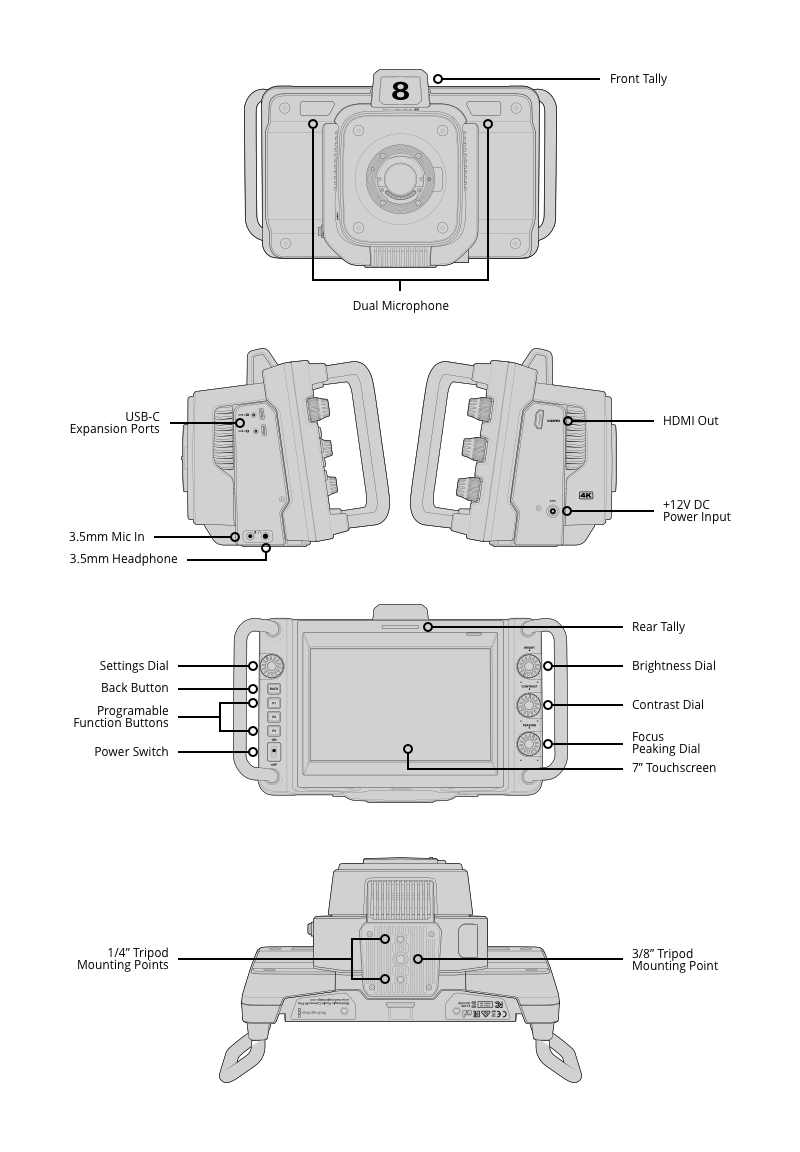 Audio
Microphone
Integrated stereo microphone.
Built in Speaker
1 x mono speaker.
Standards
SD Video Standards
None
HD Video Standards
1080p23.98, 1080p24, 1080p25, 1080p29.97, 1080p30, 1080p50, 1080p59.94, 1080p60
Ultra HD Video Standards
2160p23.98, 2160p24, 2160p25, 2160p29.97, 2160p30, 2160p50, 2160p59.94, 2160p60

HDMI Audio Sampling
Television standard sample rate of 48 kHz and 24‑bit.
Media
Media
2 x USB-C 3.1 Gen 1 expansion ports for externalmedia for recording Blackmagic RAW.
Media Format
Can format media to ExFAT (Windows/Mac) or HFS+ (Mac) file systems.
Supported Codecs
Codecs
Blackmagic RAW Constant Bitrate 3:1,
Blackmagic RAW Constant Bitrate 5:1,
Blackmagic RAW Constant Bitrate 8:1,
Blackmagic RAW Constant Bitrate 12:1,
Blackmagic RAW Constant Quality Q0,
Blackmagic RAW Constant Quality Q1,
Blackmagic RAW Constant Quality Q3,
Blackmagic RAW Constant Quality Q5

Storage Features
Storage Type
2 x USB‑C 3.1 Gen 1 expansion ports for external media.
Recording Formats
Blackmagic RAW 3:1, 5:1, 8:1, 12:1, Q0, Q1, Q3 and Q5 in Ultra HD 3840 x 2160 at the selected frame rate.
Storage Rates
Storage rates based on 30 frames per second.
3840 x 2160 (Ultra HD)

Blackmagic RAW 3:1 - 127 MB/s
Blackmagic RAW 5:1 - 77 MB/s
Blackmagic RAW 8:1 - 48 MB/s
Blackmagic RAW 12:1 - 32 MB/s
Blackmagic RAW Q0 - 96 to 190 MB/s
Blackmagic RAW Q1 - 64 to 153 MB/s
Blackmagic RAW Q3 - 43 to 109 MB/s
Blackmagic RAW Q5 - 26 to 64 MB/s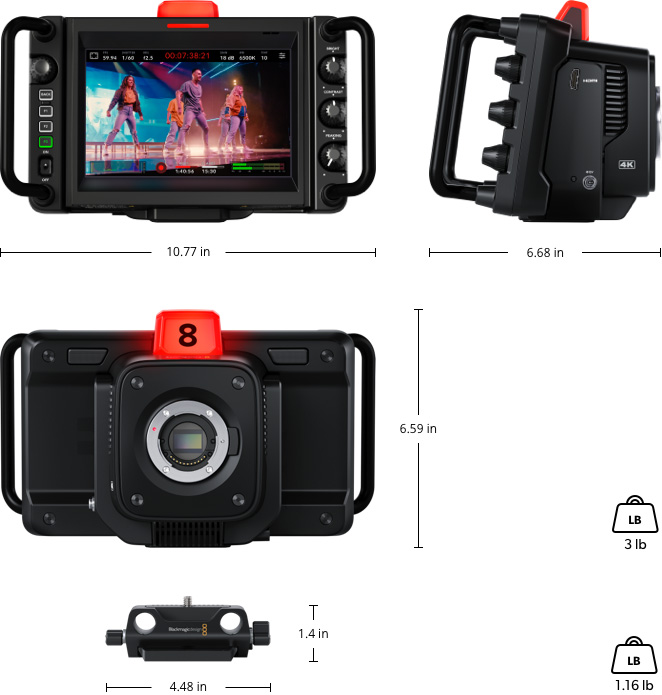 Environmental Specifications
Operating Temperature
0° to 40° C (32° to 104° F)
Storage Temperature
-20° to 45° C (-4° to 113° F)
Relative Humidity
0% to 90% non-condensing