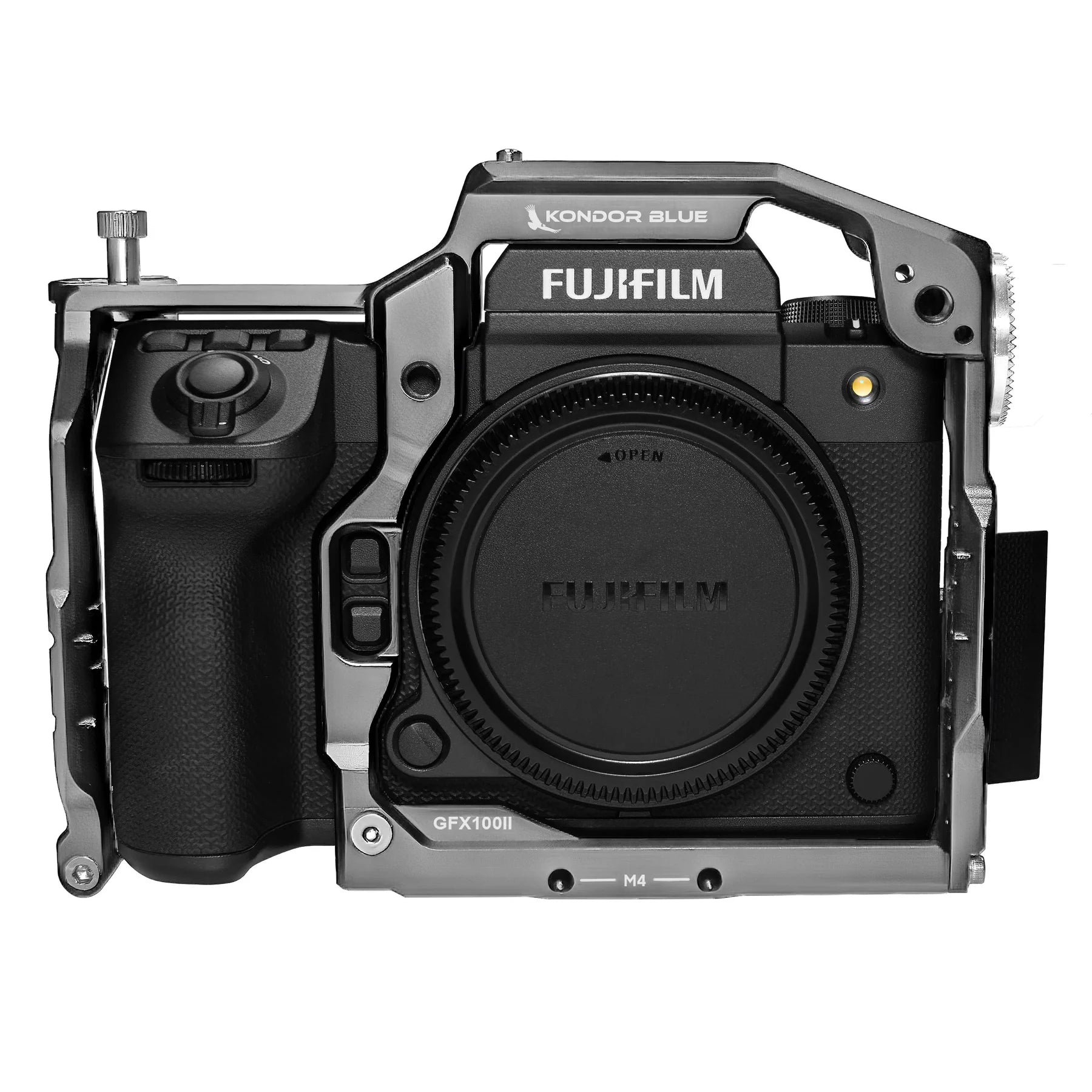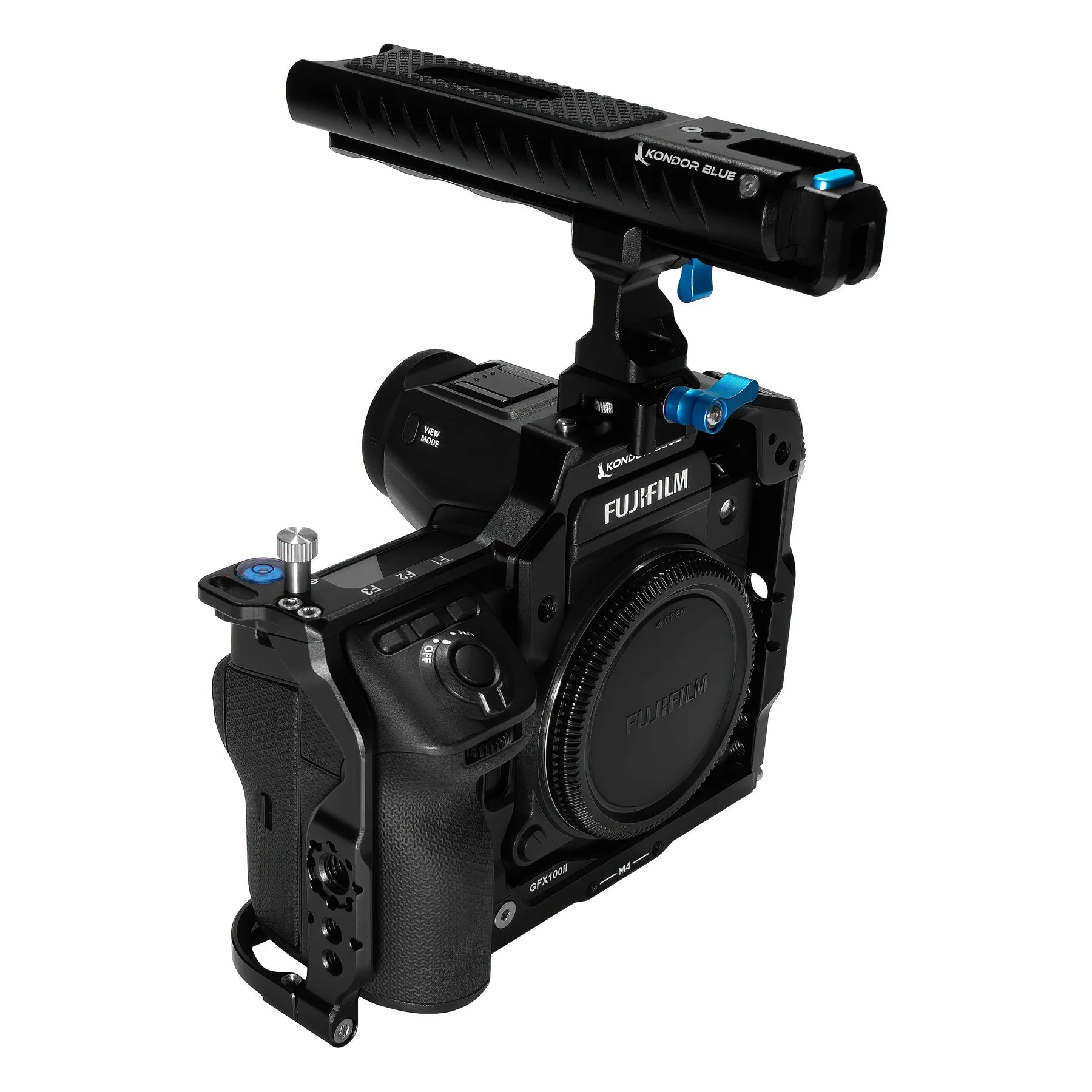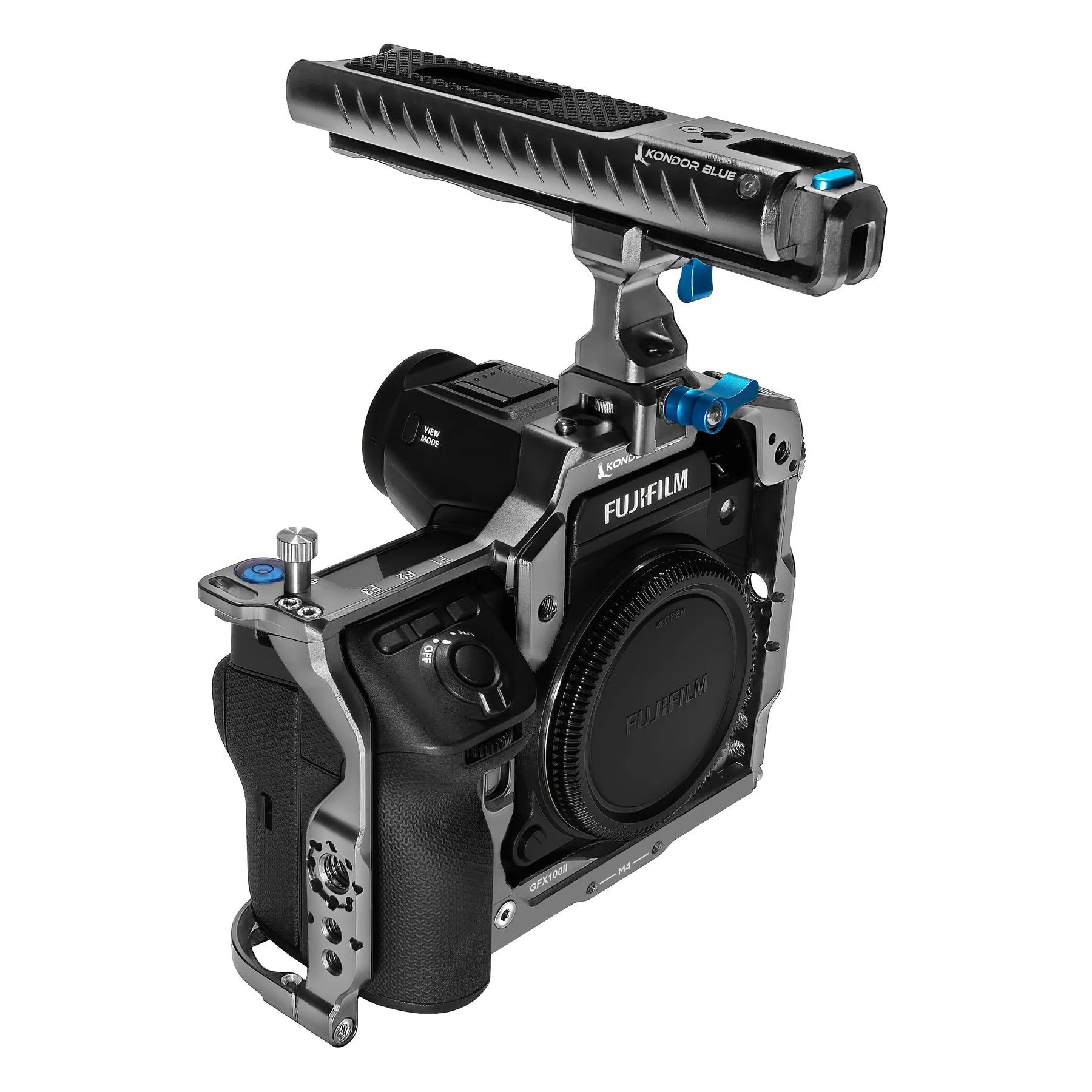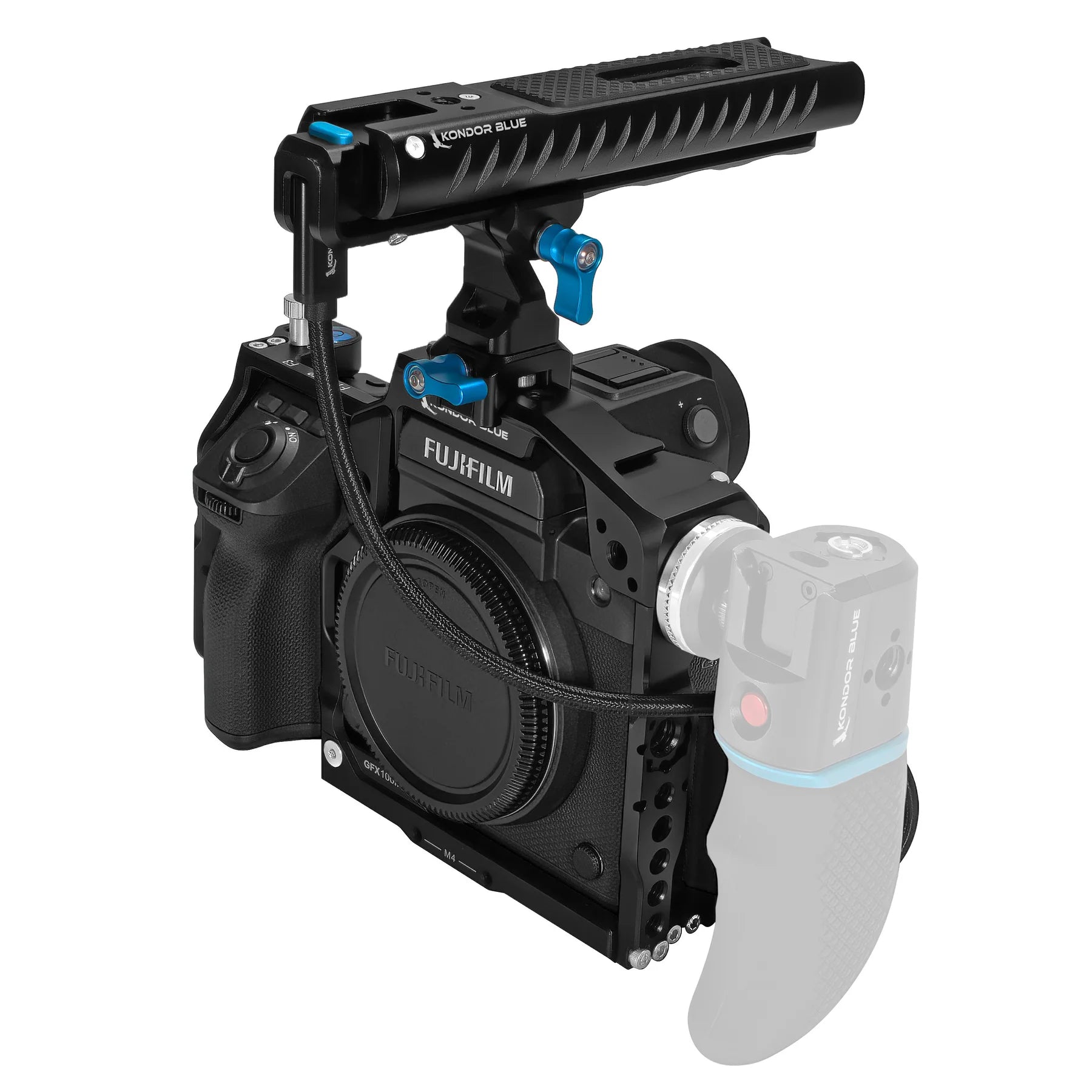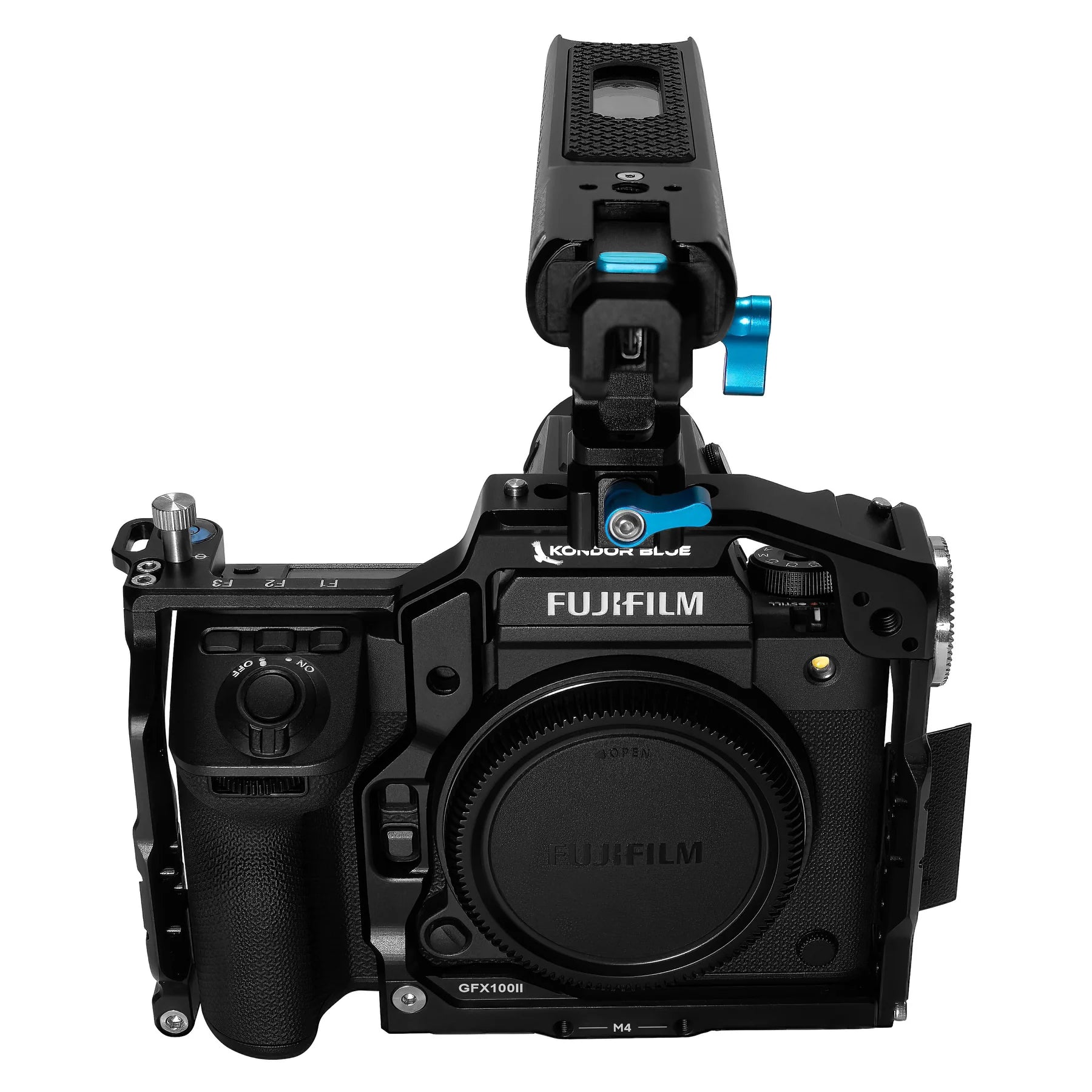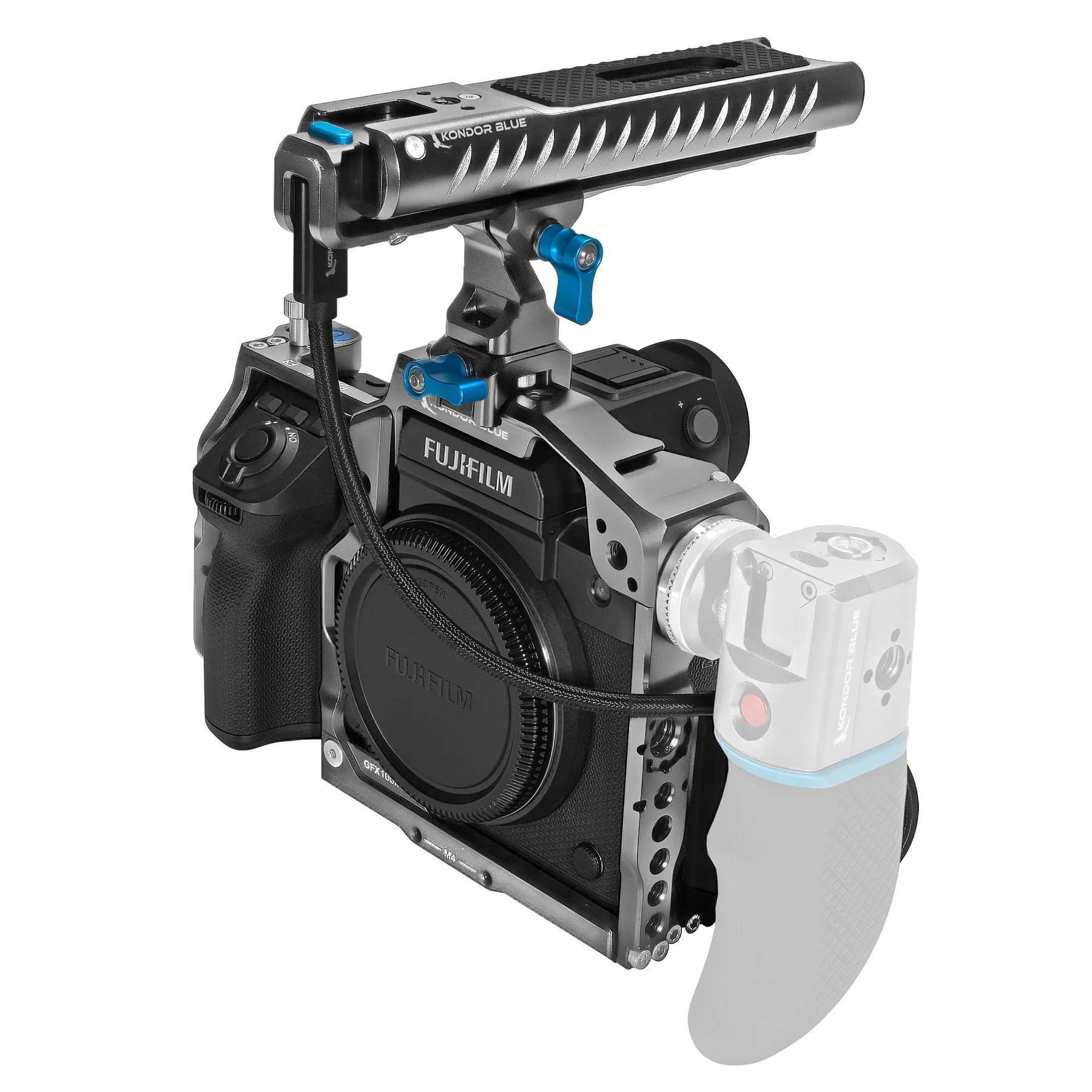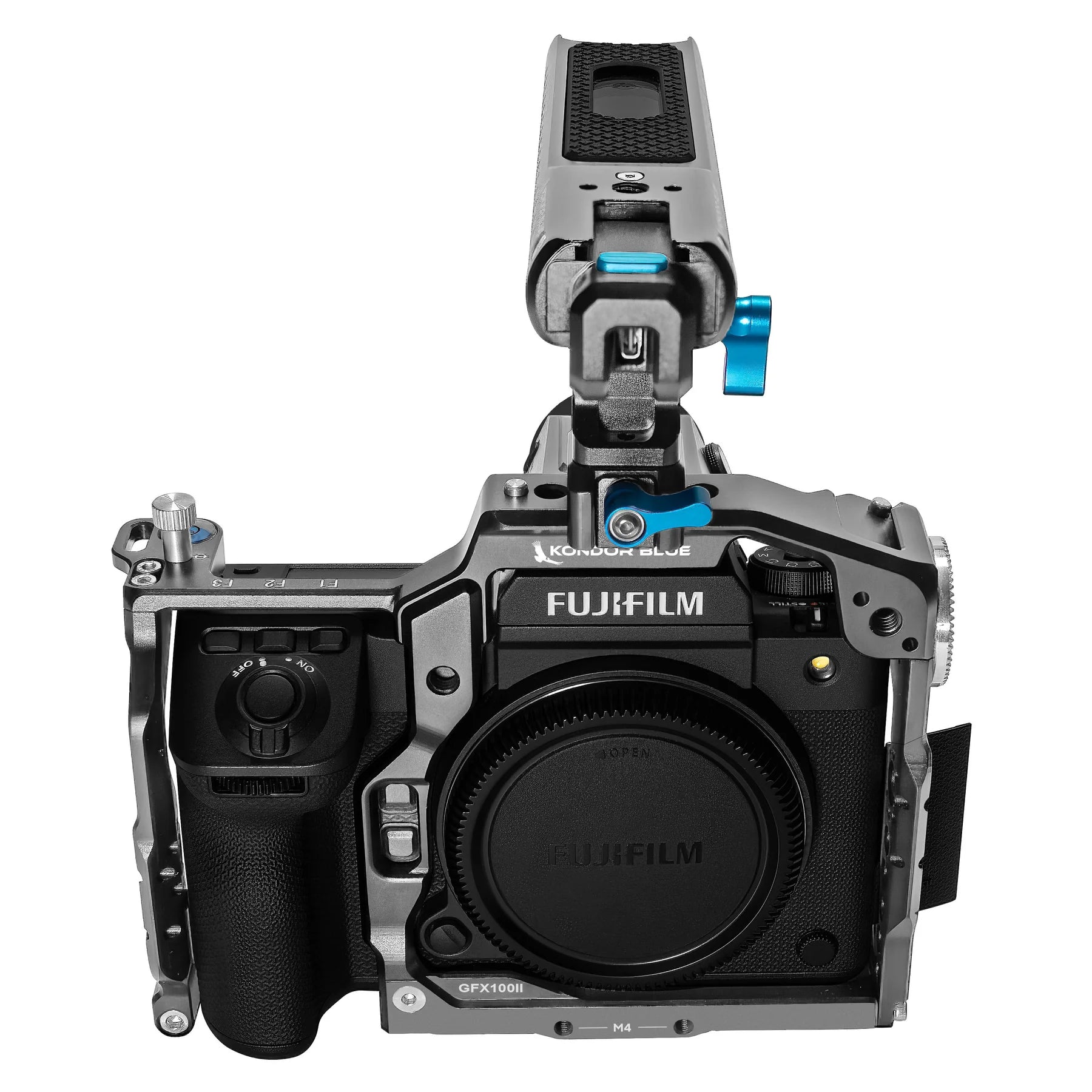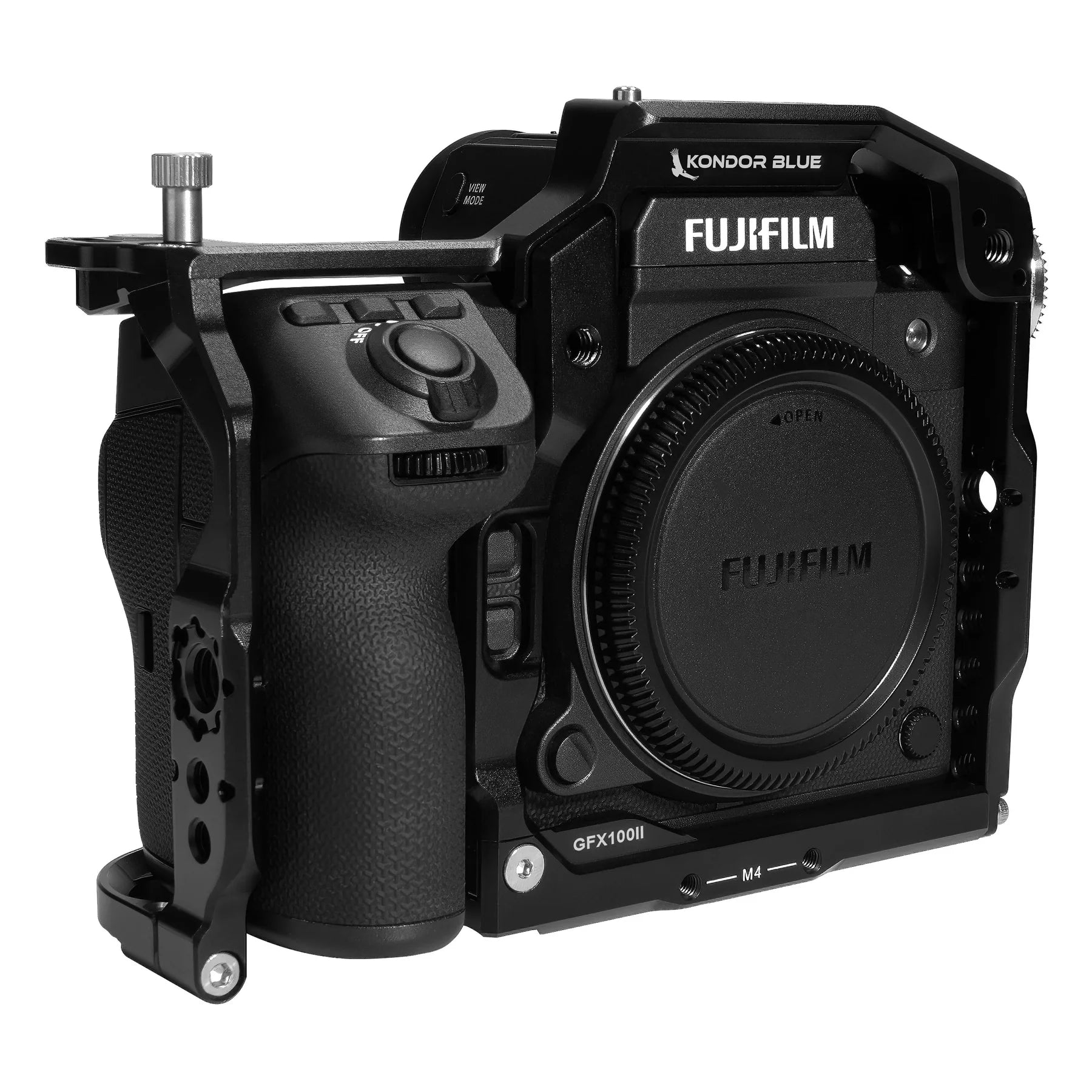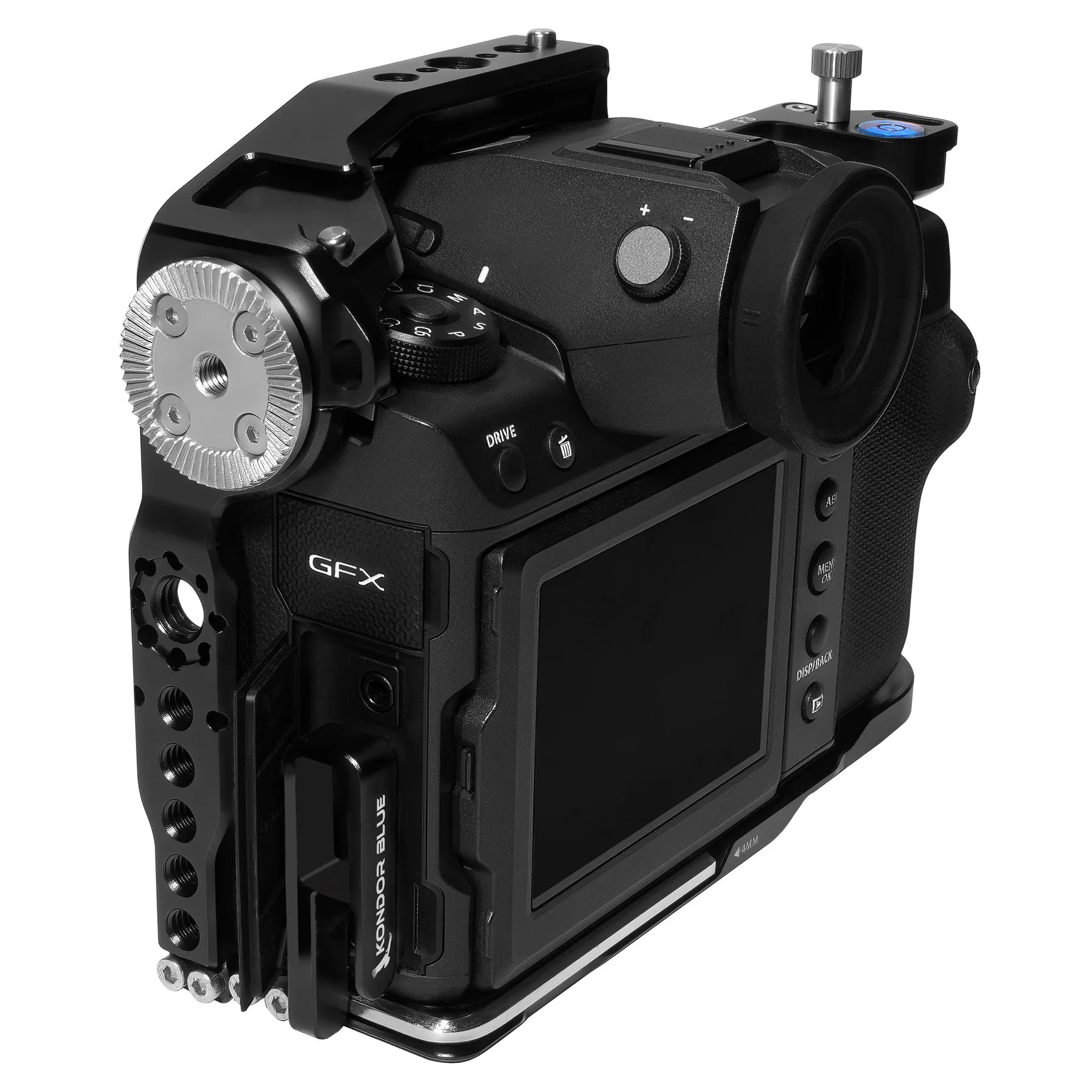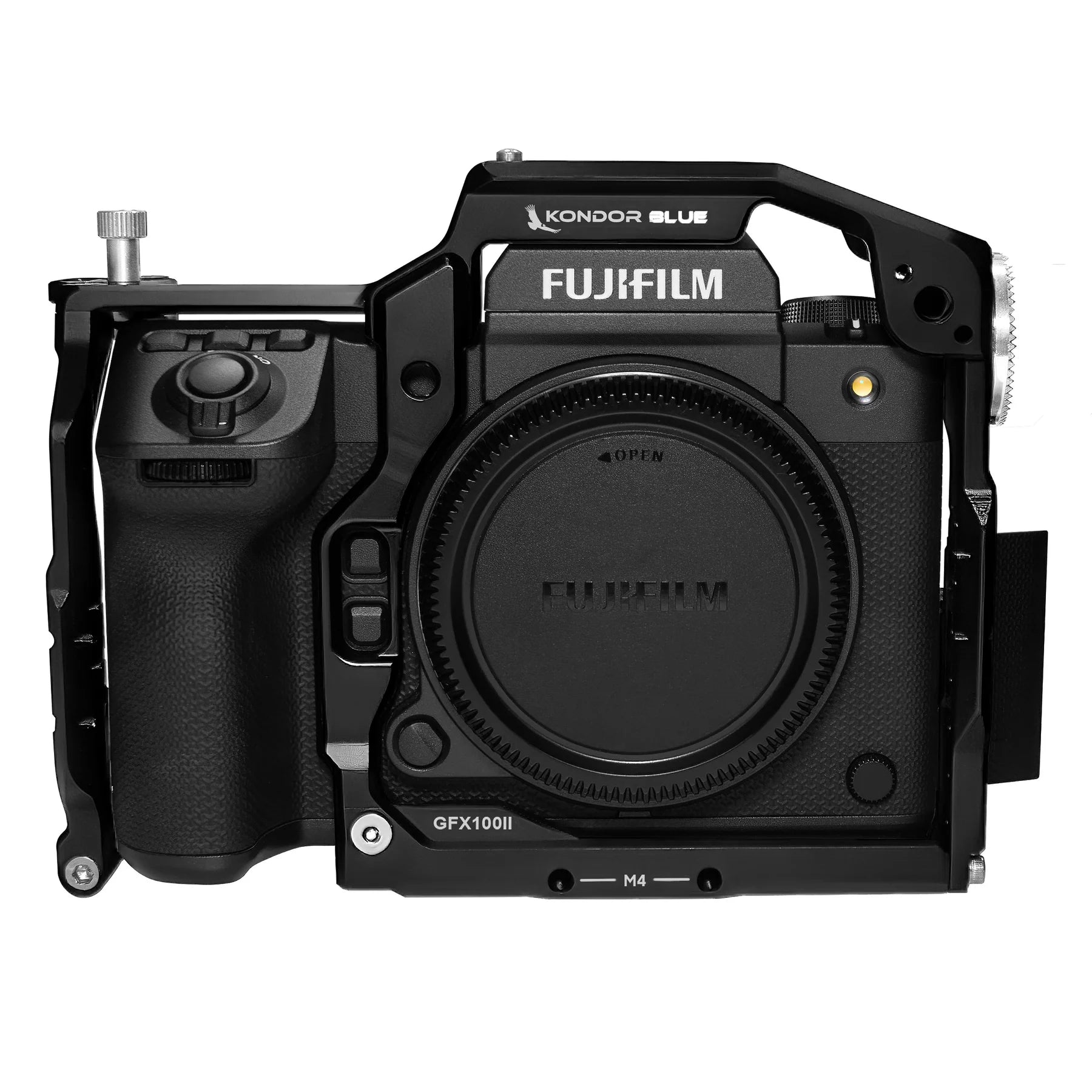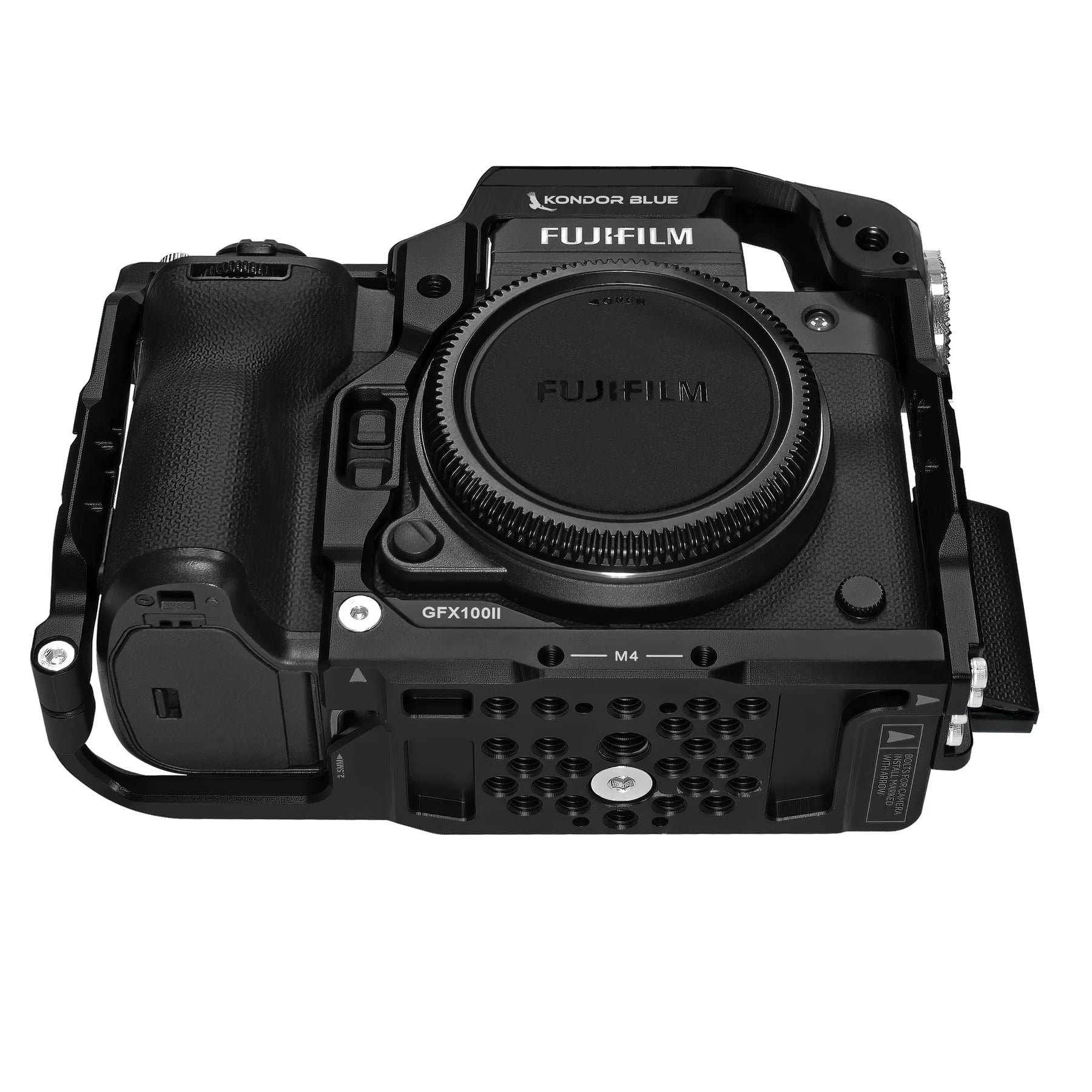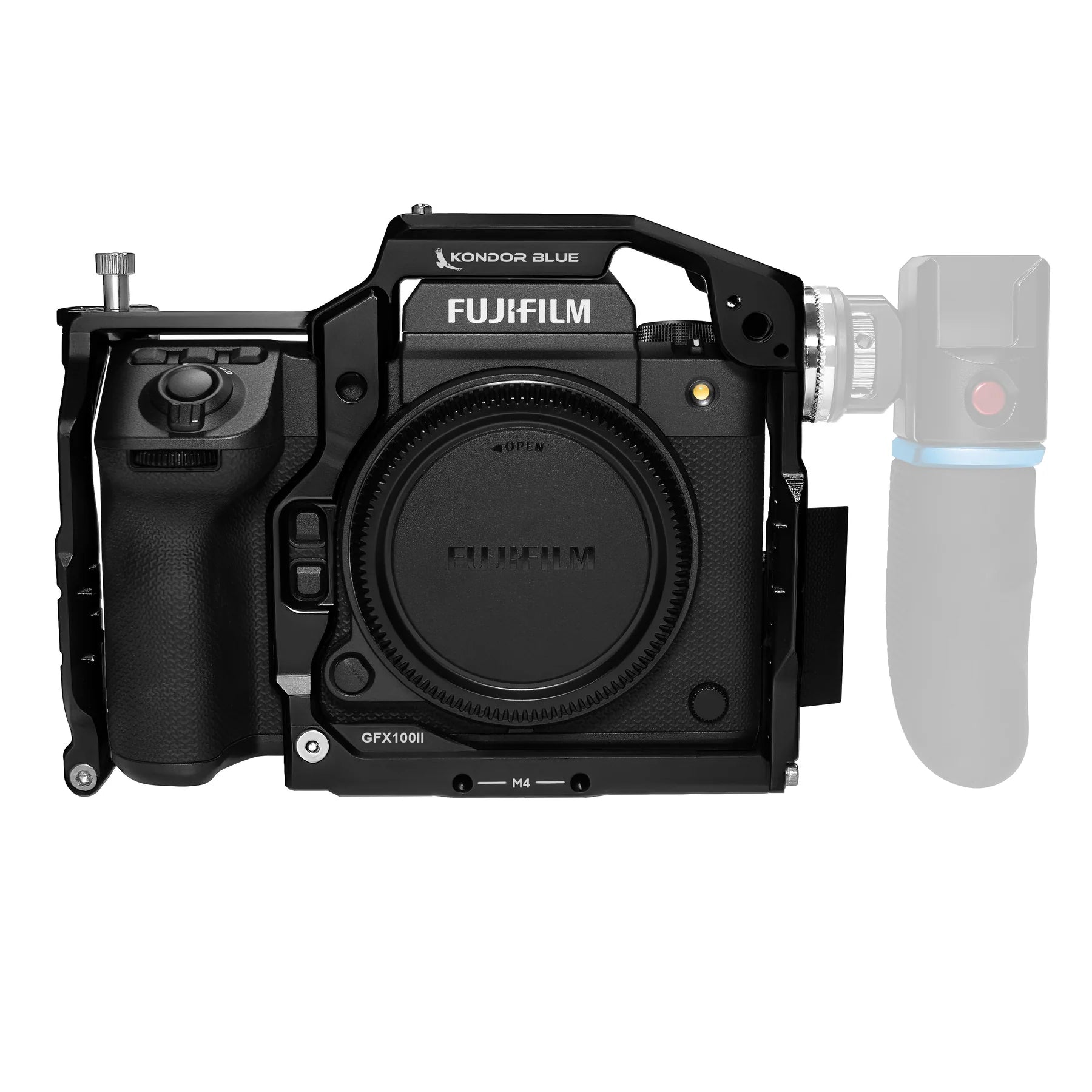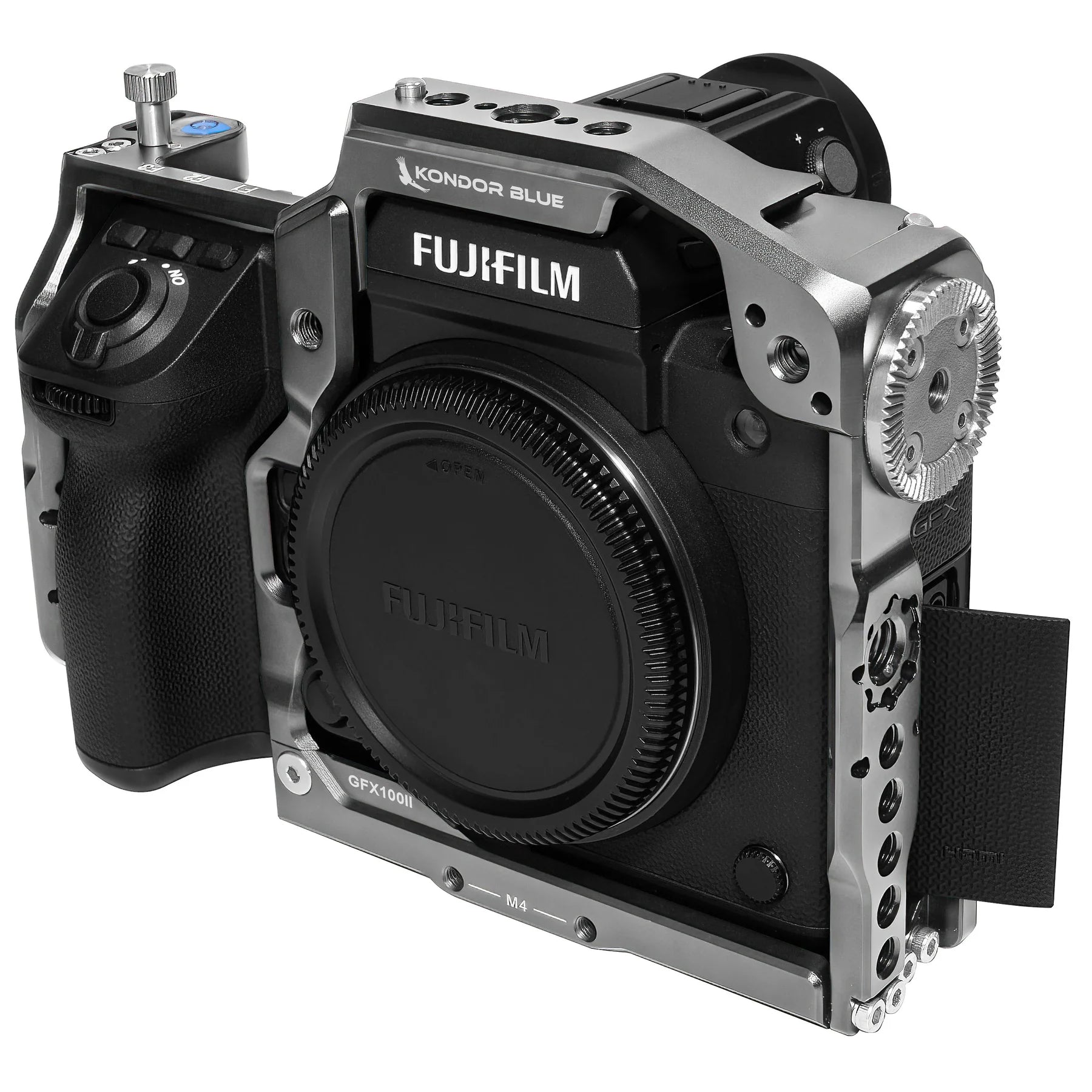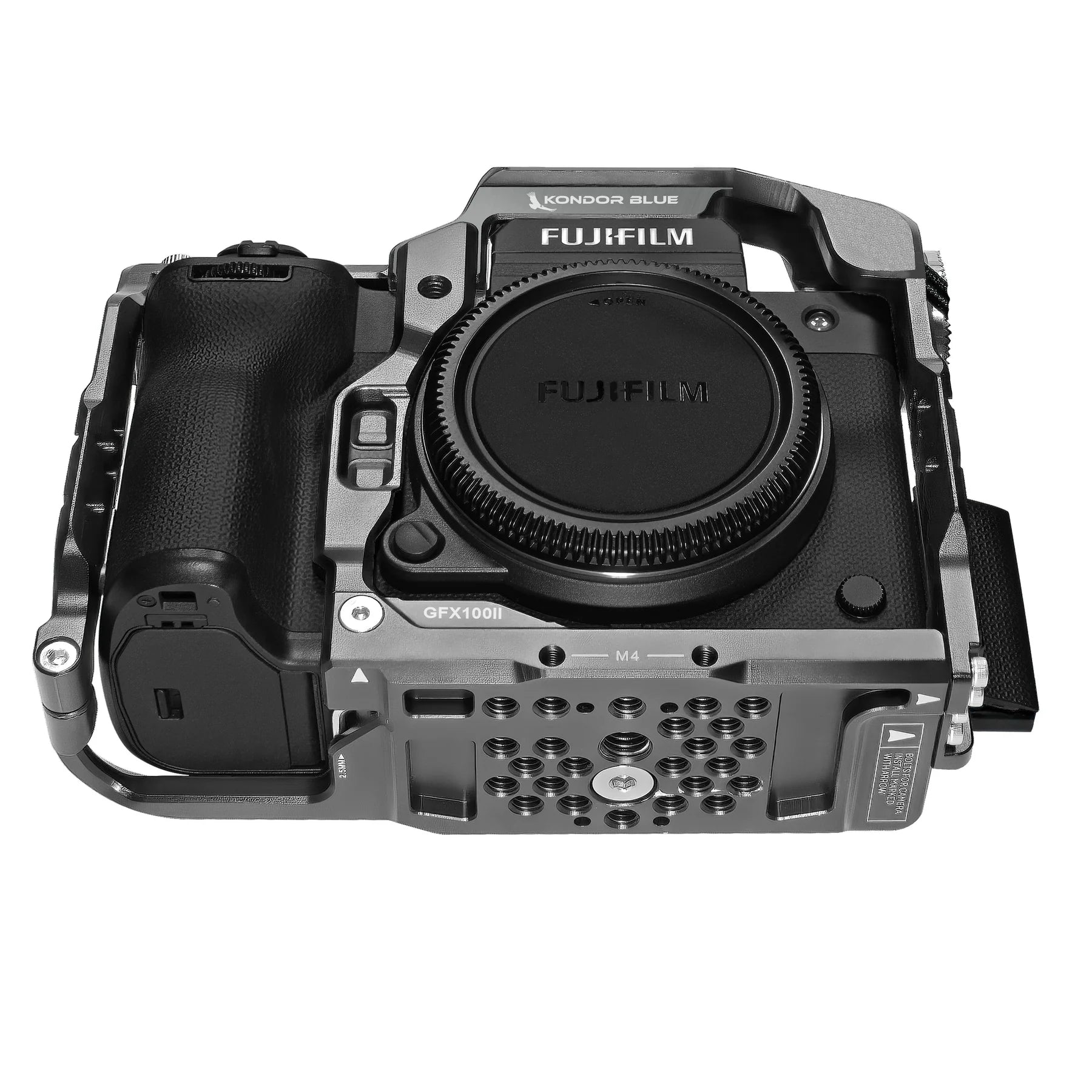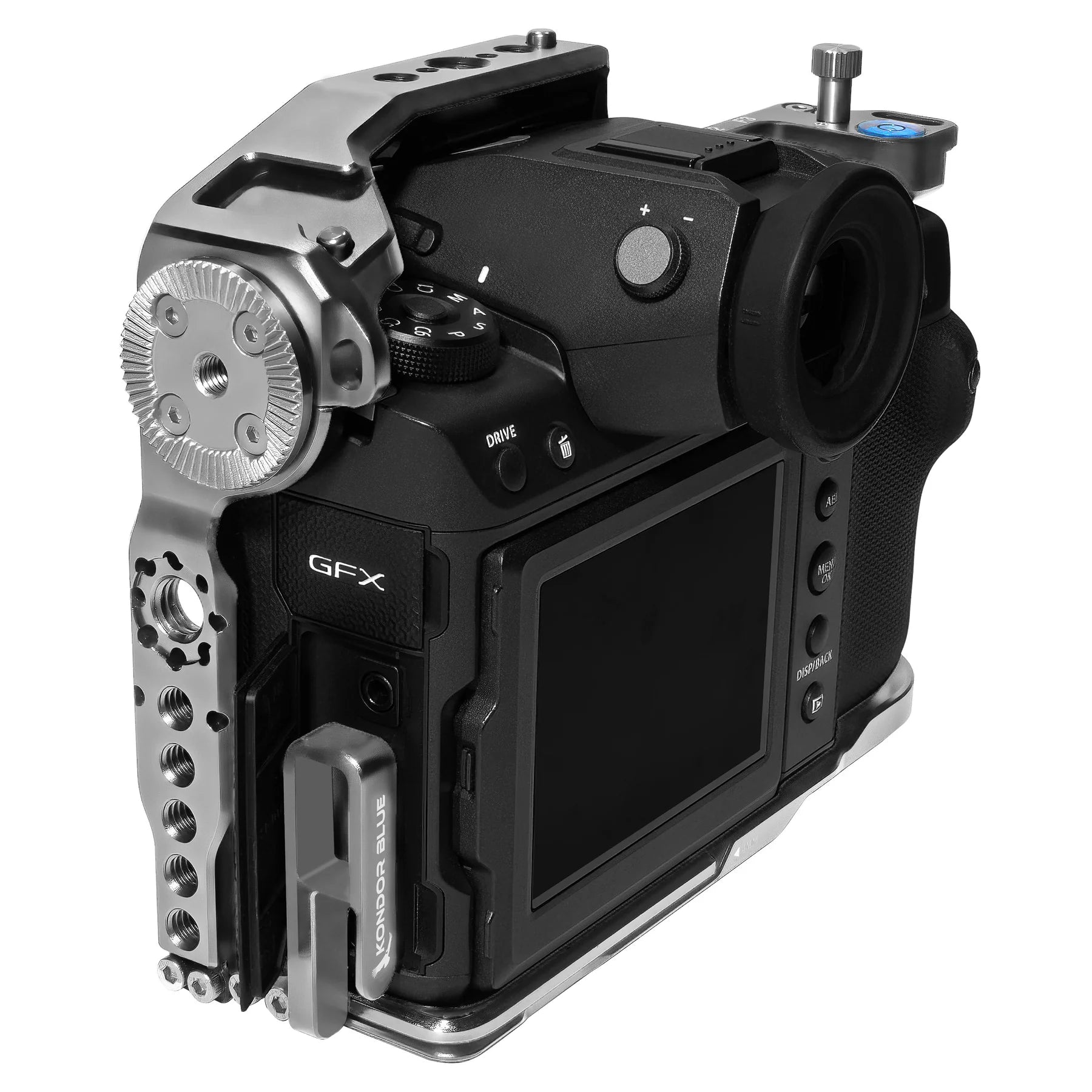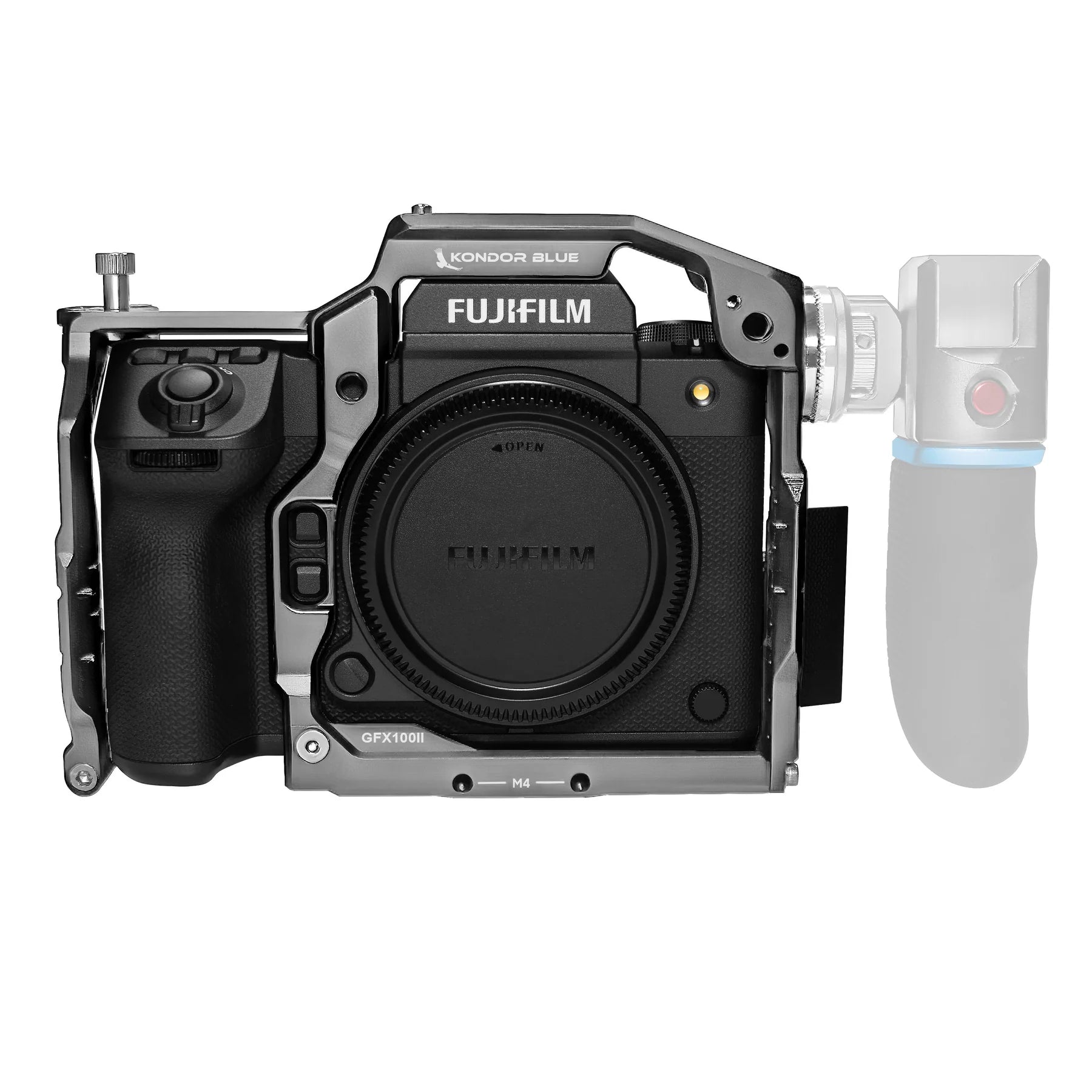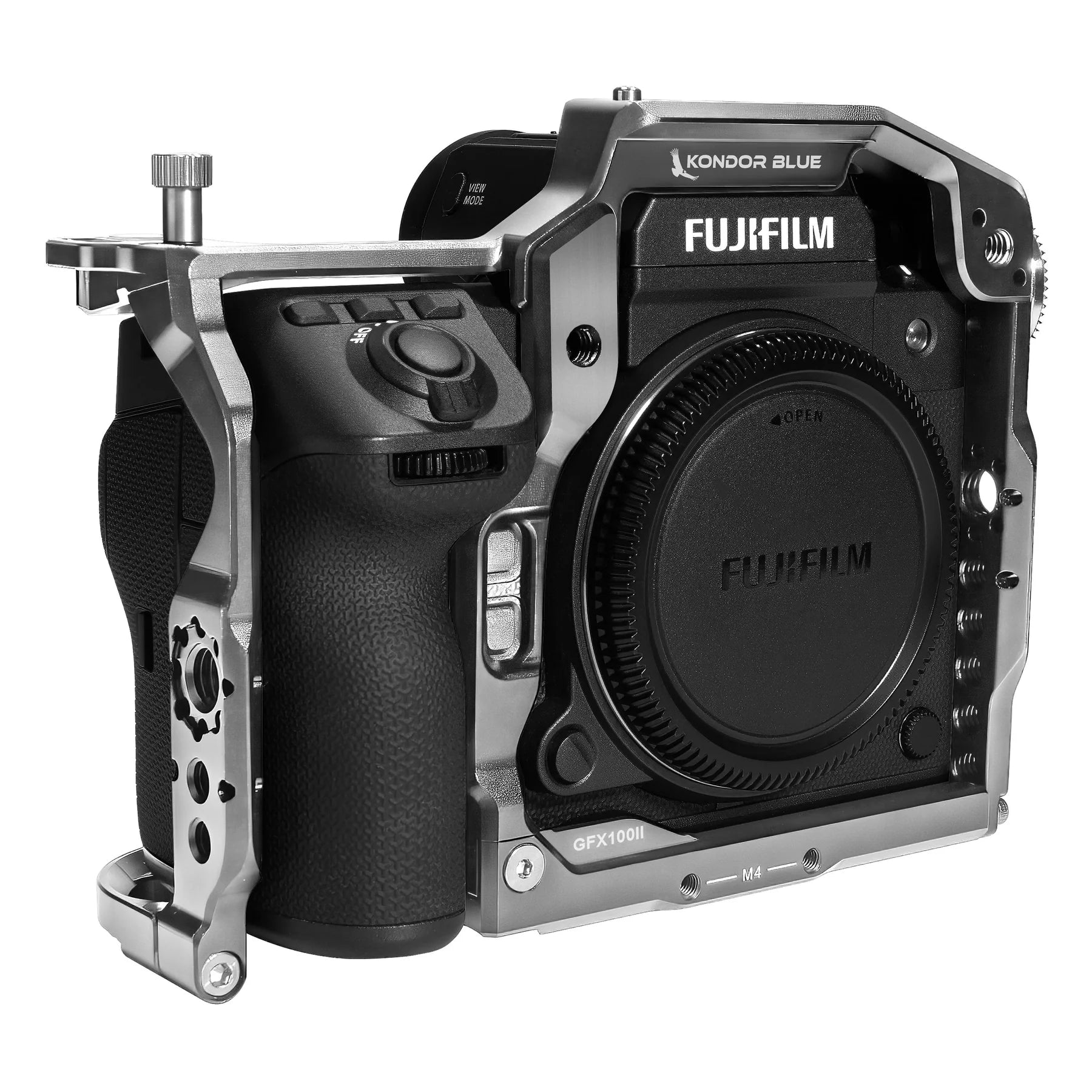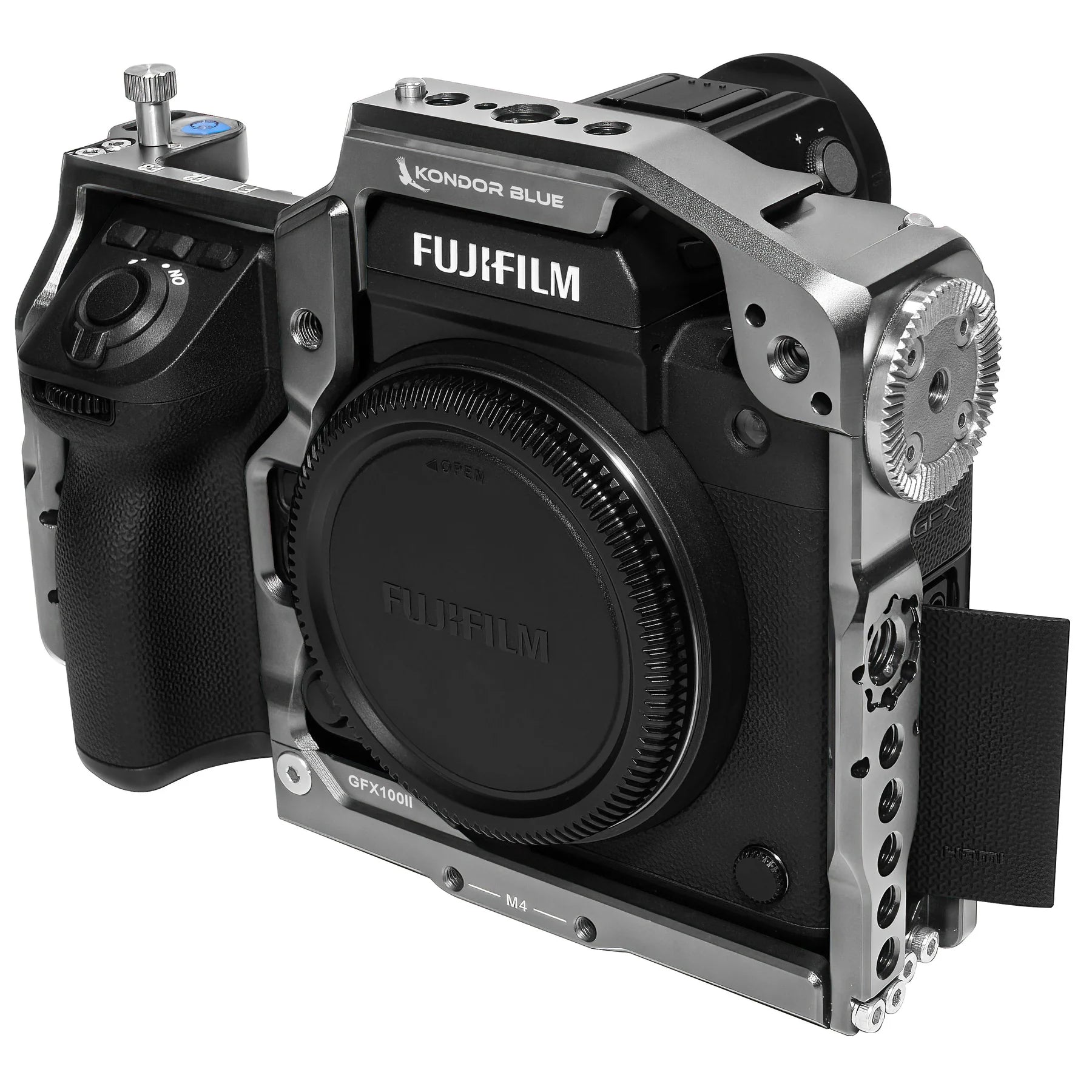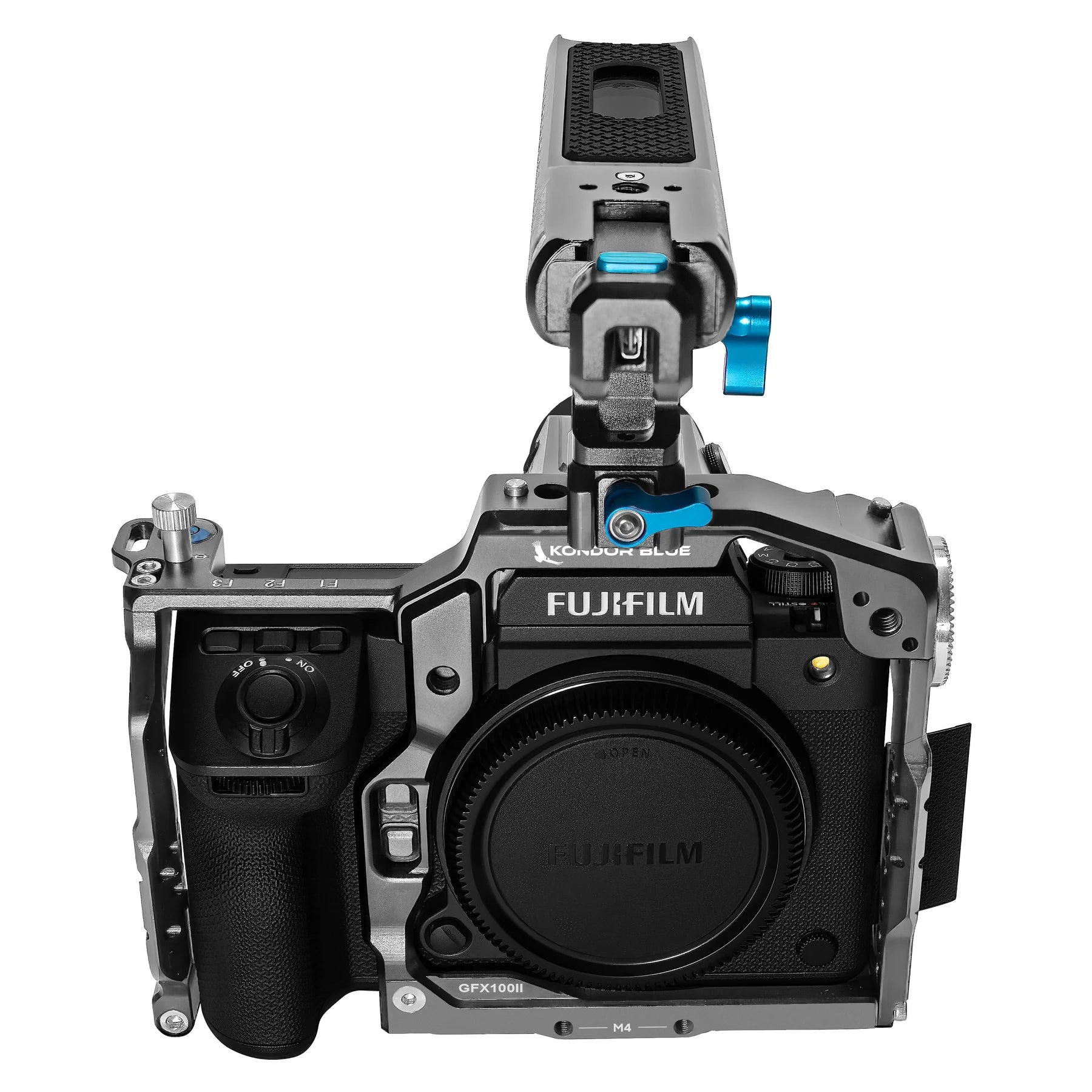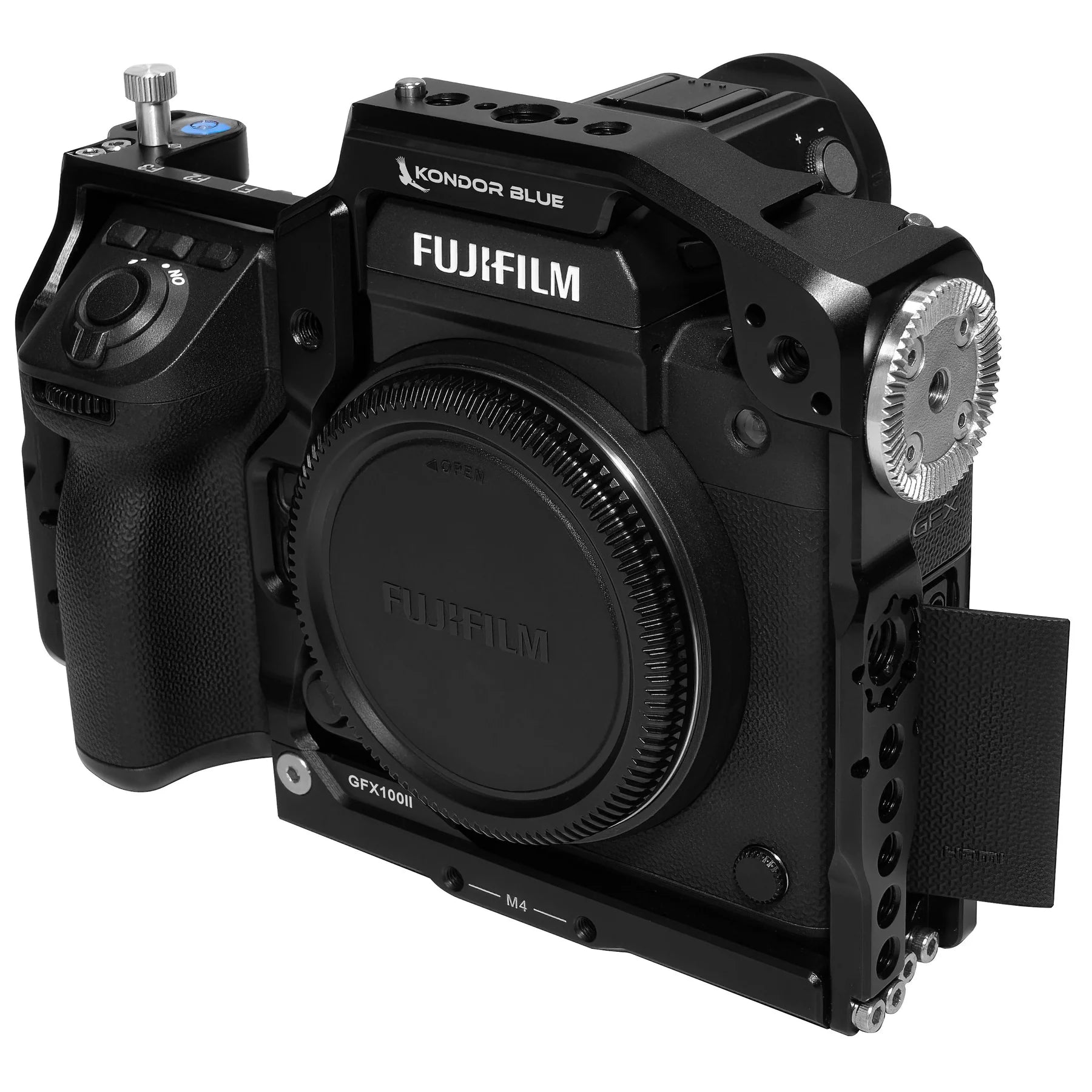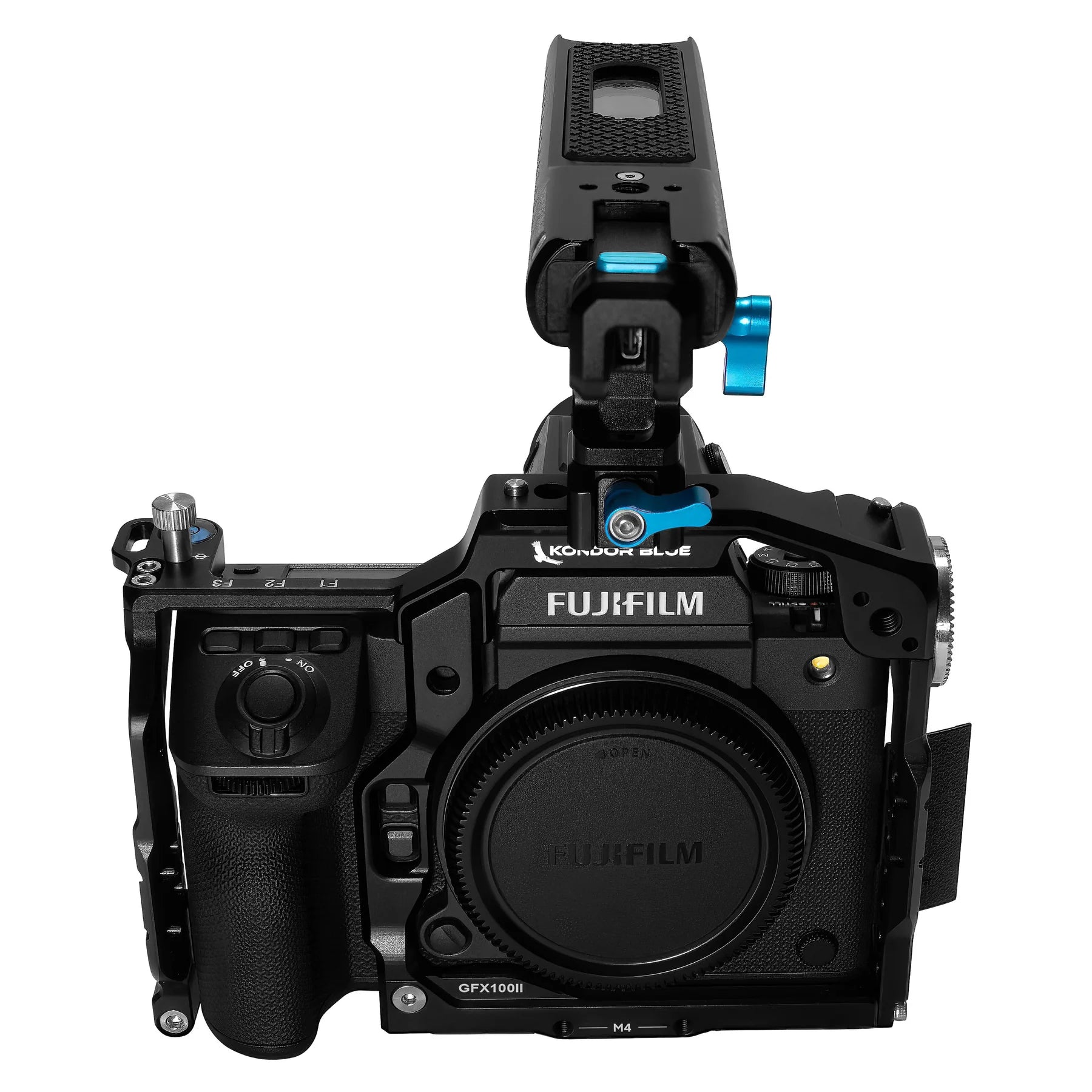 Key Features
Hatch System
Mid-Rail and Eyelet Inserts
NATO Rail on Side and Top Plates
Stainless Steel ARRI Style Mounts
Removable HDMI/USB-C Yoke
Built-In Assembly Tools
Angled Cold Shoe with Safety Stop
Signature Bubble Level
FUJIFILM GFX100 II CAGE by Kondor Blue
Hatch System
Mid-Rail and Eyelet Inserts
NATO Rail on Side and Top Plates
Stainless Steel ARRI Style Mounts
Removable HDMI/USB-C Yoke
Built-In Assembly Tools
Angled Cold Shoe with Safety Stop
Signature Bubble Level
FREE Shipping for orders $100 above
Add $25 for 2-day expedited shipping
Ask about our Refer a Friend Program!

Got A Question? - Ask Our Team
The Kondor Blue FUJIFILM GFX100 II CAGE: Precision Protection Meets Innovative Design
Overview:
The FUJIFILM GFX100 II CAGE by Kondor Blue is a photographer's dream companion, meticulously crafted from robust 6061 aluminum and available in sleek Space Gray or Raven Black. Designed specifically for the Fujifilm GFX100 II camera, this cage not only offers top-notch protection but also boasts innovative features like the quick assembly Hatch System, sturdy Mid-Rail and eyelet inserts, and versatile mounting options with its NATO rails. Whether you're attaching handles, lights, or monitors, the ARRI style mounts ensure stability, while the removable HDMI/USB-C yoke safeguards your camera's ports. And with built-in assembly tools, an angled cold shoe with a safety stop, and Kondor Blue's signature bubble level, you're always ready for the perfect shot. Weighing just 10.5 ounces and with dimensions of 6.25 x 5.5 x 3.5 inches, it's a compact yet feature-packed addition to any photographer's toolkit.
More Details:
Hatch System: Quick and effortless assembly and disassembly with minimal bolts.
Mid-Rail and Eyelet Inserts: Enhanced strength and rigidity for a sturdy setup.
NATO Rail on Side and Top Plates: Seamless attachment of accessories, from handles to monitors.
Stainless Steel ARRI Style Mounts: Securely connect shoulder rigs, tripods, and more with anti-twist mounts.
Removable HDMI/USB-C Yoke: Protect your camera's vital ports from potential damage.
Built-In Assembly Tools: No extra tools needed, ensuring a hassle-free setup and breakdown.
Angled Cold Shoe with Safety Stop: Keep your accessories secure and prevent accidental drops.
Signature Bubble Level: Always achieve a level shot with Kondor Blue's trademark feature.
Product Specifications:
Material: 6061 Aluminum
Color: Space Gray or Raven Black
Weight: 10.5 ounces (300 grams)
Dimensions: 6.25 x 5.5 x 3.5 inches (159 x 140 x 89 millimeters)
Compatibility: Fujifilm GFX100 II camera