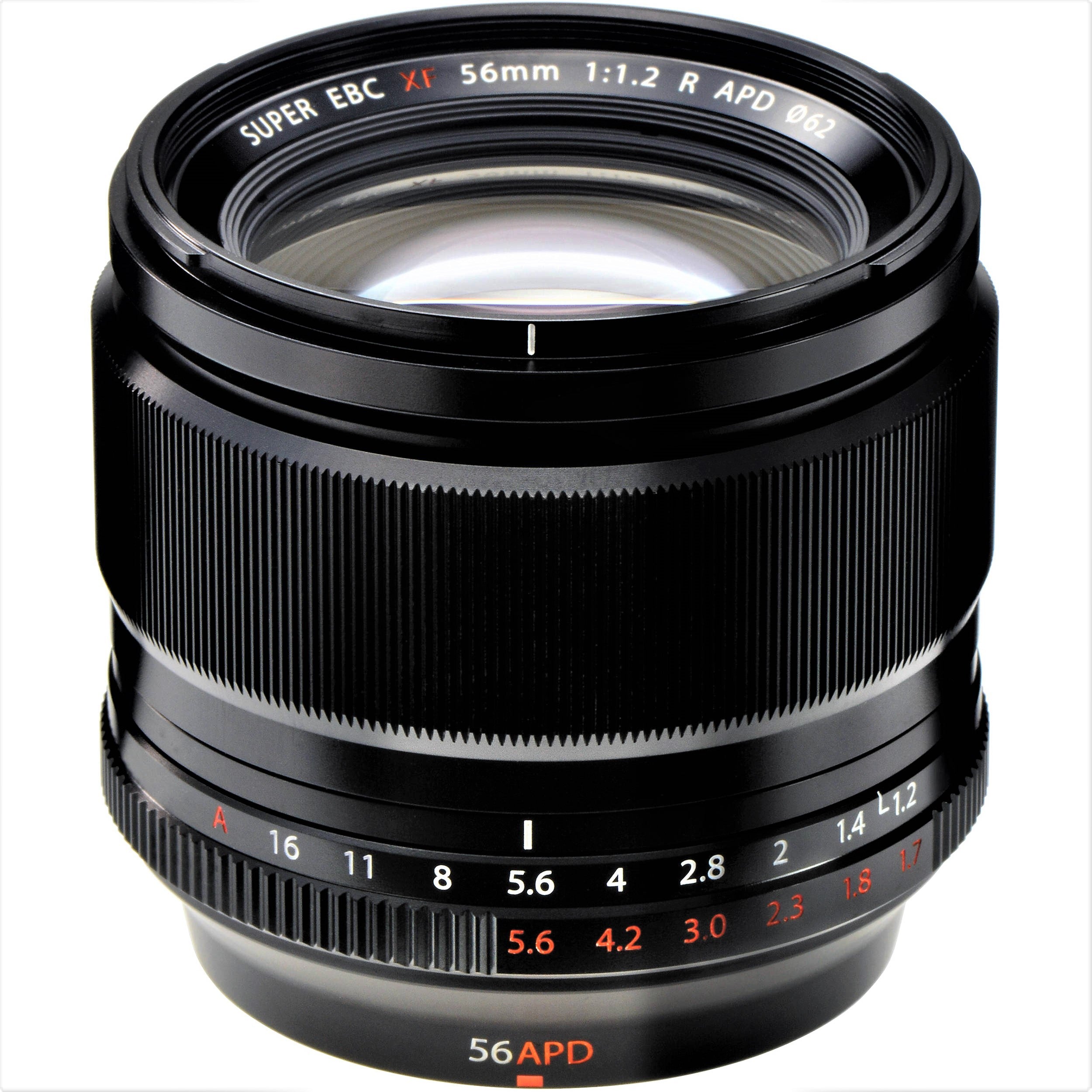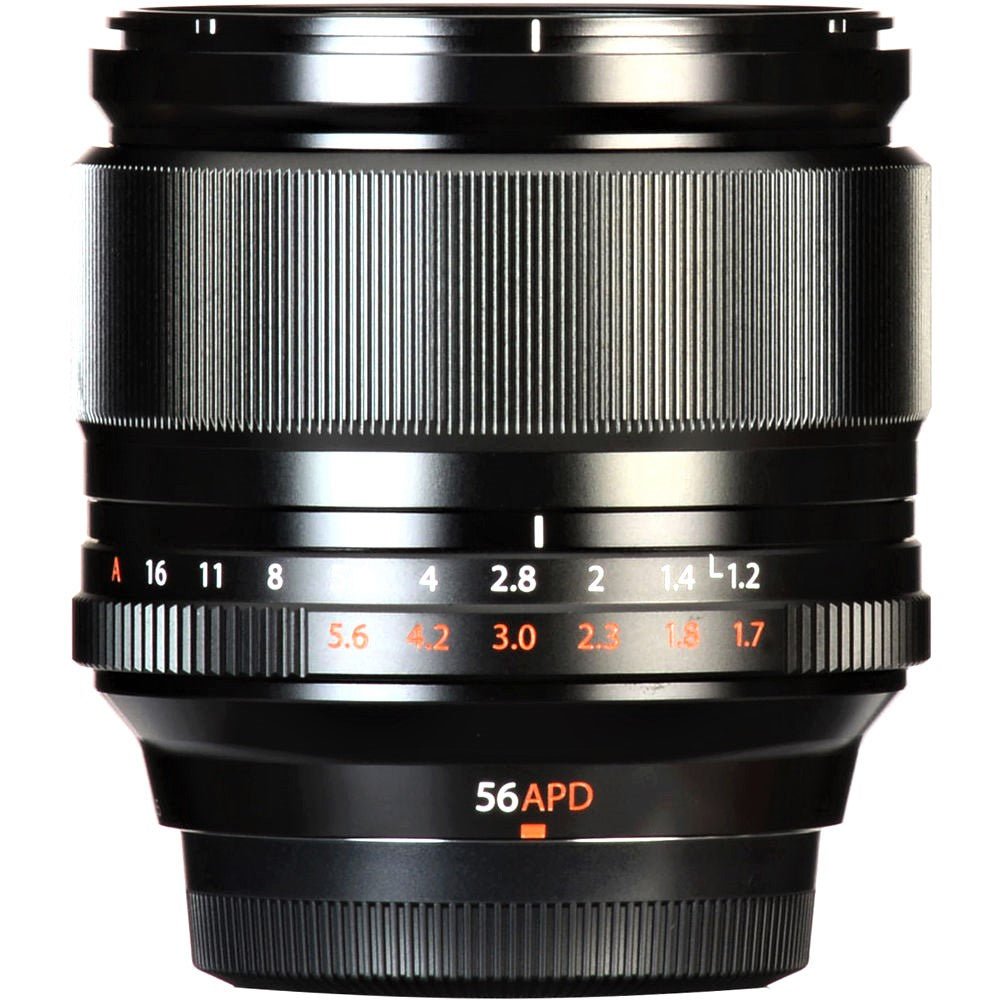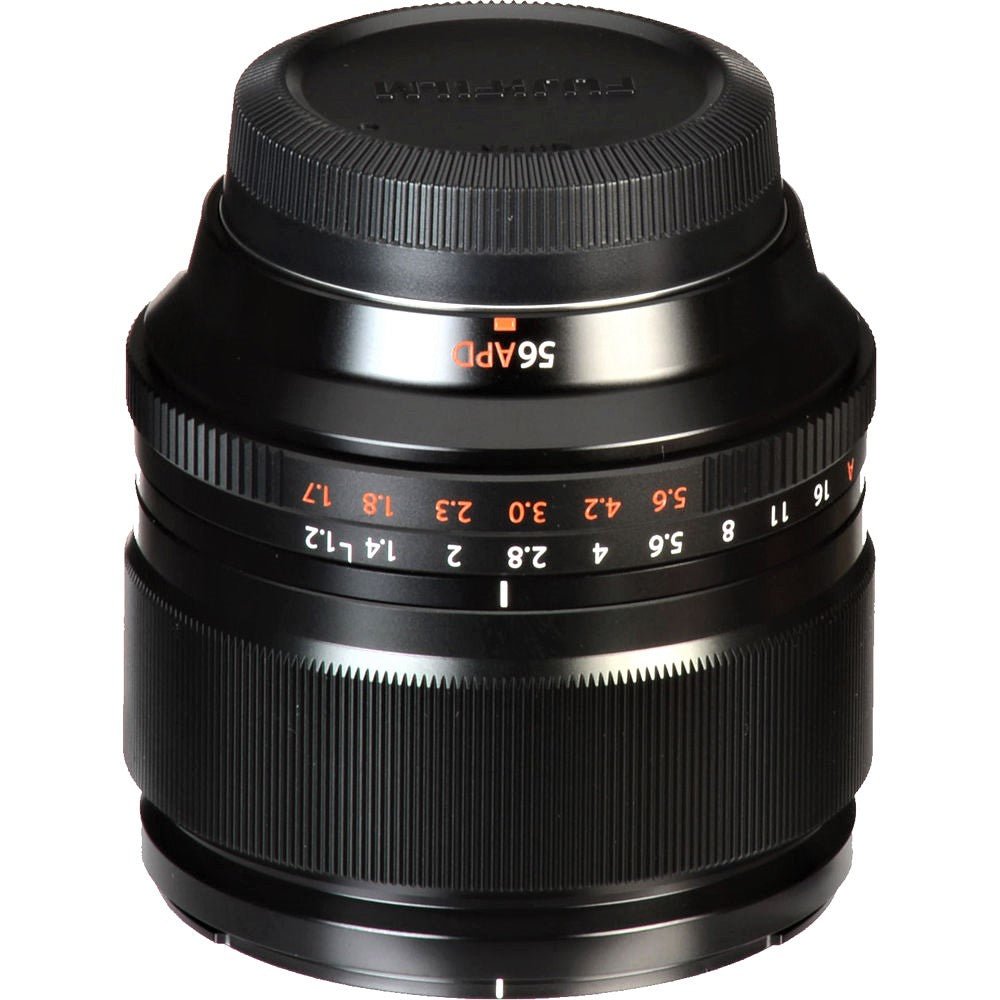 AUTHORIZED DEALER | Fujifilm
Fujifilm XF 56mm F1.2 R APD Lens
FREE Shipping for orders $100 above
Add $25 for 2-day expedited shipping
Ask about our Refer a Friend Program!

Got A Question? - Ask Our Team
Discontinued 
Perfect for portrait photography, the Fujifilm XF 56mm F1.2 R APD Lens has a distinctive optical construction, a pleasing field of view suitable for portraits, and an exceptionally wide maximum aperture of f/1.2. Not only does it have the focal length for frame-filling compositions, but the f/1.2 maximum aperture also creates beautifully blurred backgrounds that highlight your subject and gives extra versatility when making images when the available light is low. It is beautifully constructed with an all-metal construction that will last for years, perfectly sized at a length of 2.75in (70mm), and a weight of just .89lb (405g).
The Fujifilm XF 56mm f 1.2 lens's wider aperture enables it to capture more light making it versatile for low-light settings, which is critical for capturing clear images or videos in poorly lit environments. Every aspect of Fuji 56mm f/1.2 R optical construction is focused on delivering quality results. It features one aspherical and two extra-low dispersion lens elements to minimize aberrations and has an additional four elements with convex surfaces to ensure even light distribution across the frame, even F1.2. This results in incredible image quality and consistency throughout the image, edge-to-edge.
More details:

A Fast Aperture Medium-Telephoto Prime with Beautiful Bokeh -

The F1.2 lens creates a smooth and attractive background blur, and its 56mm focal length provides a pleasant shooting distance. When paired with Fujifilm X-Series cameras known for accurate skin tone reproduction, this lens produces exceptional portrait photography results. The built-in APD filter, a product of advanced nanotechnology, further enhances bokeh making the subject more prominent and allowing for greater creative possibilities in various subjects beyond portraits.

Apodization filter delivers more creative portraits - The apodization filter smoothes the bokeh's outlines. This combination of image sharpness and beautiful bokeh delivers portraits with a three-dimensional feel. The optical construction of 11 glass elements in 8 groups, including one aspherical glass molded lens element and two extra-low dispersion lens elements has been used. Spherical aberrations are corrected by the aspherical glass element to deliver high resolution.
Autofocusing for a lens with an apodization filter - In the past, an apodization filter has only been used on a manual focus lens, this is the first to use high-precision contrast AF. Combined with an X Series camera body, more natural shots of subjects are possible thanks to the near-silent shutter sound.
Film-like effects with the Film Simulation function - X Series interchangeable lens cameras are equipped with Film Simulation modes, which have been developed using Fujifilm's knowledge from 80 years of manufacturing to deliver film-like colors and tones. Combining this Fujinon lens with the Pro Neg. Film Simulation mode, which is specifically designed for portrait photography, reproduces beautiful skin tones.
High build quality and comfortable operation - The apodization filter delivers its best results at wider apertures. To enable wide apertures to be used even in bright environments, an ND filter is included that adjusts brightness in three levels. To indicate the apodizing effect, the Fujifilm 56mm lens features an aperture ring showing the effective F No. in red. The difference between the F No. and the effective F No. indicates the effectiveness of the apodization filter.
35mm Equivalent Focal Length: 85mm
Aperture Range: f/1.2 to f/16
11 elements in 8 groups with 1 ED aspherical element
Filter Size: 46mm
Focal Length: 56mm
X-Mount Lens/APS-C Format
Apodization Filter for Smooth Bokeh
One Double-Sided Aspherical Element
Two Extra-Low Dispersion Elements
Rounded 7-Blade Diaphragm
Lens Configuration

11 elements in 8 groups
(includes 1 aspherical and 2 ED elements + APD filter for APD version)
---
Focal Length

56mm
---
35mm Equivalent Focal Length

85mm
---
Angle of View

28.5
---
Maximum Aperture

F1.2
---
Minimum Aperture

F16
---
Number of Aperture Blades

7 (rounded diaphragm opening)
---
Aperture Step Size

1/3EV (23 steps)
*From max. aperture next step is 1/2EV
---
Minimum Focusing Distance (cm)

70
---
Minimum Focusing Distance (in)

27.56
---
Maximum Magnification

0.09x
---
Lens Diameter (mm)

73.2
---
Lens Length (mm)

69.7
---
Lens Length (in)

2.74
---
Lens Weight (g)

405
---
Lens Weight (lb)

0.89
---
Filter Size

62mm
---
Approximate External Lens Dimensions

73.2mm x 69.7mm
Fujifilm XF 56mm F1.2 R APD Lens
FLCP-62 II Front Lens Cap
RLCP-001 Rear Lens Cap
Lens Hood
Wrapping Cloth
ND filter for APD version
Limited Warranty
Whats in the Box?
Fujifilm XF 56mm F1.2 R APD Lens
FLCP-62 II Front Lens Cap
RLCP-001 Rear Lens Cap
Lens Hood
Wrapping Cloth
ND filter for APD version
Limited Warranty