Behind the Scenes of Shell V-Power Racing Team Supercars Experience Filmed with Blackmagic Pocket Cinema Camera 6k Pro
Blackmagic Pocket Cinema Camera 6K Pro digital film cameras were strapped to a V8 race car to shoot the Shell V-Power Racing Team Supercars Experience.  The tailor-made experience was created by experiential agency Traffik and gives fans attending race day the exhilaration of what it feels like to do a hot lap around Phillip Island Grand Prix Circuit with Anton de Pasquale behind the wheel.
The production was shot by Anthony Rose, one of Australia's most successful directors and cinematographers, and involved rigging 12 Pocket Cinema Camera 6K Pros all over the car to give viewers the most visceral experience of being inside a V8 race car. The hot lap was shot with the cameras strategically positioned inside/outside the car to create a high fidelity experience that lives inside a custom built shipping container with a surround sound mix and 4D effects to complement the unique 32:9 aspect ratio.
Blackmagic Design Pocket 6K Pro Cameras Capture High-Speed Action of Rose's Project
Rose said there were plenty of interesting challenges with the project, not the least of which was finding cameras that would be able to handle the car hitting speeds of over 270 kilometers per hour (168 miles per hour). "After extensive discussion and testing we chose the Blackmagic Design Pocket 6K Pros for their rugged build and low profile, as well as their light weight. We then used Blackmagic RAW, which allowed us to crop the image to make the most of our 32:9 ultra wide aspect ratio," he said.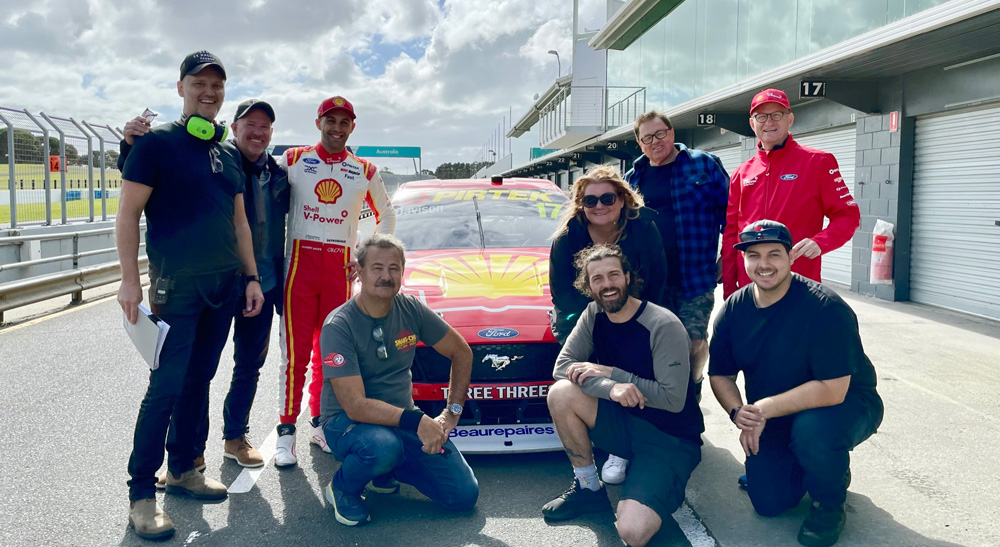 The cameras were mounted on the front, side and top of the V8 Supercar for filming, but the production team found that even having the lightweight camera and custom rig made a huge difference to how the car handled. "As we discovered, mounting any type of cameras outside a car at high speed will dramatically affect the handling, especially with one on the roof and another suspended on tubing six feet out to the side," said Rose.
Blackmagic Cameras Capture Supercars at High Speeds
Rose worked with the production team to create a custom rig, as the cameras couldn't be held onto the car with suction mounts alone due to the car's high speeds and flexible carbon fiber bodywork.
"My colleague Tim Dugan created a custom rig to match the tubing of the car's tube frame chassis and roll cage that allowed for safe, rock solid mounting throughout the car," said Rose. "With a limited number of runs available and the driver still strapped in tight, after each lap the camera crew would swarm the car like a pit crew to remount the cameras as fast as possible so it could set off again. Quick decisions had to be made about focus and exposure in the ever changing light, and the Blackmagic cameras were perfect for being able to do this."
"Having internal batteries and a built in screen made the cameras quick to adjust without external cables and the need to plug in monitors, etc," he continued. "One trick I always use on all my Pocket 6K Pro cameras is to remove the battery doors for faster battery replacement, especially on gimbals and rigs like this."
The Shell V-Power Racing Team Supercars Experience will go on tour at select events across Australia throughout the season.
Upgrade Your Videography with the Blackmagic Pocket Cinema Camera 6K Pro at Nuzira!
Elevate your visual storytelling with the Blackmagic Pocket Cinema Camera 6K Pro. This compact yet powerful 6K digital film camera boasts a high-resolution HDR sensor, dual native ISO, EF lens mount, and direct USB-C recording. Whether you're an independent filmmaker, studio owner, or photography enthusiast, the 6K Pro offers professional features at an affordable price. Capture dynamic live events and create high-quality videos with ease. Upgrade your videography game today, visit Nuzira!