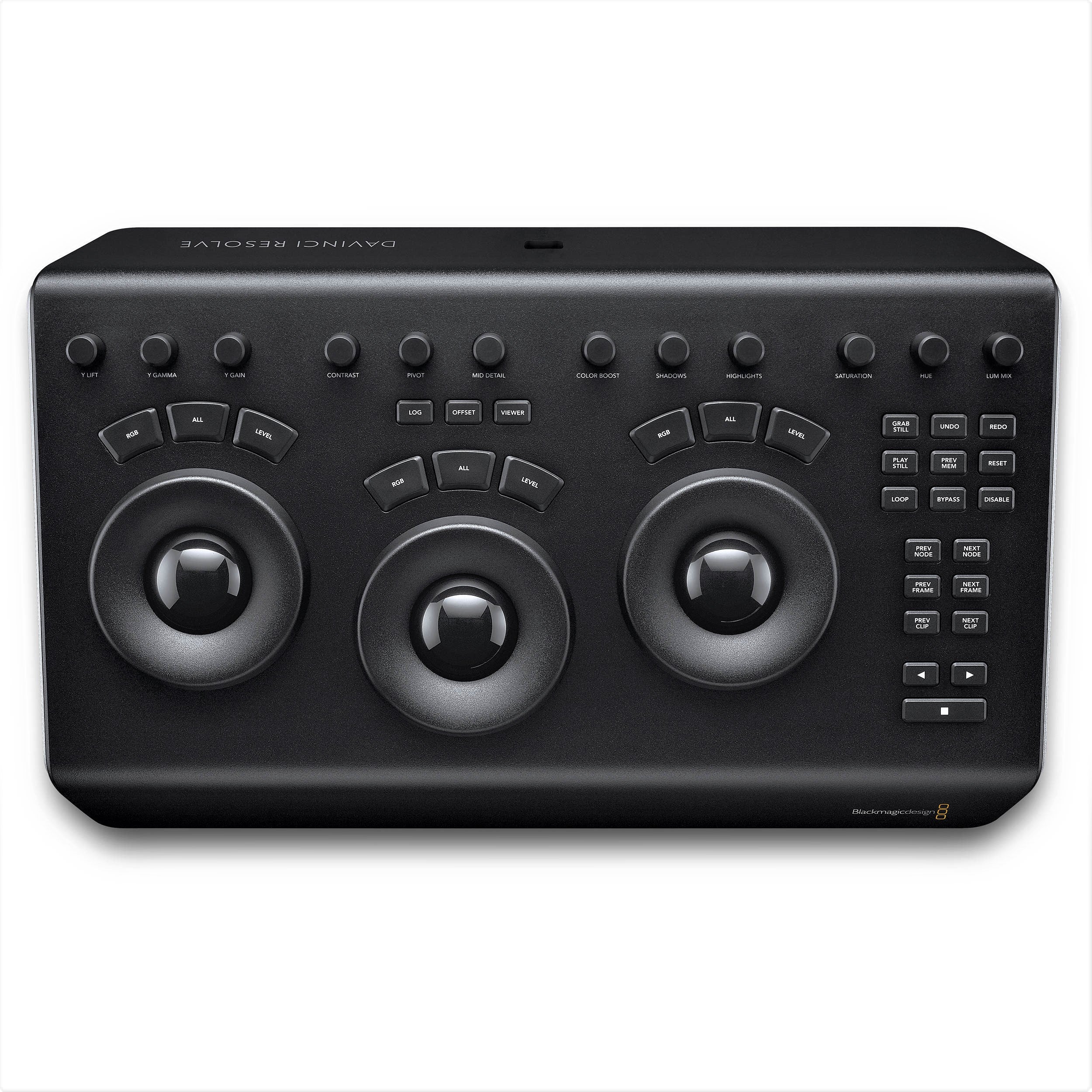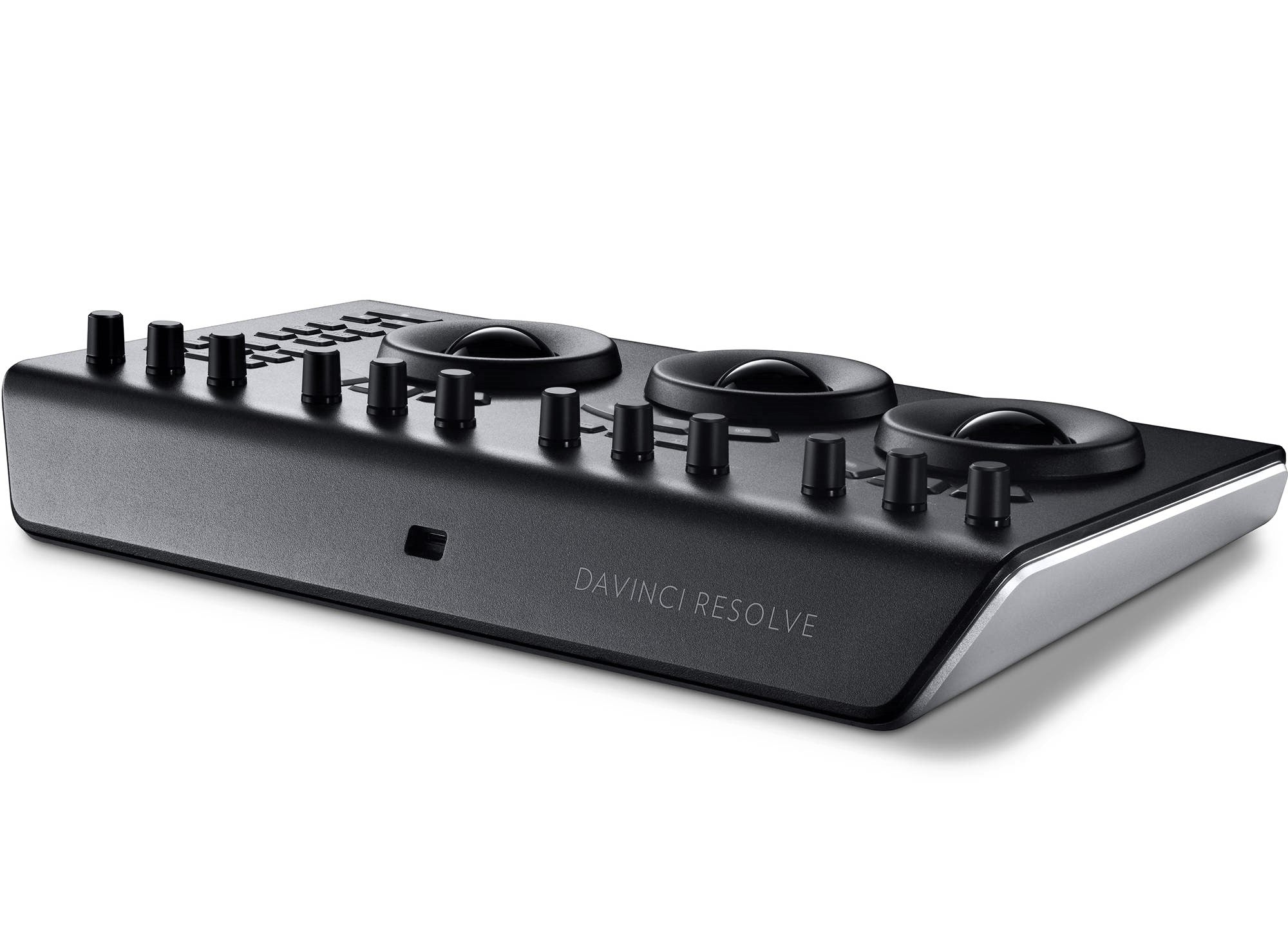 Blackmagic Design DaVinci Resolve Micro Panel with Resolve Studio Software
Pickup available at 9420 E DoubleTree Ranch Rd #107
Usually ready in 2-4 days
Blackmagic Design DaVinci Resolve Micro Panel with Resolve Studio Software
9420 E DoubleTree Ranch Rd #107
Pickup available, usually ready in 2-4 days
9420 E DoubleTree Ranch Rd #107
Scottsdale AZ 85258
United States
480.386.6981
FREE Shipping for orders $100 above
Add $25 for 2-day expedited shipping
Ask about our Refer a Friend Program!

Got A Question? - Ask Our Team
Suitable for editors and colorists, the Blackmagic Design DaVinci Resolve Micro Panel with Resolve Studio Software features three high-resolution, weighted trackballs, and 12 control knobs for accessing essential primary color-correction tools in the included Resolve software. This micro panel is a portable control surface that provides more control and a faster workflow to DaVinci Resolve Studio software than working with a keyboard and mouse alone. Eighteen dedicated keys on the right side also give you access to the most commonly used grading features and playback controls.

The Micro Panel uses a USB 3.0 Type-C interface that allows you to connect to a computer or laptop and power the panel, alleviating the need for a separate power supply. It also interfaces with macOS, Windows, or select Linux systems. For the panel to work with Resolve, your computer must be running DaVinci Resolve 14.3 or DaVinci Resolve Studio 14.3 or later. An included USB 3.0 Type-A to USB Type-C cable provides backward compatibility for systems that have USB 3.0 Type-A ports.
More details:
Small enough to take with you, so you can bring it to any Resolve system (12.5.5 or later) and do color correction on location or at the editor's suite
Shares basic layout with Mini and Advanced Panels
Interfaces with and controls software
Three track balls with an outer control ring
Log and Offset color-correction selection buttons
Custom control knobs with 4096 steps per rotation and push-button reset
Primary Correction Creative Control Knobs - Control knobs are grouped into four sets of three knobs
Luminance
Y lift Control: Adjust the contrast of the image in the darker areas, specifically in the Y (luminance) channel only. This adjustment allows changing the black point without changing saturation.
Y Gamma Control: Adjust the contrast of the image in the mid-tone areas, specifically in the Y (luminance) channel only. This control helps add depth and extra vibrancy to shots.
 Contrast
Contrast Control: Increase contrast to make the blacks darker and the whites brighter, or decrease contrast to do the opposite.
Pivot: Change the center of tonality about which dark and bright parts of the image are stretched or narrowed during a contrast adjustment.
Mid-Tone Detail: Affect the contrast of regions of the image with high edge detail to increase or decrease the perception of image sharpness and definition. Often used for softening facial features making it popular for beauty shots.
 Detail
Color Boost Control: Raise the saturation in regions of the image with low saturation while leaving properly saturated areas alone. Also known as a vibrance operation, this is useful for adding color without oversaturating the image.
Shadow Control: Selectively lighten or darken shadow detail without affecting your image's mid-tones.
Highlight Control: Enable retrieving blown-out highlight detail in high dynamic range media by lowering this parameter. This allows you to achieve a smooth blend between the retrieved highlights and unadjusted mid-tones for a natural-looking image.
Saturation - Increases or decreases overall image saturation, you can turn your color image into a grayscale image with this control.
Hue Control: Rotate all hues of the image around 360° of the color wheel. The default setting is 50, which retains the original distribution of hues.
Luminance Mix Control: Control the balance between the YRGB adjustments and Y-only adjustments made using the Y channel lift, gamma, and gain controls.
3 x High-Resolution Trackballs
12 x Primary Correction-Control Knobs
18 x Navigation and Transport Keys
Supports Mac and Windows
Supports Select Linux Installations
USB Type-C Interface
USB 3.0 Type-A to Type-C Cable Included
Blackmagic Design DaVinci Resolve Micro Panel with Resolve Studio Software

USB 3.0 Type-C to USB Type-A Cable

DaVinci Resolve Studio Software Activation Key

Limited 1-Year Manufacturer Warranty (on Hardware)
Whats in the Box?
Blackmagic Design DaVinci Resolve Micro Panel with Resolve Studio Software

USB 3.0 Type-C to USB Type-A Cable

DaVinci Resolve Studio Software Activation Key

Limited 1-Year Manufacturer Warranty (on Hardware)