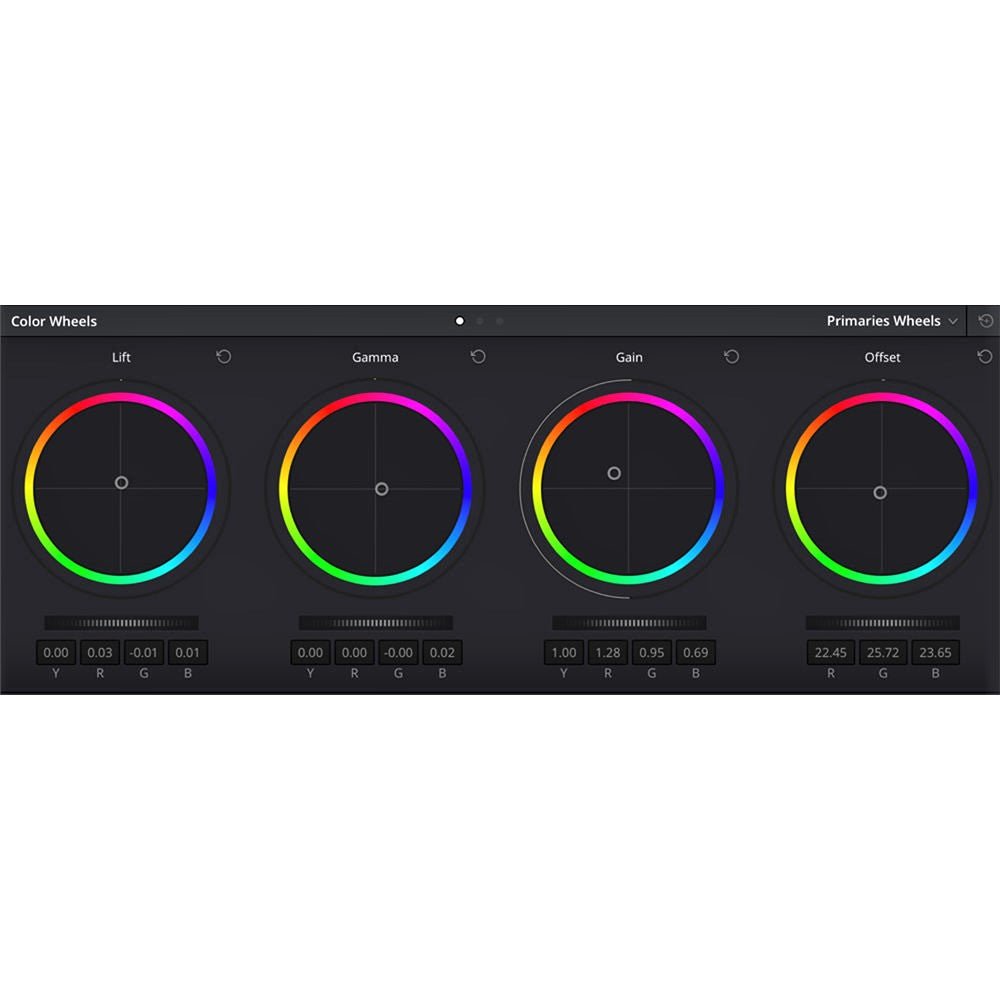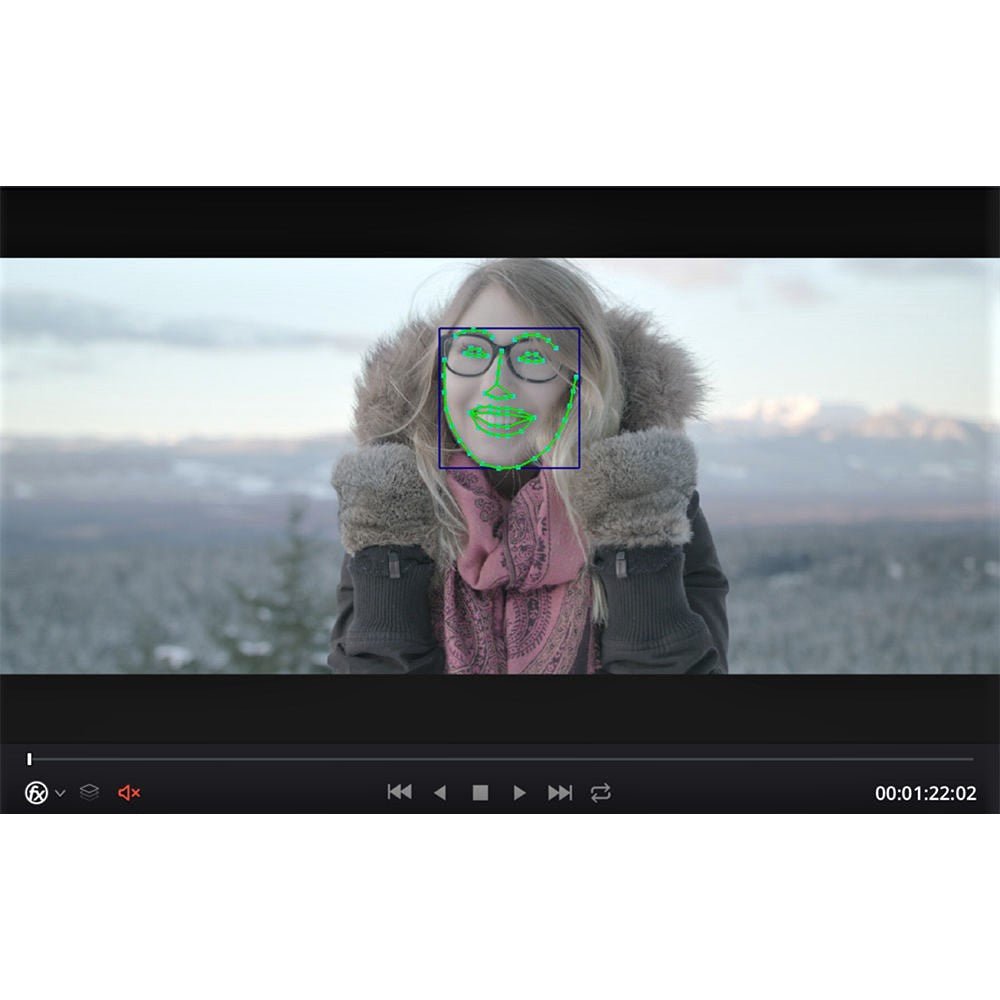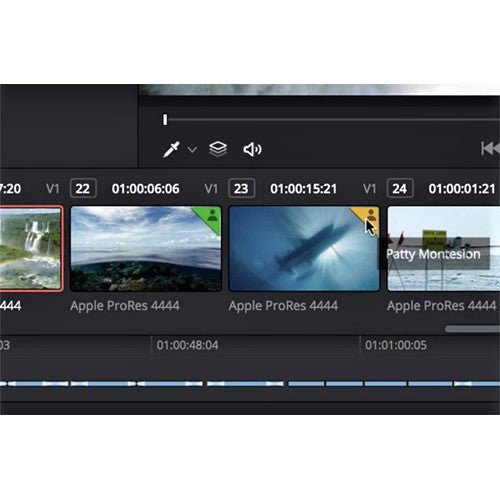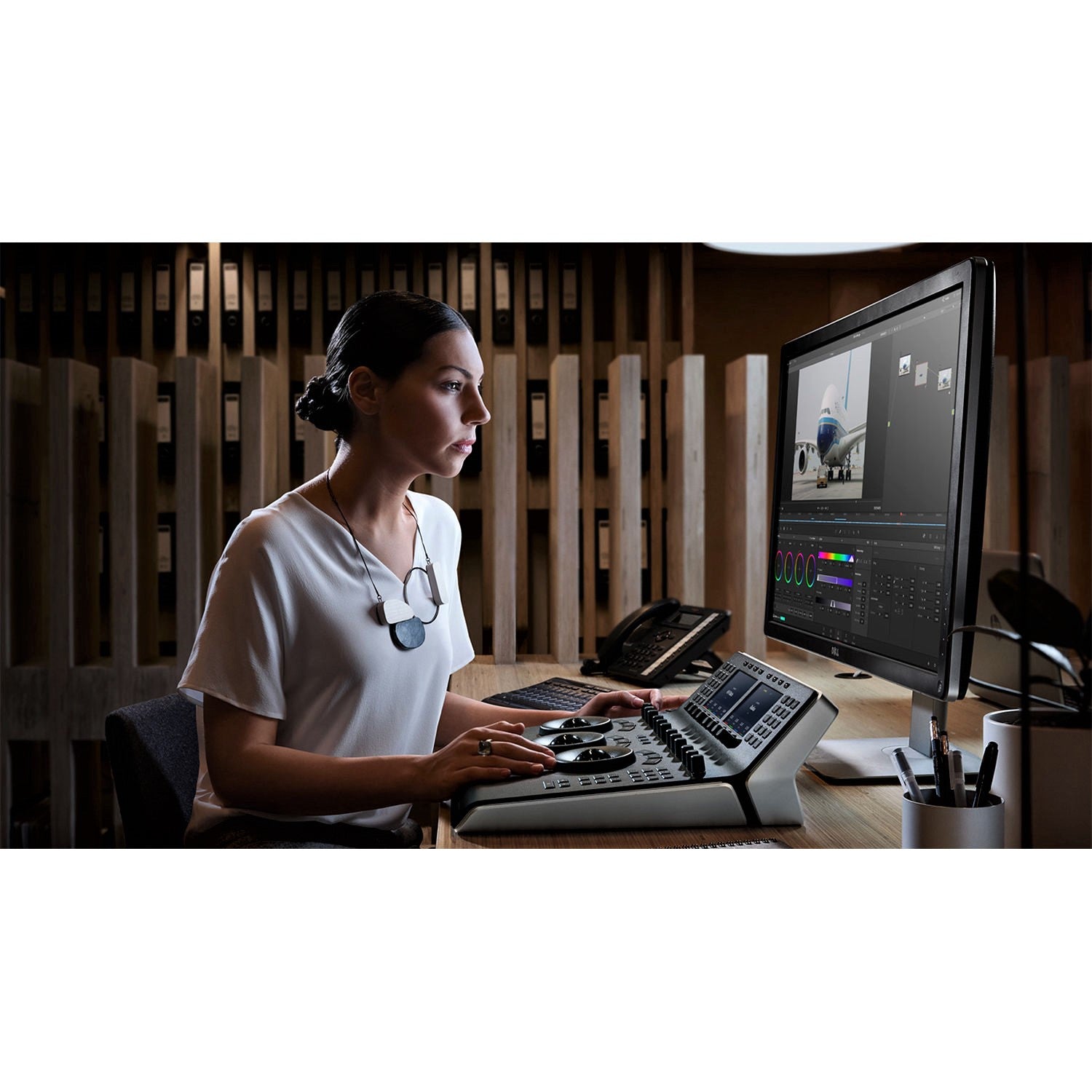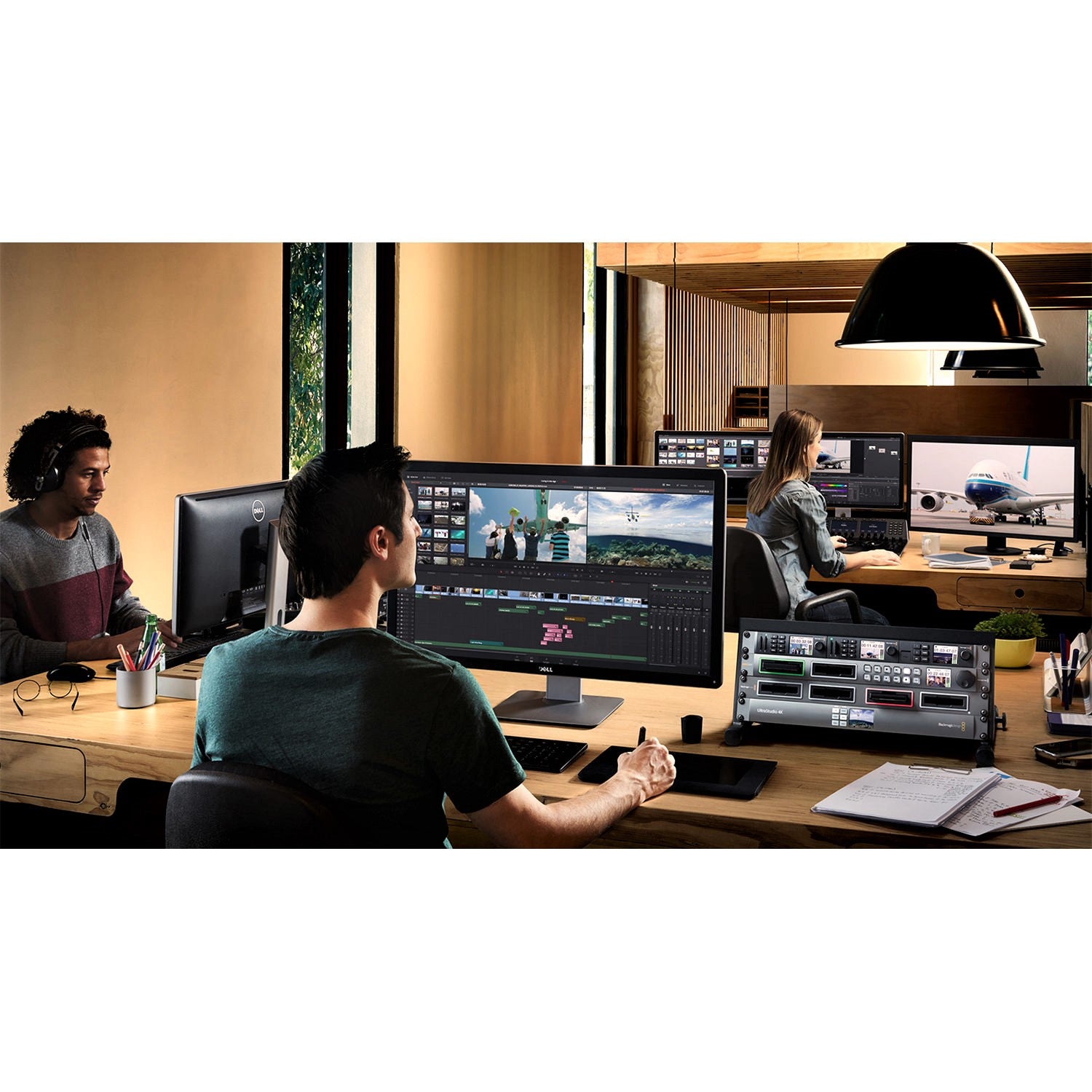 Blackmagic Design DaVinci Resolve Studio (Activation Card)
Pickup available at 9420 E DoubleTree Ranch Rd #107
Usually ready in 2-4 days
Blackmagic Design DaVinci Resolve Studio (Activation Card)
9420 E DoubleTree Ranch Rd #107
Pickup available, usually ready in 2-4 days
9420 E DoubleTree Ranch Rd #107
Scottsdale AZ 85258
United States
480.386.6981
FREE Shipping for orders $100 above
Add $25 for 2-day expedited shipping
Ask about our Refer a Friend Program!

Got A Question? - Ask Our Team
The Blackmagic Design DaVinci Resolve Studio (Activation Card) is a renowned advanced color correction software and now also a full-fledged, non-linear editing system — it even allows you to import projects from other NLEs, such as from Premiere Pro, as XML files. You can edit, color correct, finish, and deliver all from one system. This DaVinci Resolve Studio is highly sophisticated and oriented at the same time toward the individual user, large collaborative teams, and the growing studio owner. It is completely scalable and resolution independent so it can be used on set, in a small studio, or integrated into large production pipelines. You can use multi-GPU systems such as the Mac Pro or build a dedicated Windows system with up to 3 GPUs. Resolve also features advanced media management tools designed for editorial and color workflows. You can move, copy, consolidate, relink, and archive media, timelines, or entire projects.
In all, you can combine grades, effects, mixers, keys, and plug-ins in any order to create limitless color effects and unique looks. This is the core of DaVinci Resolve's color grading functionality and there are hundreds of advanced features and capabilities in addition, such as grading from raw Files, automatic color matching, and 3D tracking. The editing functionality in Resolve is designed to handle TV dramas, commercials, multi-camera productions, and all other project types from the smallest to the largest. Trimming tool is context sensitive, meaning that based on where you position the mouse cursor on the timeline, Resolve will automatically switch to the trimming function you need so you can ripple, roll, slip, slide, or extend and shorten your footage without having to manually switch tools. Designed with the ability to integrate with dozens of other applications so that you can focus more on your project, the DaVinci Resolve can share sequences and round trip projects with Final Cut Pro X, Media Composer, Premiere Pro, and other editing, audio, VFX, and motion graphics software. You can edit your project on any system, then link back to your full-quality camera raw files using XML, AAF, or EDL and finish in greater bit depth with Resolve.
Note: Your purchase will provide you with the most recent version of Resolve Studio. It is compatible with Linux only when an optional Resolve Advanced Control Panel is incorporated. In such cases, dedicated Linux features will also be available.
More details:
More GPU Acceleration - DaVinci Resolve Studio lets you turbocharge the performance of your system with support for multiple GPUs! Whether you're using Metal on a Mac, or OpenCL and CUDA on Windows and Linux, you'll get incredible performance gains with additional GPUs.
Advanced Noise Reduction

 

- DaVinci Resolve Studio includes some of the most sophisticated noise reduction tools in the world. Temporal and spatial noise reduction tools can be used independently or together to help clean up and remove unwanted noise in virtually any image.
Lens Distortion

 

- DaVinci Resolve Studio includes a lens correction feature that allows you to analyze a clip and correct for spherical lens distortion or other aberrations. It uses advanced image analysis and processing algorithms for incredibly high-quality results!
Professional HDR Scopes

 

- The HDR scopes in DaVinci Resolve Studio are capable of measuring and providing detailed information about ST.2084 and HLG images. This allows you to replace the 10-bit scale of the scopes with a scale based on unit values, or cd/m2, instead.
Stereoscopic 3D

 

- DaVinci Resolve Studio features a complete set of tools for editing and grading stereoscopic 3D projects. You have total control over stereo-specific clip properties such as convergence, floating windows, eye alignment, mastering, and output.
Remote Grading

 

- Remote grading lets colorists work interactively with clients across the globe. It allows two matching DaVinci Resolve systems to be synchronized via an internet connection so that changes made on one system are immediately visible on the other.
DaVinci Colorspace Transform Language

 

- Unlike LUTs, which rely on simple lookup tables, DaVinci color transformation scripts are GPU-accelerated bits of code that directly transform images using combinations of math functions. That makes them extremely fast and non-destructive.
Scripting and Automation

 

- DaVinci Resolve Studio features support for both Python and LUA scripting, along with developer APIs that allow you to add workflow integrations and custom encoding options. This lets studios of all sizes create deeply integrated custom workflows.
Workflow Integration Plug-ins

 

- DaVinci Resolve Studio supports workflow integration plug-ins for connecting to local and remote asset management, automation systems, and more. Users can write their own plug-ins and interact with DaVinci Resolve's JavaScript APIs.
Dolby Atmos Mastering

 

- Fully integrated support for ground-up creation of immersive 3D audio production, with 3D channels and buses from 5.1.2 to 9.1.6, remote RMU and DAMS, and local Dolby Atmos Production Suite with AudioBridge.
Re-mixing External Productions

 

- Dolby Atmos master production import from immersive .damf, .wav, .mxf files with support to decompose into original elements such as sources, buses, and VCA groups. Export to Atmos Master ADMBWF, or IMF _AIB.
IMF Audio Deliverables

 

- Support for adding audio to video via IMF containers with multiple simultaneous audio deliverables such as IAB-MXF or .wav. Deliver selection is from the timeline via a bus or track, or an existing file IAB file.
Dolby Vision Mastering

 

- Dolby Vision support includes a GPU-accelerated version of the Dolby Vision CMU, a content mapping unit, and free Dolby Vision grading controls. Access to advanced trim controls requires a separate Dolby license.
Native IMF Encoding and Decoding

 

- Create SMPTE ST.2067 compliant Interoperable Master Format (IMF) files for tapeless delivery to networks and distributors using Kakadu or Easy DCP. There are presets for generic, 20th Century Fox, and Netflix.
DCP Encoding and Decoding

 

- Native support for unencrypted DCP files lets you output and import unencoded DCP files for testing and validating playback of digital cinema packages. Support for encrypted DCP requires a separate Easy DCP license.
Encoder Plug-in Support

 

- Add additional and optimized rendering formats with 3rd party file format packs including XDCAM, XAVC, P2 AVC Ultra, P2 AVC Intra, HEVC/H.265 Main and Main 10 profiles, and even AS-11 compliant packaging.
Over 100 New Features & 200 Improvements
8K Editing & Color Correction
Advanced HDR Editing
AI-Based Magic Mask for Targeted Grading
Next-Gen Audio Engine; Edit 2000+ Tracks
Use Fusion Compositions in Cut/Edit Tabs
Proxy Media Workflows
Smart Reframe for Social Media
DaVinci Neural Engine Face Detection
Mac, Windows & Linux Compatible
Blackmagic Design DaVinci Resolve Studio (Activation Card)

Activation Code
Whats in the Box?
Blackmagic Design DaVinci Resolve Studio (Activation Card)

Activation Code