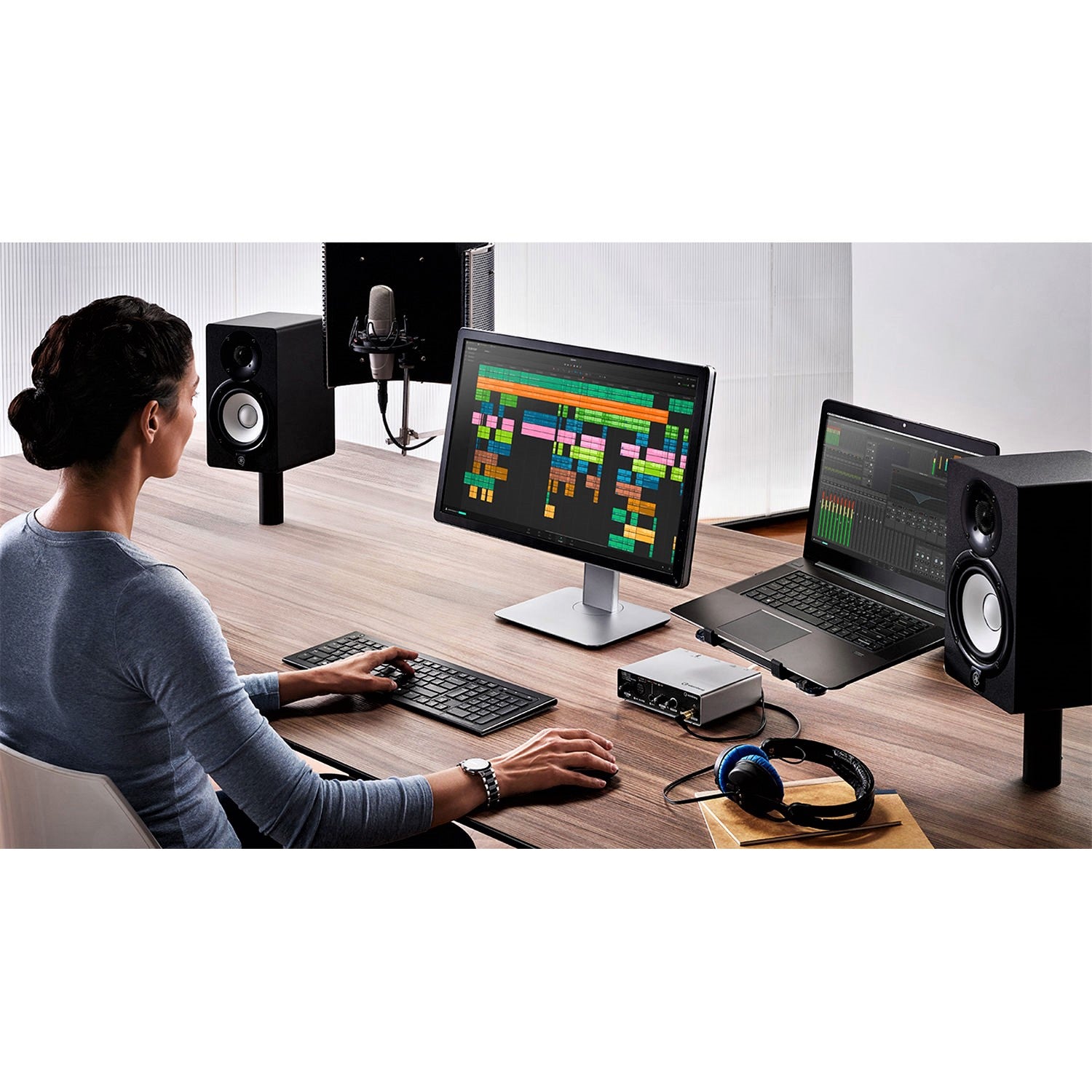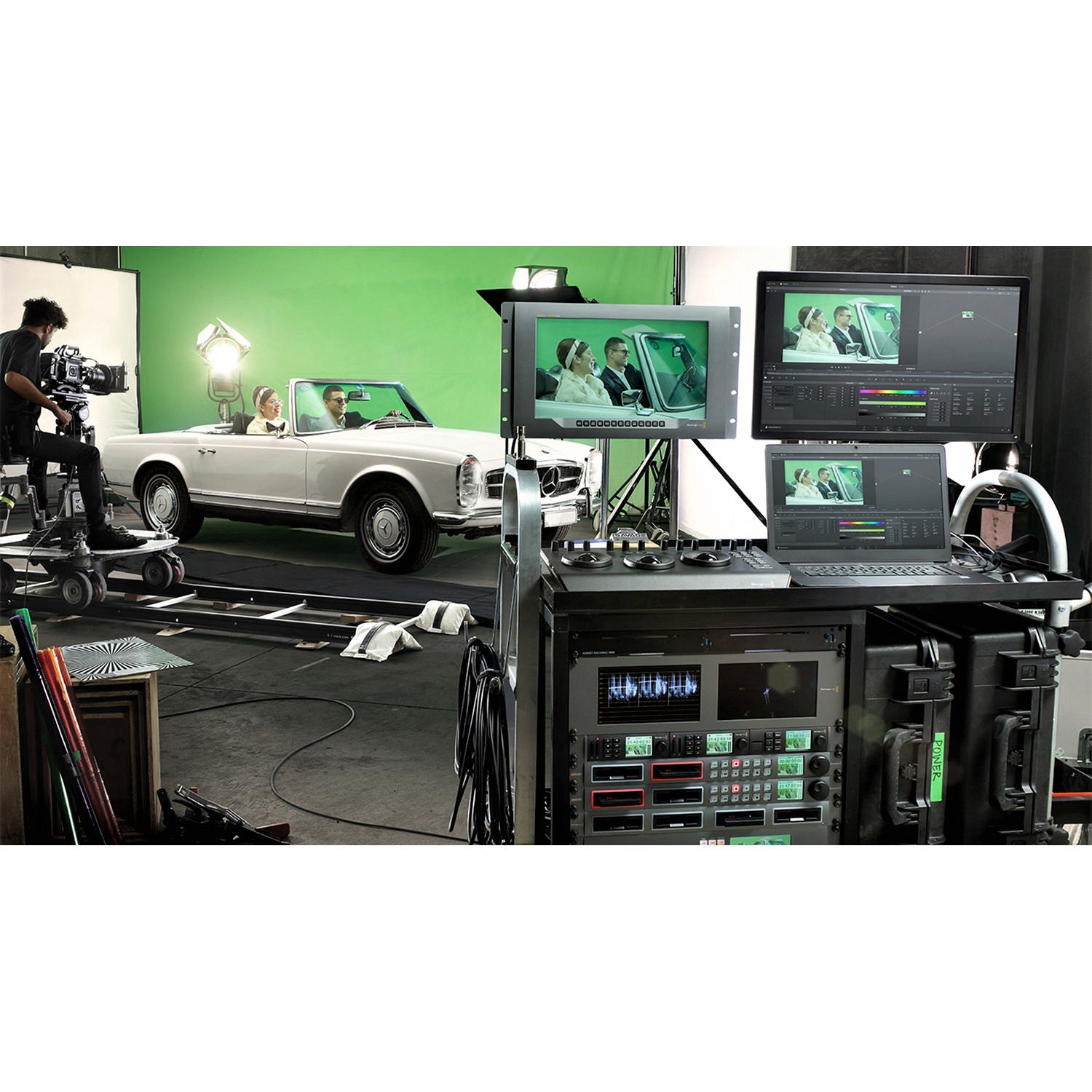 Blackmagic Design DaVinci Resolve Studio (Dongle)
Pickup available at 9420 E DoubleTree Ranch Rd #107
Usually ready in 2-4 days
Blackmagic Design DaVinci Resolve Studio (Dongle)
9420 E DoubleTree Ranch Rd #107
Pickup available, usually ready in 2-4 days
9420 E DoubleTree Ranch Rd #107
Scottsdale AZ 85258
United States
480.386.6981
FREE Shipping for orders $100 above
Add $25 for 2-day expedited shipping
Ask about our Refer a Friend Program!

Got A Question? - Ask Our Team
The Blackmagic Design DaVinci Resolve Studio (Dongle) is a renowned advanced color correction software and now also a full-fledged, non-linear editing system — it even allows you to import projects from other NLEs, such as from Premiere Pro, as XML files. You can edit, color correct, finish, and deliver all from one system. This DaVinci Resolve Studio is highly sophisticated and oriented at the same time toward the individual user, large collaborative teams, and the growing studio owner. It is completely scalable and resolution independent so it can be used on set, in a small studio, or integrated into large production pipelines. You can use multi-GPU systems such as the Mac Pro or build a dedicated Windows system with up to 3 GPUs. Resolve also features advanced media management tools designed for editorial and color workflows. You can move, copy, consolidate, relink, and archive media, timelines, or entire projects.
In all, you can combine grades, effects, mixers, keys, and plug-ins in any order to create limitless color effects and unique looks. This is the core of DaVinci Resolve's color grading functionality and there are hundreds of advanced features and capabilities in addition, such as grading from raw Files, automatic color matching, and 3D tracking. The editing functionality in Resolve is designed to handle TV dramas, commercials, multi-camera productions, and all other project types from the smallest to the largest. Trimming tool is context sensitive, meaning that based on where you position the mouse cursor on the timeline, Resolve will automatically switch to the trimming function you need so you can ripple, roll, slip, slide, or extend and shorten your footage without having to manually switch tools. Designed with the ability to integrate with dozens of other applications so that you can focus more on your project, the DaVinci Resolve can share sequences and round trip projects with Final Cut Pro X, Media Composer, Premiere Pro, and other editing, audio, VFX, and motion graphics software. You can edit your project on any system, then link back to your full-quality camera raw files using XML, AAF, or EDL and finish in greater bit depth with Resolve.
Note: Your purchase will provide you with the most recent version of Resolve Studio. It is compatible with Linux only when an optional Resolve Advanced Control Panel is incorporated. In such cases, dedicated Linux features will also be available.
More details:
Professional Editing - DaVinci Resolve includes virtually every imaginable editing and trimming tool available, making it perfect for both creative and online editing! The new high-performance playback engine, which is up to 10x faster, makes playback instantaneous and trimming more responsive than ever, even for processor-intensive formats such as H.264 and RAW.
Creative Editing - Familiar multi-track timeline with quick edit pop-ups, seven different types of edits, customizable keyboard shortcuts, and more.
Advanced Trimming - Context-sensitive trimming to ripple, roll, slip, or slide based on the mouse position so you don't have to switch tools.
Multicam Editing - Full multi-camera editing with real-time 2, 4, 9, or camera playback views for cutting shows on the fly.
Speed Effects - Quickly create constant or variable speed changes, complete with ramps and editable curves.
Timeline Curve Editor - Animate and add keyframes for virtually any parameter using the inspector or the timeline-based curve editor.
Transitions and Effects - Quickly add transitions and filters from the built-in library or add 3rd party plug-ins to create incredible effects.
Finishing - Powerful tools, including the new position lock, that make conforming and finishing projects for final delivery faster than ever before.
Color Correction - DaVinci Resolve has been used on more feature films and television shows than any other grading system! You get the industry's most powerful primary and secondary correction tools, advanced curve editor, tracking and stabilization, noise reduction and grain tools, Resolve FX, and more.
Legendary Quality - Patented YRGB color science and 32-bit float image processing let you achieve looks that are simply impossible with other software.
Primary Correction - Traditional primary color wheels along with 12 advanced primary controls for quickly adjusting temperature, tint, mid-tone detail, and more.
High Dynamic Range (HDR) - Work in high dynamic range and wide color space formats including Dolby Vision, HDR10, Hybrid Log Gamma, and more.
Broad Format Support - Work natively with camera original RAW files and virtually every other format for total control over your images at the highest quality possible.
Fairlight Audio - New professional tools for audio post-production! DaVinci Resolve now includes fully featured Fairlight audio in the same software you use for editing and color correction! You get high-end mixing for up to 1,000 channels in real time, plus support for massive Fairlight audio consoles. It's a true end-to-end workflow that supports recording and ADR, sound editing, sound effects, sweetening, and mixing. You can even mix down and master to multiple formats, including 3D audio space formats such as 5.1, 7.1, and even 22.2!
Up to 1,000 Tracks - Create up to 1,000 audio tracks with 8 main, sub, and aux outputs. Add Fairlight Audio Accelerator zero latency real-time performance!
Equalization and Dynamics - Get real-time 6-band equalization, along with expander/gate, compressor, and limiter dynamics on every single track.
Editing and Automation - Edit clips at up to 192kHz and 24-bit with automation for adjusting fade, levels, and more, all the way down to individual audio samples!
Mixing - Full professional mixer with input selection, effects, insert, EQ and dynamic graphs, output selection, aux, pan, main and submix selections, and more!
Plug-In Effects - Add 3rd party VST plug-ins for even more creative options! You can get real-time processing performance for up to 6 plug-ins per track!
Media and Delivery - DaVinci Resolve makes importing, syncing, and organizing footage fast! Whether you're going out to the web, tape, or theatrical distribution, DaVinci Resolve features everything you need to deliver projects in virtually any format! You'll be able to get to work quickly and output files fast, so you'll never miss a deadline!
The only post-production solution that runs on all popular platforms - DaVinci Resolve runs on all major platforms so you can use it at home or in a post facility on a Mac, at a broadcast facility running Windows, or a VFX studio on Linux. This gives you the freedom to use the platform of your choice, making it easy to integrate with your existing systems and workflows. If you're running Red Hat or CentOS Linux, you can even build your own workstation using low cost motherboards, extremely fast processors, massive amounts of RAM, and up to 8 GPUs. Imagine building your own supercomputer for incredible real-time performance!
Over 100 New Features & 200 Improvements
8K Editing & Color Correction
Advanced HDR Editing
AI-Based Magic Mask for Targeted Grading
Next-Gen Audio Engine; Edit 2000+ Tracks
Use Fusion Compositions in Cut/Edit Tabs
Proxy Media Workflows
Smart Reframe for Social Media
DaVinci Neural Engine Face Detection
Mac, Windows & Linux Compatible
Blackmagic Design DaVinci Resolve Studio (Dongle)

USB Dongle
Whats in the Box?
Blackmagic Design DaVinci Resolve Studio (Dongle)

USB Dongle