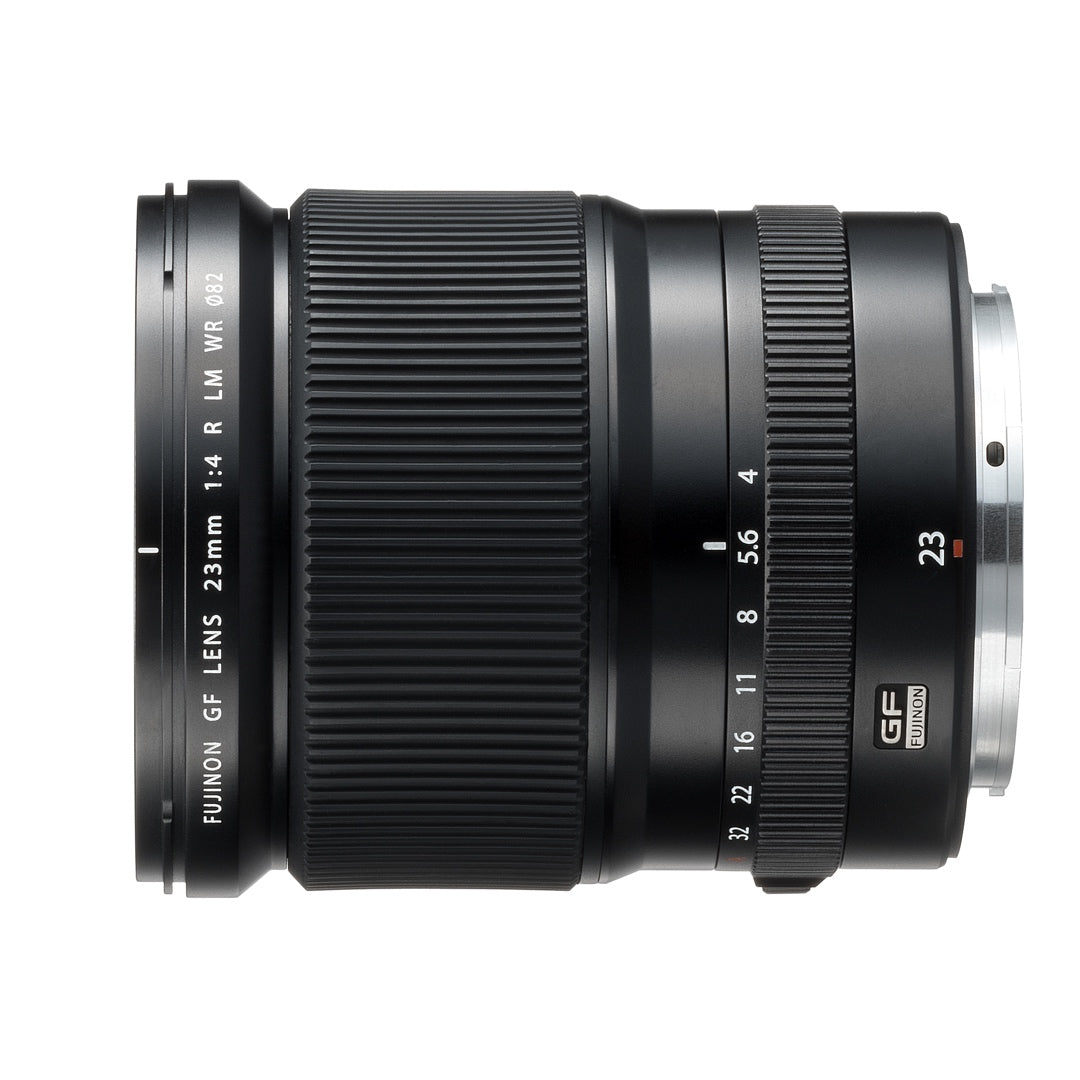 Key Features
35mm Equivalent Focal Length: 18mm
Aperture: Range: f/4 to f/32
Fujifilm G Mount
Linear AF Motor, w/ Internal Focusing
15 elements in 12 groups with 2 aspherical
3 ED and 1 Super ED
Weight: 845g ( 1.686 lb )
AUTHORIZED DEALER | Fujifilm
Fujifilm GF 23mm F4 R LM WR Lens
35mm Equivalent Focal Length: 18mm
Aperture: Range: f/4 to f/32
Fujifilm G Mount
Linear AF Motor, w/ Internal Focusing
15 elements in 12 groups with 2 aspherical
3 ED and 1 Super ED
Weight: 845g ( 1.686 lb )
FREE Shipping for orders $100 above
Add $25 for 2-day expedited shipping
Ask about our Refer a Friend Program!

Got A Question? - Ask Our Team
This wide-angle prime lens is

ideally suited

for  architectural, landscape, and interior photography.
To

reduce spherical aberrations

and distortions, the 15 elements in 12 groups optical design uses a pair of aspherical elements. This will give your shots a

sharper image quality

and more

realistic rendering

. 
Improved color fidelity and Clarity with the two extra-low dispersion elements and one Super ED element. 
Introducing the FUJINON GF23mmF4 R LM WR Lens for GFX System Cameras
Unlock the extraordinary image quality and high-resolution capabilities of GFX system cameras with the FUJINON GF23mmF4 R LM WR lens, immersing your photography in the exceptional color rendition that defines FUJIFILM. This super wide-angle lens boasts distortion-free imaging, making it an ideal choice for capturing sweeping panoramic landscapes, towering architectural wonders, and bustling urban streets. Regardless of the photographic scenario, this lens, equipped with reliable autofocus and a robust, weather-resistant build, stands ready to assist photographers in broadening their creative horizons.
Crafted with precision engineering and world-class optics, the GF23mmF4 R LM WR lens is the quintessential wide-angle companion for any large-format GFX system camera. Featuring a 35mm equivalent focal length of 18mm, this lens empowers photographers to dynamically frame scenes, offering limitless creative possibilities for architectural, landscape, or interior photography. Remarkably, the GF23mmF4 R LM WR maintains edge-to-edge sharpness even with its wide field of view, largely thanks to its specialized Nano GI coating applied to the front element, which effectively minimizes ghosting and flare.
Achieving high-resolution imagery from a GFX system camera demands a lens capable of delivering fine details with minimal distortion, spanning the entire frame. This requirement is met by the GF23mmF4 R LM WR's optical composition, which comprises 15 elements in 12 groups, including two aspherical lenses, one Super ED lens, and three ED lenses. The outcome is a lens that produces architectural images characterized by straight lines and crisp angles, while rendering landscapes with captivating precision that transports viewers to distant realms.
Designed for swift and precise reactions, the GF23mmF4 R LM WR lens operates silently and instantaneously, thanks to its linear motor. It perfectly complements an optical design that consistently delivers outstanding image quality, ensuring that even the briefest moments are captured with excellence.
Confronting adverse conditions necessitates a lens that can withstand the harshest environments while remaining poised to seize the perfect shot. The GF23mmF4 R LM WR lens features weather-resistant seals at nine key points, shielding it from dust, moisture, and temperatures as low as -10°C (14°F). While we may not predict the unforeseen, we can certainly prepare for it.
Elevate your photography with the FUJINON GF23mmF4 R LM WR lens, and embark on a journey of uncompromising image quality and artistic exploration.
Specifications:
Lens Configuration: 15 elements in 12 groups (includes 2 aspherical, 3 ED, and 1 super ED elements)
Focal Length: 23mm
35mm Equivalent Focal Length: 18mm
Angle of View: 99.9 degrees
Maximum Aperture: F4
Minimum Aperture: F32
Number of Aperture Blades: 9 (rounded diaphragm opening)
Aperture Step Size: 1/3EV (19 steps)
Minimum Focusing Distance: 38cm (14.96 inches)
Maximum Magnification: 0.09x
Lens Diameter: 89.8mm
Lens Length: 103mm (4.06 inches)
Lens Weight: 845g (1.86lb)
Filter Size: 82mm
Whats in the Box?
FLCP-62 II Lens cap
RLCP-002 Rear lens cap
Lens hood
Lens pouch