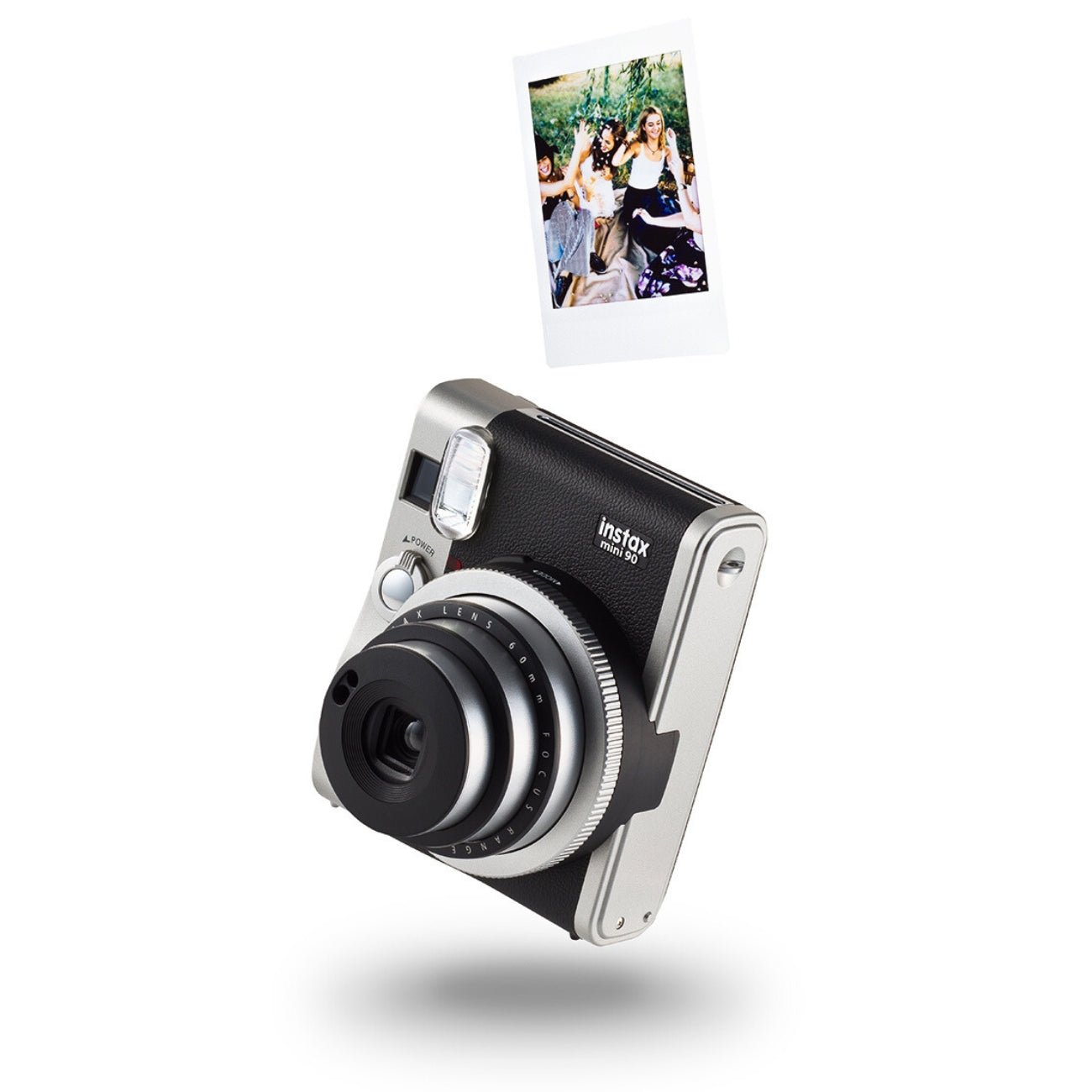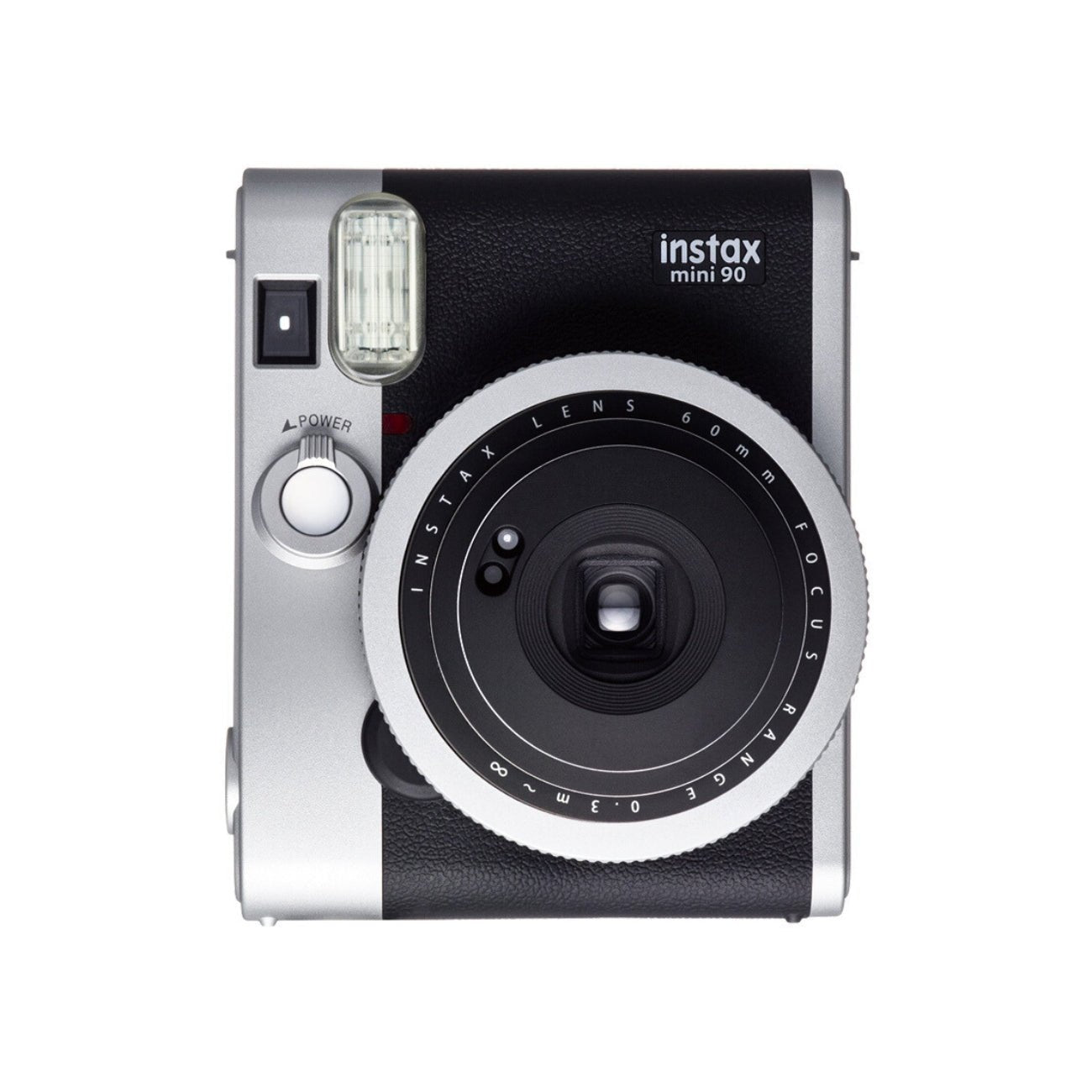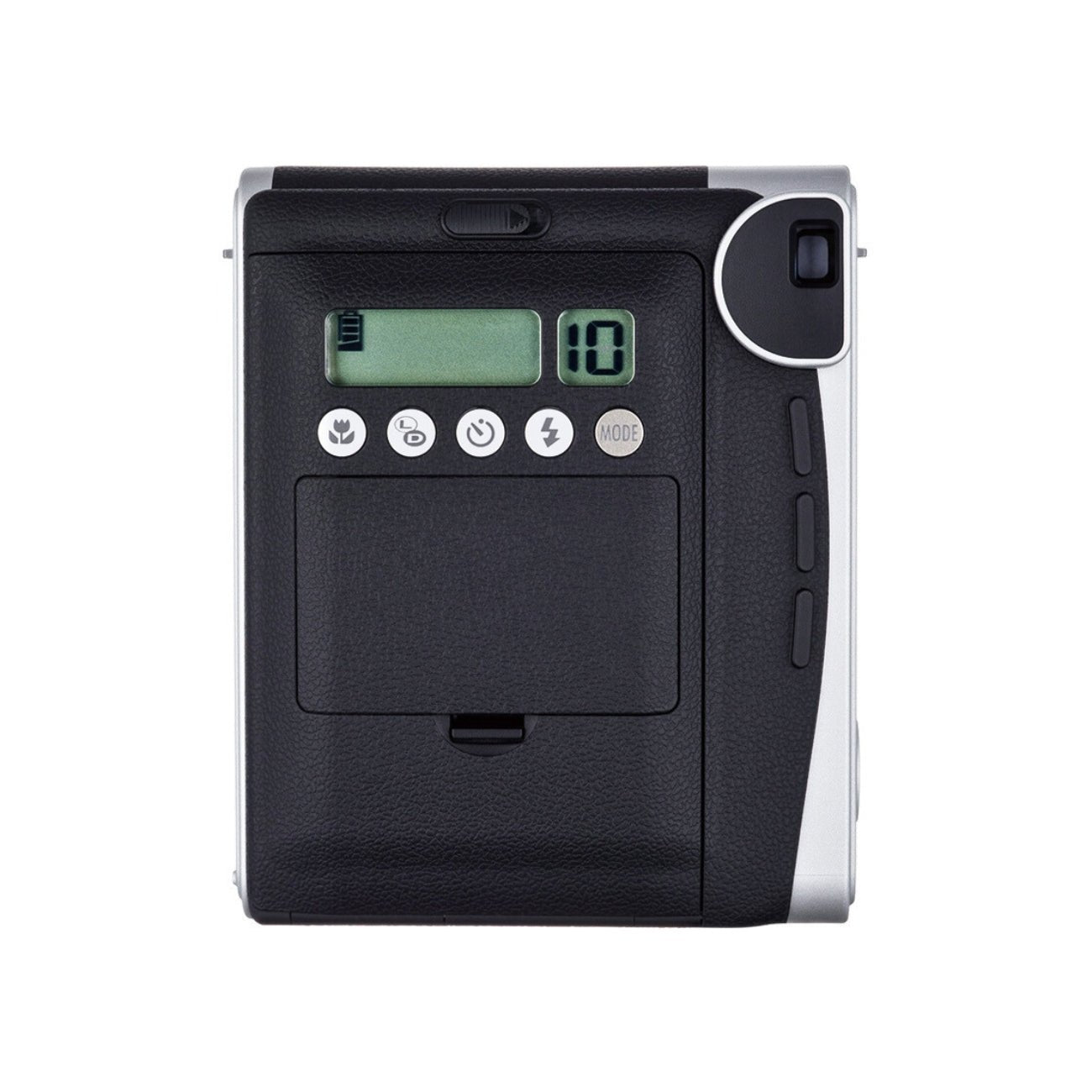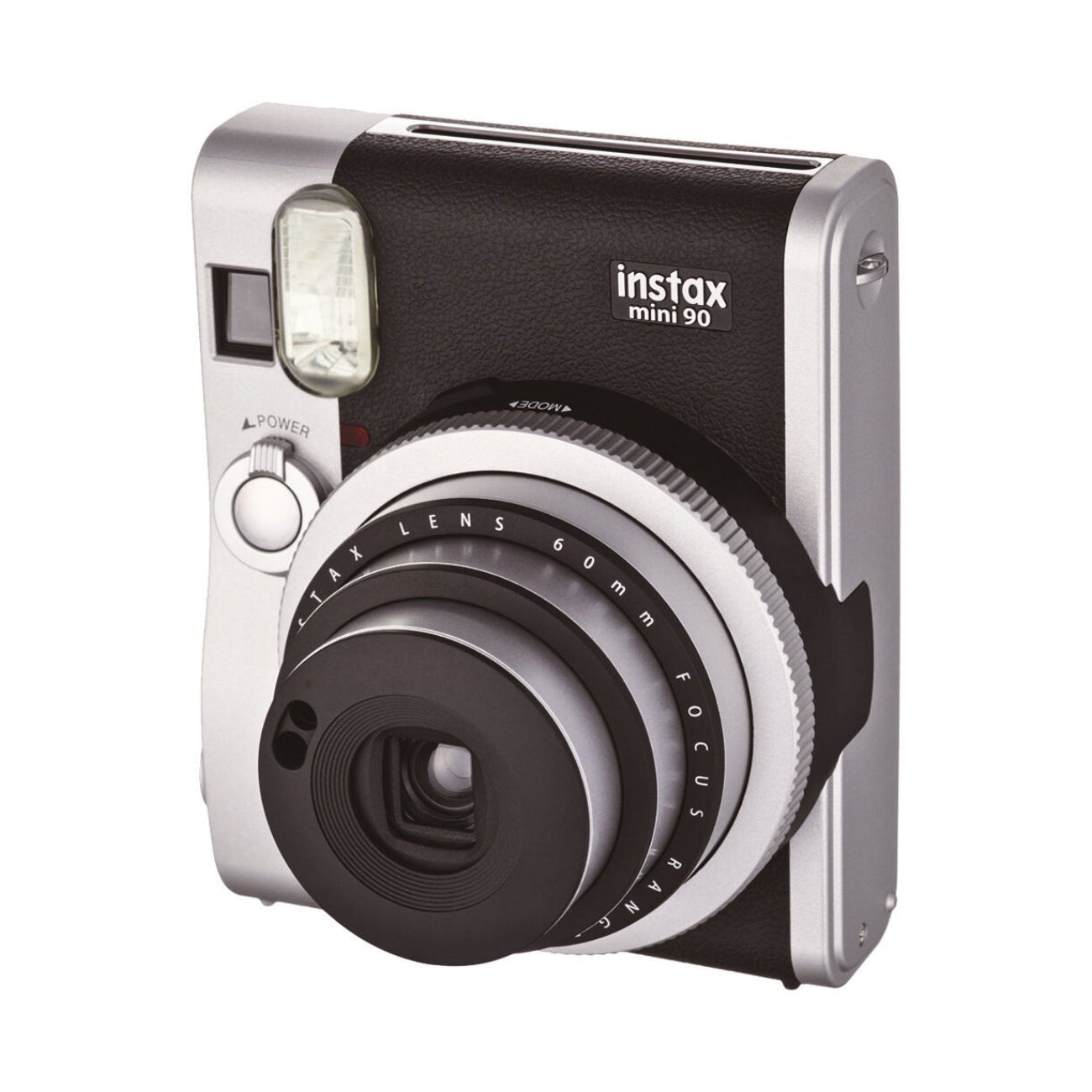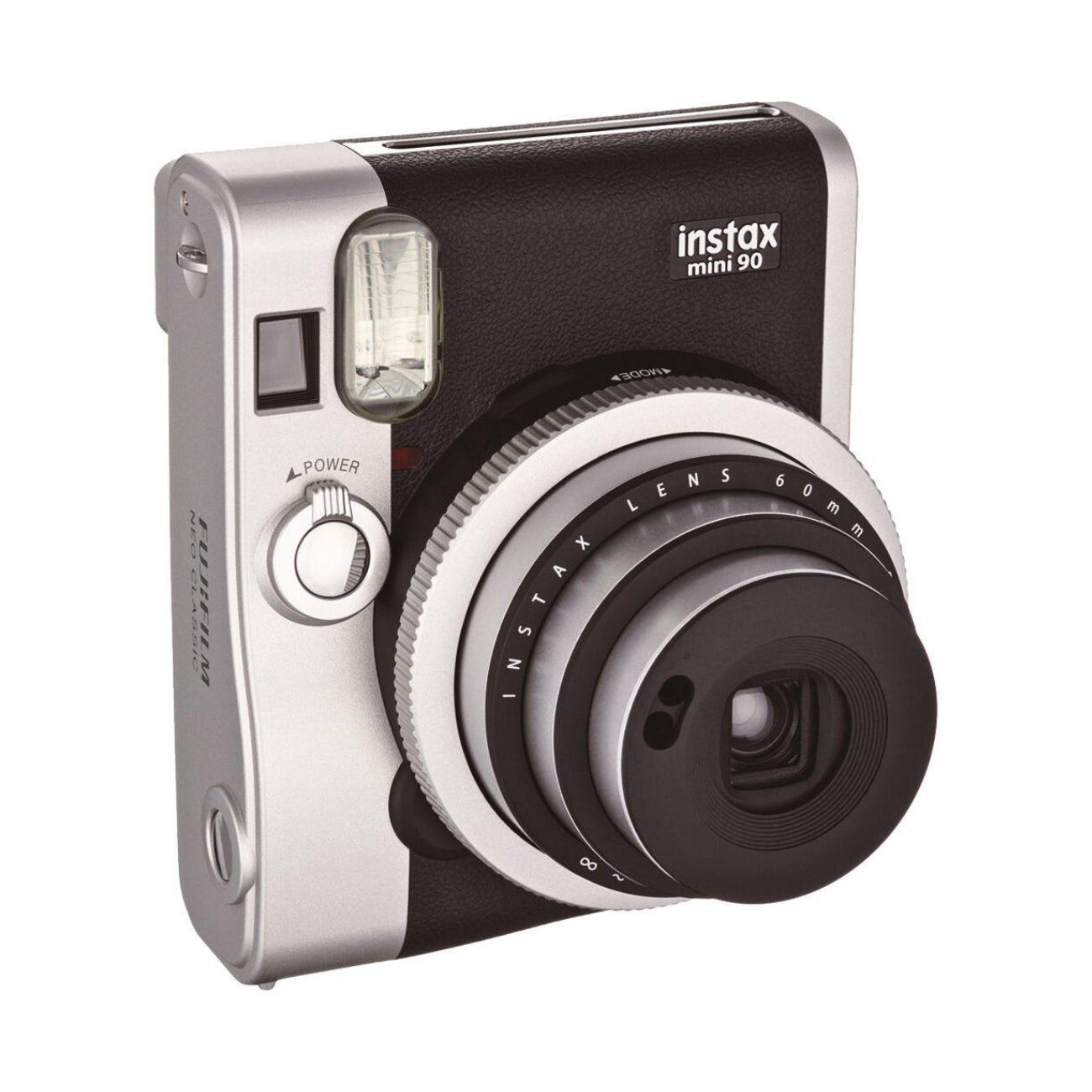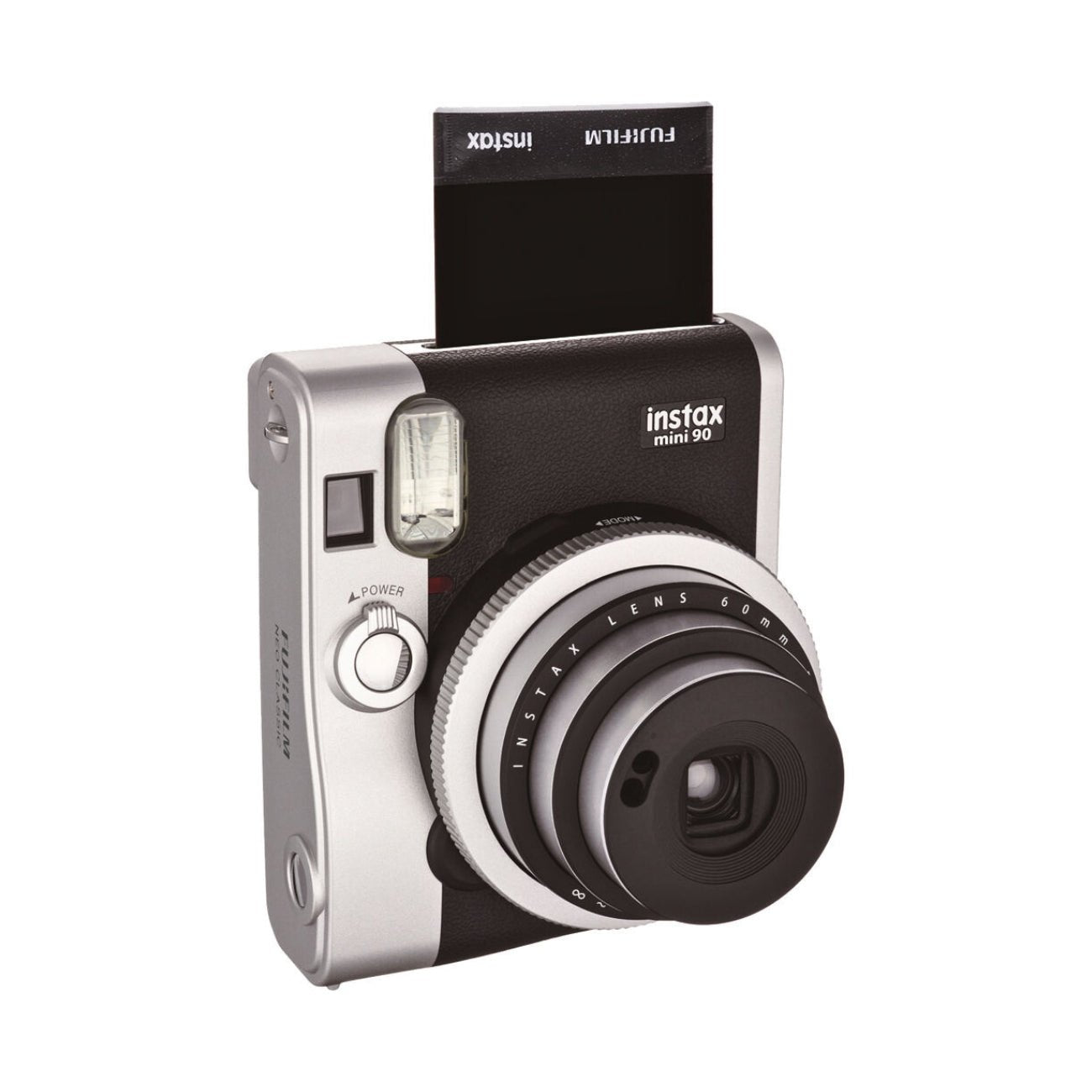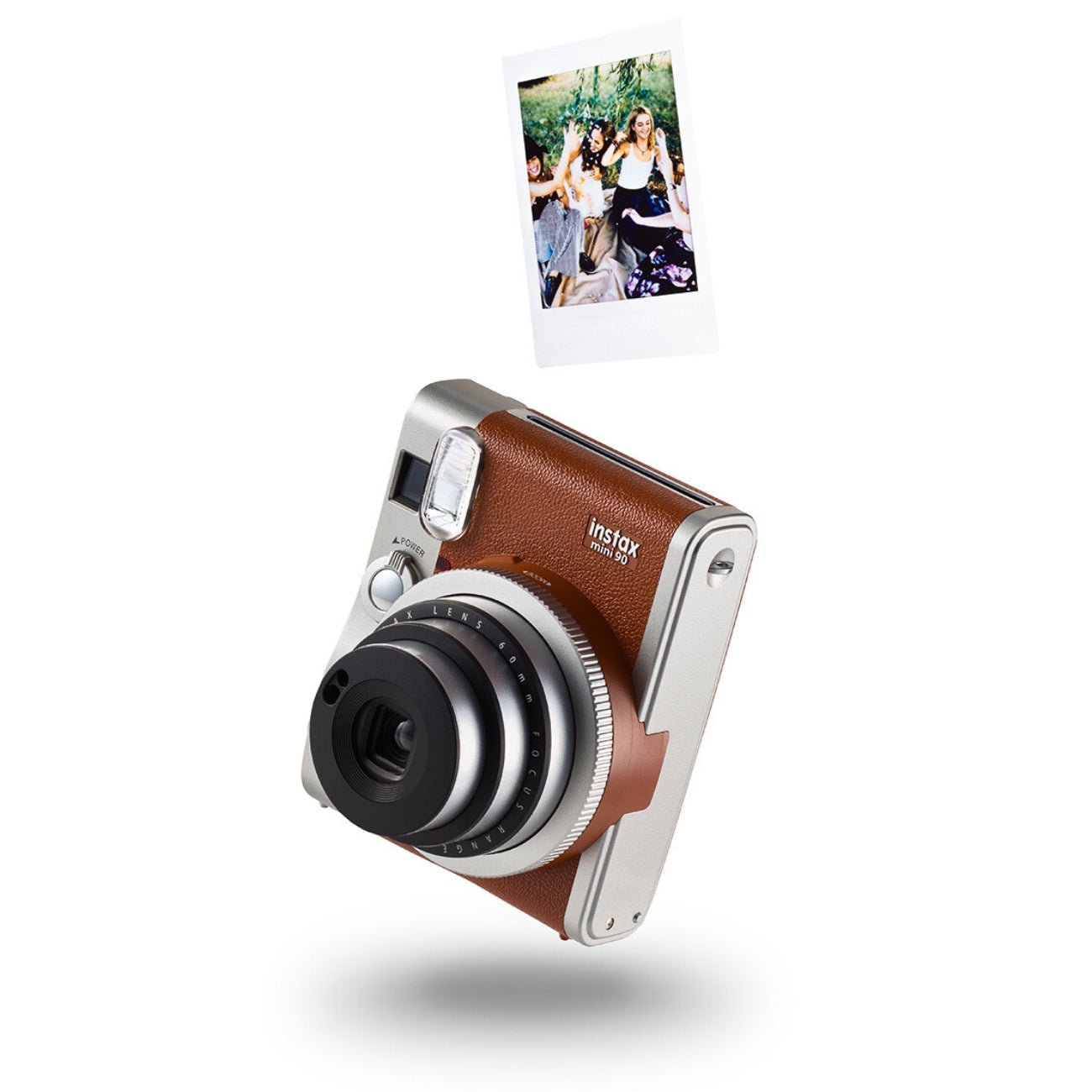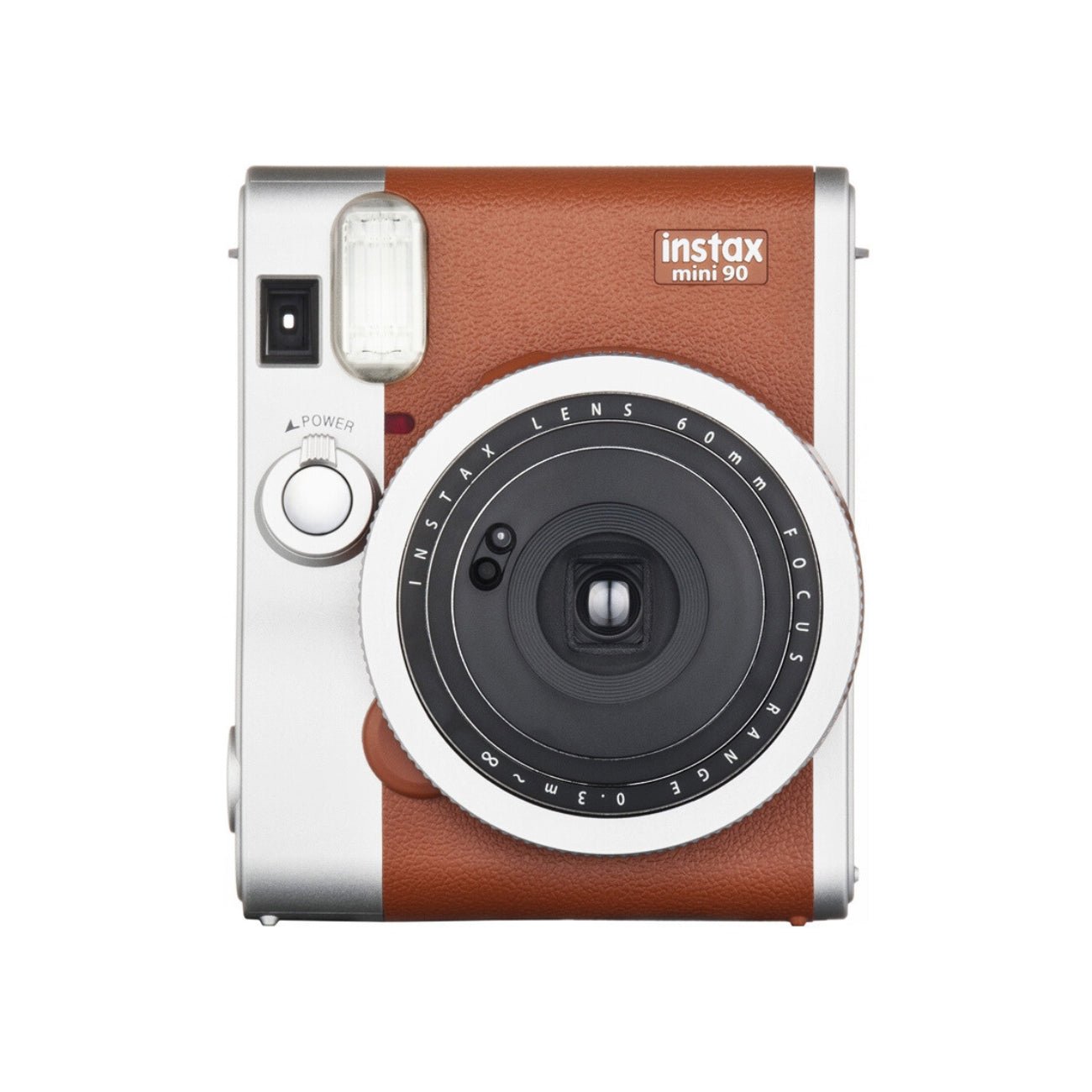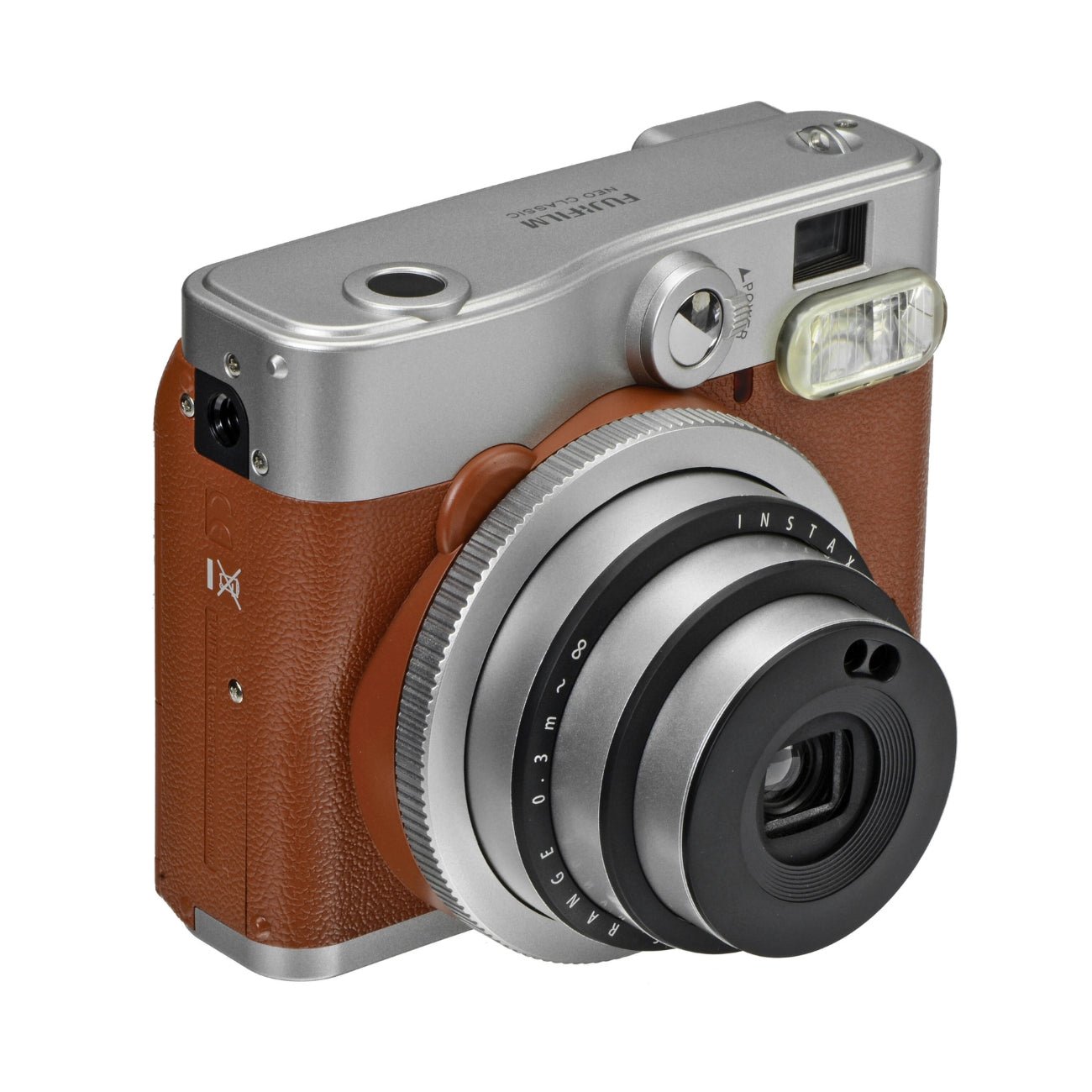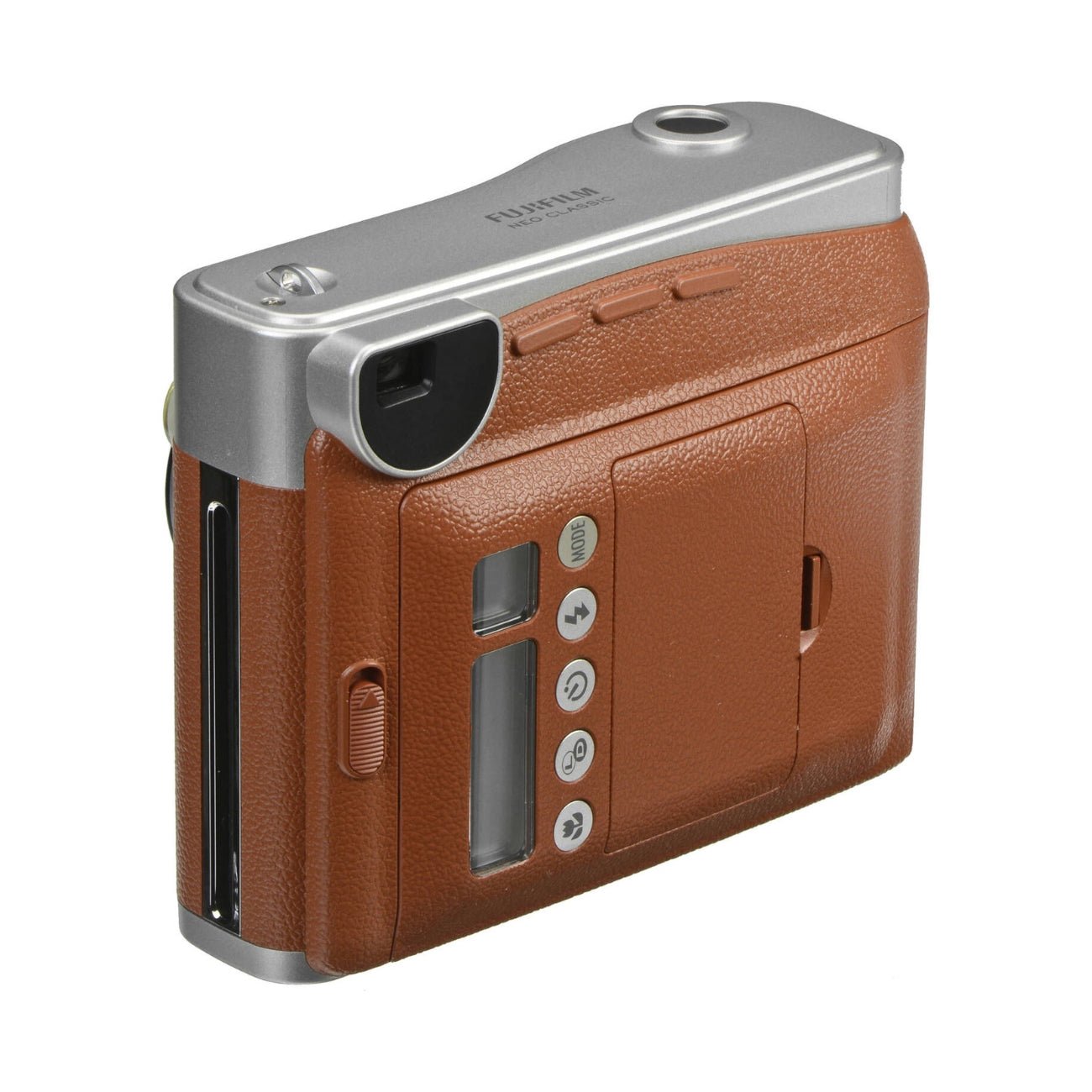 AUTHORIZED DEALER | Fujifilm
Fujifilm INSTAX Mini 90 Instant Camera (Black & Brown)
Pickup available at 9420 E DoubleTree Ranch Rd #107
Usually ready in 2-4 days
Fujifilm INSTAX Mini 90 Instant Camera (Black & Brown)
Black
9420 E DoubleTree Ranch Rd #107
Pickup available, usually ready in 2-4 days
9420 E DoubleTree Ranch Rd #107
Scottsdale AZ 85258
United States
480.386.6981
FREE Shipping for orders $100 above
Add $25 for 2-day expedited shipping
Ask about our Refer a Friend Program!

Got A Question? - Ask Our Team
Fujifilm INSTAX Mini 90 Instant Camera: Classic Photography with Modern Convenience
Overview:

The Fujifilm INSTAX Mini 90 Instant Camera combines classic style with modern features like bulb and double exposures, ideal for creative photography. This sleek camera, available in black and brown, produces credit card-sized prints with a fixed 60mm f/12.7 lens offering versatile shooting options, including macro focus as close as 11.8".
The Fujifilm INSTAX Mini 90 neo classic instant camera is equipped with new functions and features like macro mode and high-performance flash, making this an instant camera for every photographer developed under the concept of "NEO CLASSIC." Its advanced features also include adjustable shutter speed, kids mode, landscape mode, and party mode allowing you to unleash your creativity and capture the perfect shot in any lighting condition. With its compact size and lightweight construction, this camera is portable and easy to carry, making it ideal for capturing moments on the go and a companion for instant, tangible memories.
Additional information about the Fujifilm INSTAX Mini 90 Instant Camera:
High-performance flash - The high-performance flash emits the ideal amount of light finely adjusted for the distance to the subject and ambient brightness. It helps to optimize the exposure.
Party mode - The party mode enables the background as well as the subject to be captured brightly.
Kids mode - This mode is helpful to capture fast-moving subjects like children and animals.
Landscape mode - The instant camera is best suited to target a distant subject (3m to ∞).
Brightness control - You can add a low-key or high-key effect by controlling the brightness of photos.
Macro mode - The newly equipped macro mode lets you enjoy stunning close-up photography.

 

*Note: Close-up from 30 cm to 60 cm is possible.
Bulb exposure mode - In bulb exposure mode, the shutter remains open (up to 10 seconds) while the shutter button is depressed, enabling photo capture that shows attractive night views and light streaks. You can take expressive photos, with more fun added to instax photography.
Double exposure mode - By selecting the double exposure mode and pressing the shutter button twice, you can superimpose two different images in one frame to create an artistic photo. Show your creativity with a unique photo.
The Pros of Using the Fujifilm INSTAX Mini 90 Instant Camera:
Instant Print - Capture and print your precious moments instantly, allowing you to relive and share memories in physical form.
Versatile Shooting Modes - Enjoy a variety of shooting modes, including Party Mode, Kids Mode, Landscape Mode, and more, allowing you to adapt to different situations and subjects.
Enhanced Image Quality - The INSTAX Mini 90 camera's advanced features, such as the high-performance flash, automatic exposure control, and built-in lens, ensure sharp, clear, and vibrant images.
Classic Design - The sleek and stylish black and brown design of the Fujifilm INSTAX mini camera adds a touch of elegance and sophistication to your photography experience.
Long-lasting Battery Life - The Fujifilm NSTAX Mini 90 film camera is equipped with a rechargeable battery, allowing you to capture numerous photos without worrying about running out of power.
Self-timer and Tripod Mount - The built-in self-timer and tripod mount enable you to take group shots or achieve steady shots with the help of a tripod.
Portable and Convenient - Its compact size and lightweight design make the Fuji INSTAX mini easy to carry around, ensuring you never miss a photo opportunity.
Instant Sharing - Print multiple copies of your photos, and easily share them with friends, family, or create personalized keepsakes.
Discover the Essential Features of the Fujifilm INSTAX Mini 90 Instant Camera
Accepts INSTAX Mini Instant Film
Fujinon

60mm f/12.7 Lens
Produces Credit Card-Sized Prints
Optical Viewfinder with Target Spot
Built-In Flash
Bulb and Double Exposure Functions
Kids, Landscape, and Macro Modes
Delve into the Detailed Specifications of the Fujifilm INSTAX Mini 90 Instant Camera
Front
High-performance flash
Power switch
Shutter button
Tripod socket
MODE dial
Side
Strap hook
Shutter button
Rear
Large LCD
Battery-chamber cover
Mode
Flash ON / OFF
Self-timer
Brightness control
Macro
Instant Film

Fujifilm Instant Color Film "INSTAX Mini" (separately available)
---
Film Size

86mm x 54mm (3.39"x2.13")
---
Picture Size

62mm x 46mm (2.44"x1.81")
---
Lens

Move in / out type lens, 2 components, 2 elements, f=60mm, F=12.7
---
Viewfinder

Real image finder, 0.37x, with target spot and parallax adjustment for macro mode
---
Focusing

Motor-driven 3-range switching, 0.3m - ∞ (macro mode: 0.3m - 0.6m, normal mode: 0.6m - 3.0m, landscape mode: 3.0m - ∞)
---
Shutter Release

Programmed electronic shutter release, 1.8 - 1/400 sec. shutter speeds (macro mode: aperture automatically fixed at F22, bulb mode: maximum 10-second shutter open time)
---
Exposure Control

Automatic, LV5.0 - 15.5 (ISO800), lighten-darken control ±2/3EV, +1EV
---
Film Feeding Out

Automatic
---
Flash

Automatic electronic flash (with brightness adjustment function), forced firing mode (with brightness adjustment function), flash off mode, red eye reduction mode
---
Liquid Crystal Display (LCD)

Exposure counter (number of unexposed films), Macro mode, Brightness control, Self timer, Flash ON/OFF, Mode button(Party/Kids/Landscape/Double exposure/Bulb)
---
Power Supply

NP-45A lithium-ion battery charge capacity: 10 film packs (based on our test conditions)
---
Battery Life

Approximately 10 packs of film. (100 images)
---
Accompanying Items

Shoulder strap, Warranty card, instruction book, NP-45 Li-Ion battery, BC-45C
---
Dimensions & Weight

113.4 x 91.9 x 57.2 mm, 294g (4.46" x 3.62" x 2.25", 0.65 lbs) (excluding the battery, strap and film)
What's Included in the Fujifilm INSTAX Mini 90 Instant Camera
Fujifilm INSTAX Mini 90 Instant Camera (Black or Brown)
Fujifilm BC-45C Rapid Travel Battery Charger for Fuji NP-45 Li-Ion Batteries

NP-45A Rechargeable Lithium-Ion Battery

Shoulder Strap

Limited Warranty
Whats in the Box?
What's Included in the Fujifilm INSTAX Mini 90 Instant Camera
Fujifilm INSTAX Mini 90 Instant Camera (Black or Brown)
Fujifilm BC-45C Rapid Travel Battery Charger for Fuji NP-45 Li-Ion Batteries

NP-45A Rechargeable Lithium-Ion Battery

Shoulder Strap

Limited Warranty