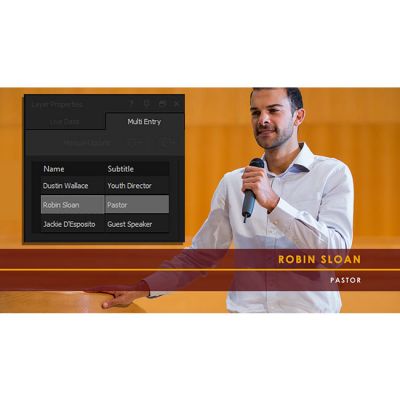 NewBlue Titler Live 5 Broadcast ESD
FREE Shipping for orders $100 above
Add $25 for 2-day expedited shipping
Ask about our Refer a Friend Program!

Got A Question? - Ask Our Team
Electronic Download
NewBlue Titler Live Broadcast ESD
Elevate your broadcasts with dynamic graphics.
Titler Live Broadcast is designed for the professional broadcast market and offers support for 16 channels, unlimited layers per live channel, and a host of features suitable for high-end commercial use. It also includes priority support, creative and workflow training with NewBlue solutions experts, and a dedicated account manager.  
For video producers in need of an affordable, easy-to-use live graphics solution, the Titler Live 5 family of products offers a complete titling solution that allows customers to quickly visualize data for all live broadcast settings. NewBlue Titler Live Broadcast products are easy to use, provide professional-looking graphics, and can be seamlessly incorporated into any existing live production pipeline.  
Each Titler Live 5 edition—Present, Sport, and Broadcast—brings intuitive workflows that are approachable for both experienced operators and novices to live graphics. Their library of graphics, animation-based Title Designer, and simple playout interface make for a quick learning curve. Each edition can output graphics to virtually any switcher, using industry-standard hardware and software integrations. Additionally, each Titler Live 5 product natively visualizes data from a wide range of sources. The NewBlue Titler Live Broadcast can be customized to input data from any source, per the API. 
All three Titler Live Broadcast editions also provide unparalleled integration with the Blackmagic Design ATEM line of video switchers. Using the ATEM SDK with the Titler Live 5 family of live video graphics software combines the switching power and quality of the ATEM with the production polish of NewBlue's renowned graphics. Titler Live 5 products overlay the ATEM output with a range of graphics, including lower thirds, media clips, webcam, and NDI picture-in-picture (PiP), plus live social media comments and synchronized stinger transitions. Likewise, the NewBlue Titler Live Broadcast embraces NewTek's NDI 5 platform, enabling sophisticated live video PiP layouts with participants from phones, browsers, and remote locations seamlessly mapped to animated graphics.
Google Sheets controller.
Easily transfer data to live graphics in TL through the Title Live Broadcast. Google Sheets controller allows for unprecedented collaborative cloud-based control over spreadsheet data by directly accessing your spreadsheets in Google Drive.
Google Slides controller.
With the Newblue Tilter Live Broadcast, you can transform any Google Slides deck to a dynamic, live graphic. This feature allows you to access your web-hosted slides directly in TL, utilizing TL's transitions and animations.
Microsoft Excel controller.
Microsoft controller allows for unprecedented collaborative cloud-based control over spreadsheet data by directly accessing your spreadsheets in Sharepoint.
Support for Media Clips.
Many graphics productions need to be able to play video clips, audio clips, and still images. This feature of the NewBlue Titler Live Broadcast includes options to loop, set in and out points, sequence, solo playback, and set the volume level.
Multi Data Editing.
Multi-data editing provides a straightforward and fast method to directly input and store multiple variations of data sets for each of your graphics (such as a lower third) directly in-app. This feature eliminates the need to use external spreadsheets to drive graphics with multiple data sets and provides a flexible and clean solution to empower users to create more dynamic broadcasts using the NewBlue Titler Live Broadcast. 
Full range of Video Sources.
In addition to NDI, you can now input video from other available devices, including system webcams, screen capture, and Blackmagic DeckLink. Live video inputs can be accessed and controlled from the playlist, just like media clips and titles.
Object Following.
In many contemporary design styles, text boxes fit closely around the text. With the Titler Live Broadcast, object following automatically scales or moves your design elements according to other elements, such as the length/size of a text string.
Rolling Credits.
The rolling credits feature in the NewBlue Titler Live Broadcast generates smooth credit rolls with minimal setup. This erases the challenge of creating rolling credits without a flicker.
Cache Preview in Title Designer.
Cache preview allows you to view titles exactly as they will play-out from inside the Title Designer. This feature is especially useful forNTX playback features, such as loops and crawls, which previously couldn't be previewed in the Title Designer.
PTZ Cameras.
Use PTZ Cameras as live video sources. Functionality includes basic camera control from within TL5, and the ability to save camera presets.
Executive collection.
The Executive Collection in the NewBlue Tilter Live Broadcast is a new graphics template pack, which is designed for use in corporate spaces. This collection includes main titles, lower thirds, and other graphics that are applicable to any production.
Graphics Library Refresh.
Overhaul all existing graphics families in this Tilter Live Broadcast. Adds over 100+ graphics along with many graphics reworks.