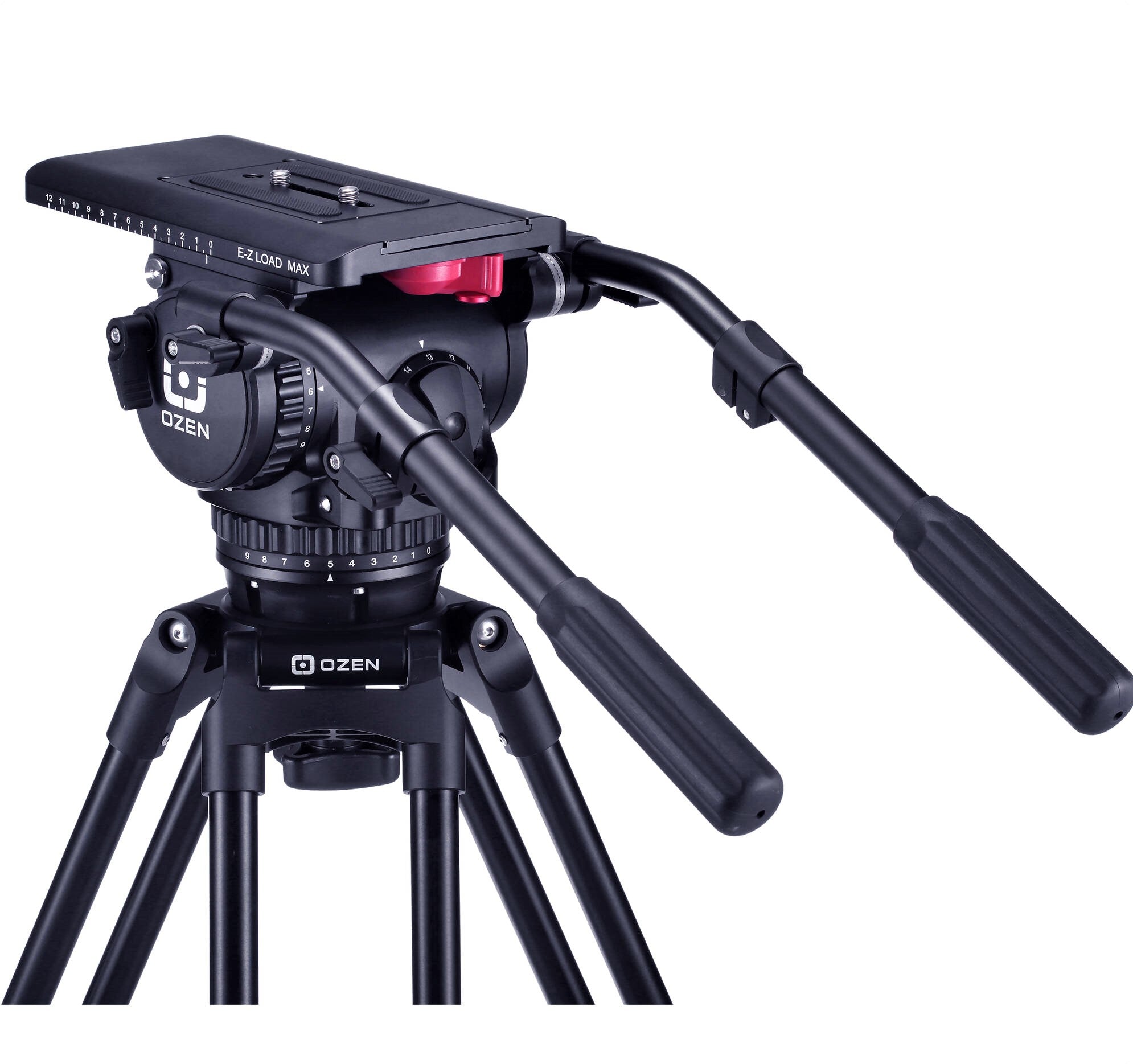 OZEN 18AL1HDM 100mm AGILE 18M E-Z LOAD MAX Tripod System

Pickup available at 9420 E DoubleTree Ranch Rd #107
Usually ready in 2-4 days
OZEN 18AL1HDM 100mm AGILE 18M E-Z LOAD MAX Tripod System
9420 E DoubleTree Ranch Rd #107
Pickup available, usually ready in 2-4 days
9420 E DoubleTree Ranch Rd #107
Scottsdale AZ 85258
United States
480.386.6981
Support your cameras even on hard or soft surfaces with the OZEN 18AL1HDM 100mm AGILE 18M E-Z LOAD MAX Tripod System. The system is suitable for use on hard or soft surfaces, interiors and exteriors, and on even and uneven terrain that can support cameras and rigs from 4.4 to 48.4 lb. The head features a 100mm quick leveling ball that provides a wide platform for balancing your camera, and the built-in illuminated bubble level aids in balancing in bright and dim conditions.
The head features a quick-release plate for quickly removing and then securely attaching your camera to the fluid head. It features incremental pan and drags adjustments and 16 steps of counterbalance adjustment, all of which provide you with fine adjustments that are repeatable for consistency from shot to shot. The included mid-level spreader helps control the leg spread, and as it is raised off the ground, the spreader remains stable, even when deployed on uneven terrain (including steps). The tripod has spiked feet, most useful on dirt or sand, and the included rubber boots pull up over the spikes for use on hard or delicate surfaces.
The tripod system consists of:
OZEN 20M E-Z LOAD MAX Fluid Head (61.6 lb Payload)
The OZEN 20M E-Z LOAD MAX Fluid Head is a heavy-duty fluid head with the familiar placement of pan, tilt, and counterbalance controls to easily fit into your operating style. Built to fit the needs of filmmakers with cameras and rigs that weigh up to 61.6 lb, the 100mm ball base allows for fast leveling and provides a wide balancing platform, which is advantageous when working with long lenses. The head features a quick-release plate with two 3/8"-16 threaded camera tie-down screws, and the camera platform has 2.36" of travel for balancing your camera on the head.
OZEN 100AL1HD 100mm Single-Stage Heavy-Duty Aluminum Tripod
Give your camera solid feet to stand on with the OZEN 100AL1HD 100mm Single-Stage Heavy-Duty Aluminum Tripod. Designed for heavy-payload and high-fluid-drag applications, this single-stage tripod supports up to 99 pounds and offers working heights ranging from 28.7 to 58.6". For greater rigidity, the 22mm diameter heavy-duty aluminum tripod leg tubes are pin-secured to their anchors—no glued joints. Twist brake levers with positive stops are used to lock the legs into place. Moreover, the 100AL1HD comes equipped with a Contender heavy-duty mid-level spreader, as well as with deep-tread rubber feet for better traction on smooth surfaces.
For use with separately available 100mm fluid heads
Aluminum tubes are pinned to their joints, not glued
Flat and angled spreader positions
The payload capacity of 99 pounds
Twist brake levers with positive stops
Fluid Head with 100mm Ball
E-Z Load Max Quick Release Plate
Single-Stage Aluminum Tripod Legs
Mid-Level Spreader with Rubber Boots
9-Step plus 0 Pan and Tilt Drag
Independent Pan and Tilt Locks
16-Step Counterbalance
Built-In Illuminated Bubble Level
Dual Telescoping Pan Handles 
OZEN 20M E-Z LOAD MAX Fluid Head (61.6 lb Payload)
E-Z LOAD MAX Plate

3 x 3/8"-16 Camera Tie-Down Screw

1/4"-20 Camera Tie-Down Screw

2x Telescopic Pan Handle

Limited Warranty
OZEN 100AL1HD 100mm Single-Stage Heavy-Duty Aluminum Tripod
OZEN Replacement Contender Heavy-Duty Mid-Level Spreader Replacement In Case Of Loss Or Non-Warrantied D

Limited Warranty, Extendable to 4 Years with Product Registration
Soft Case