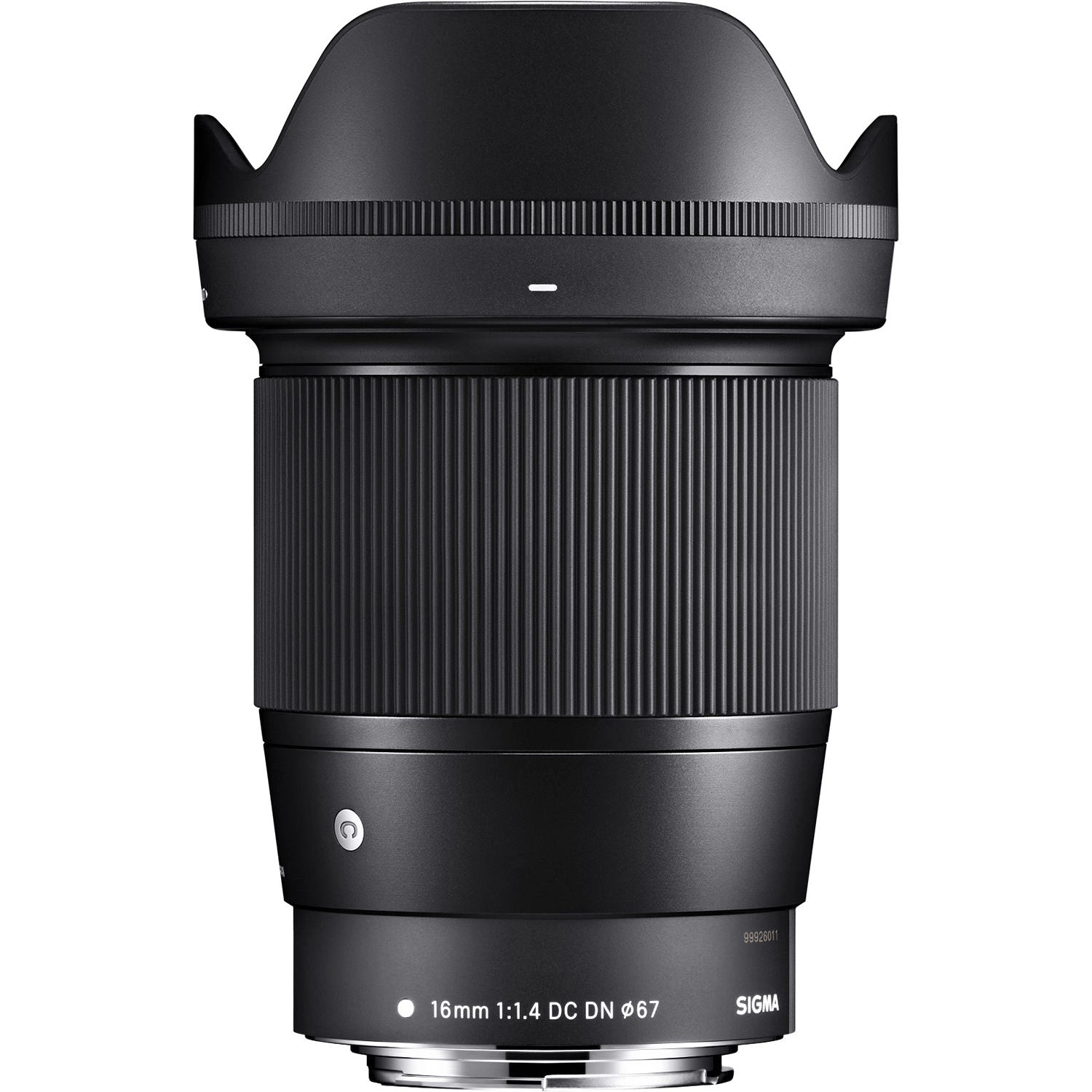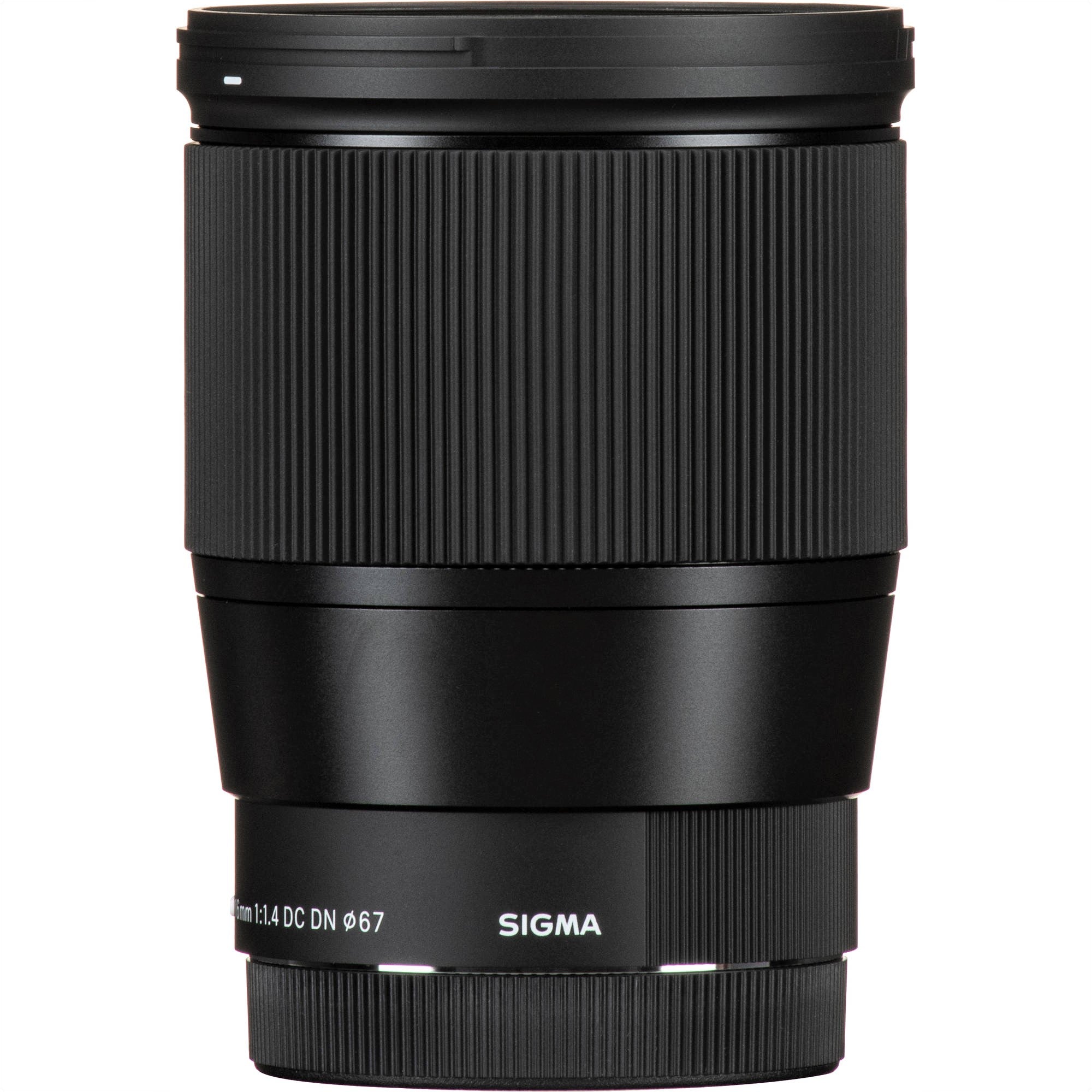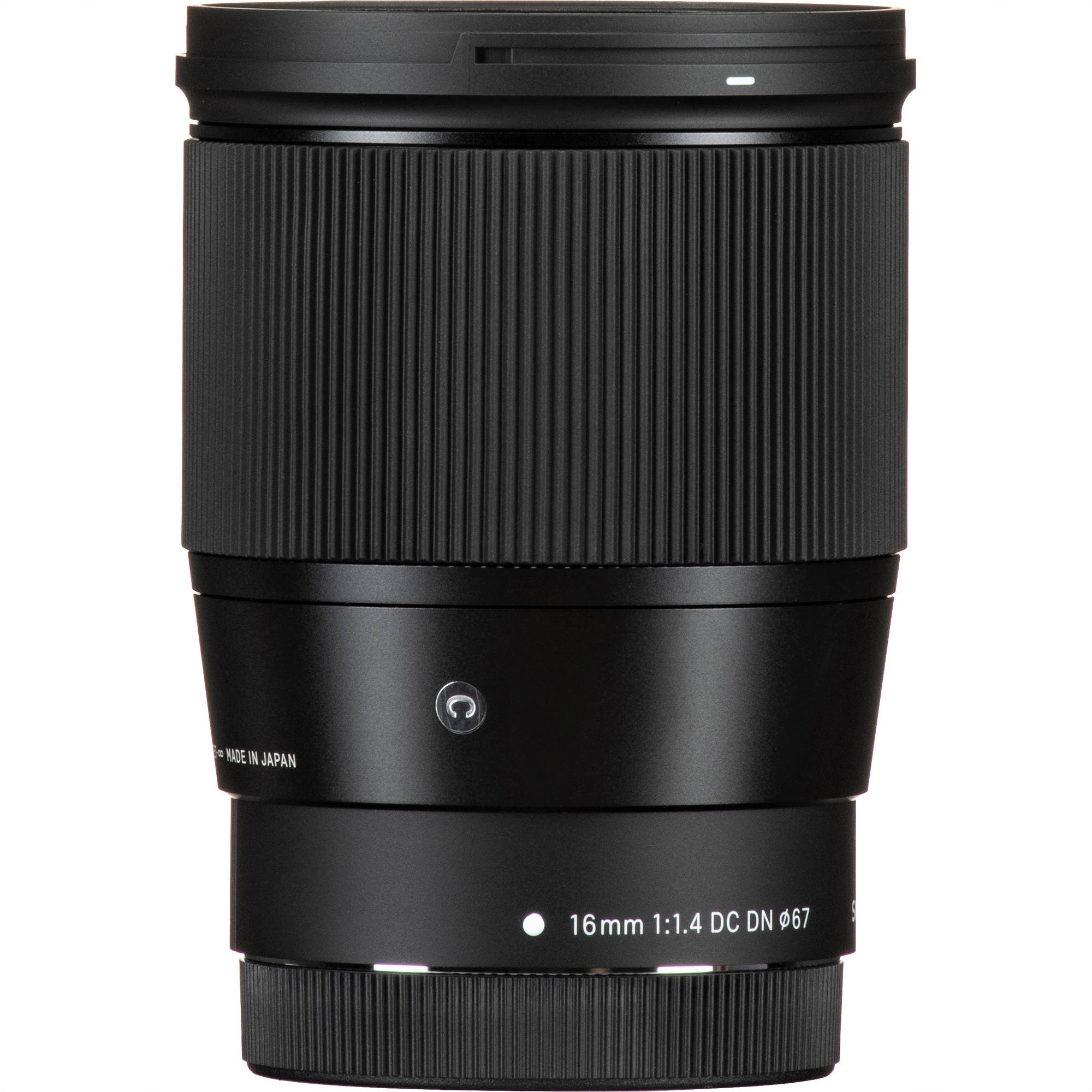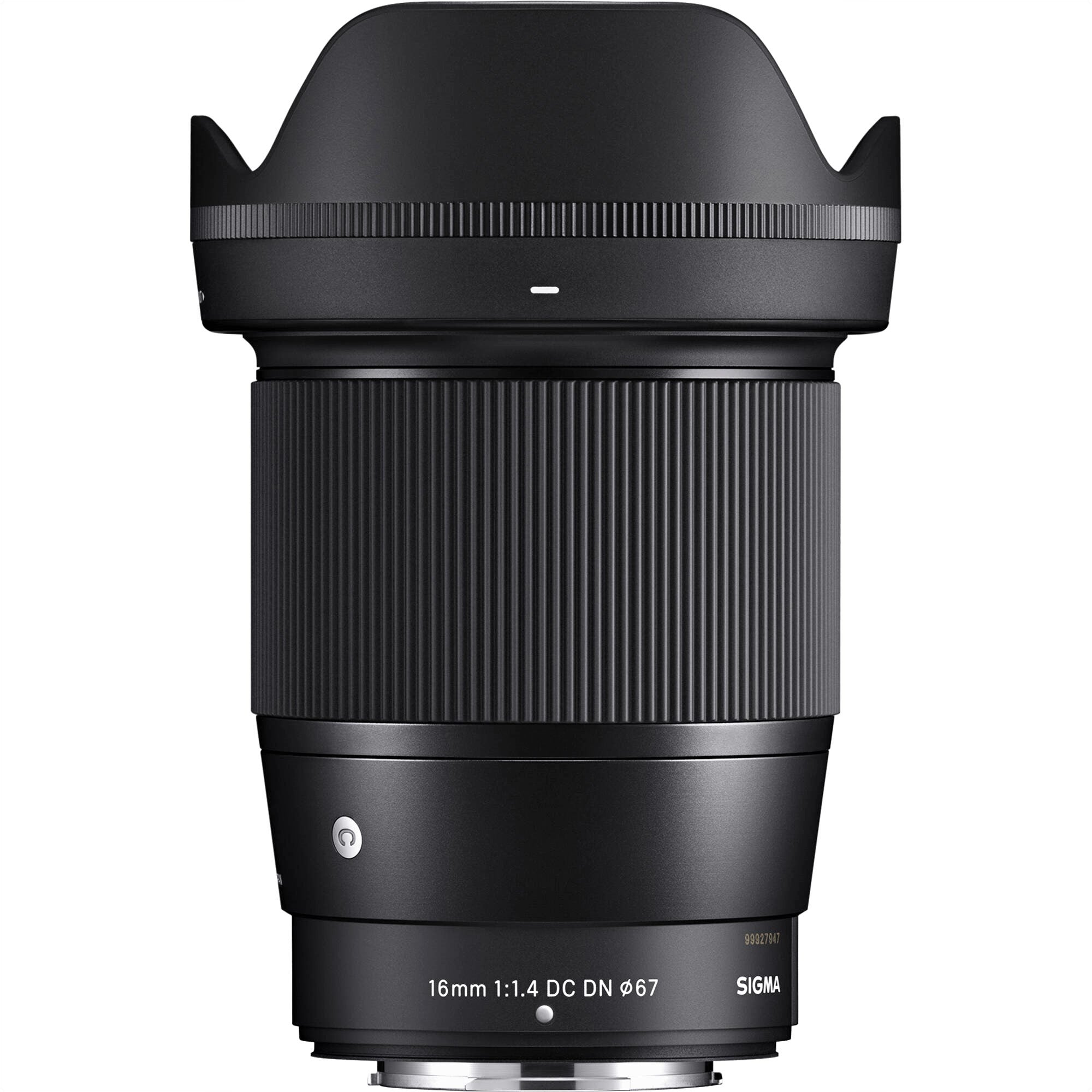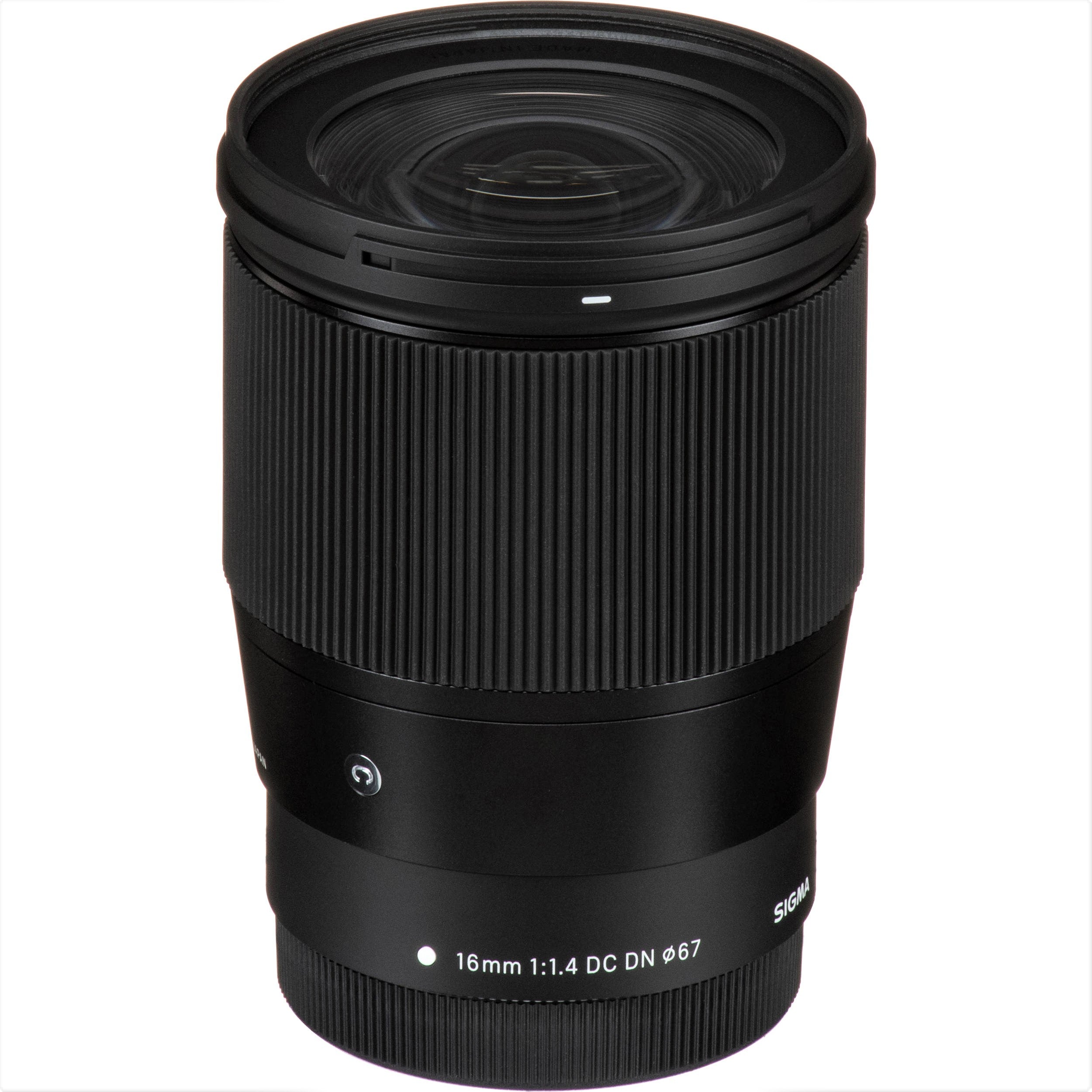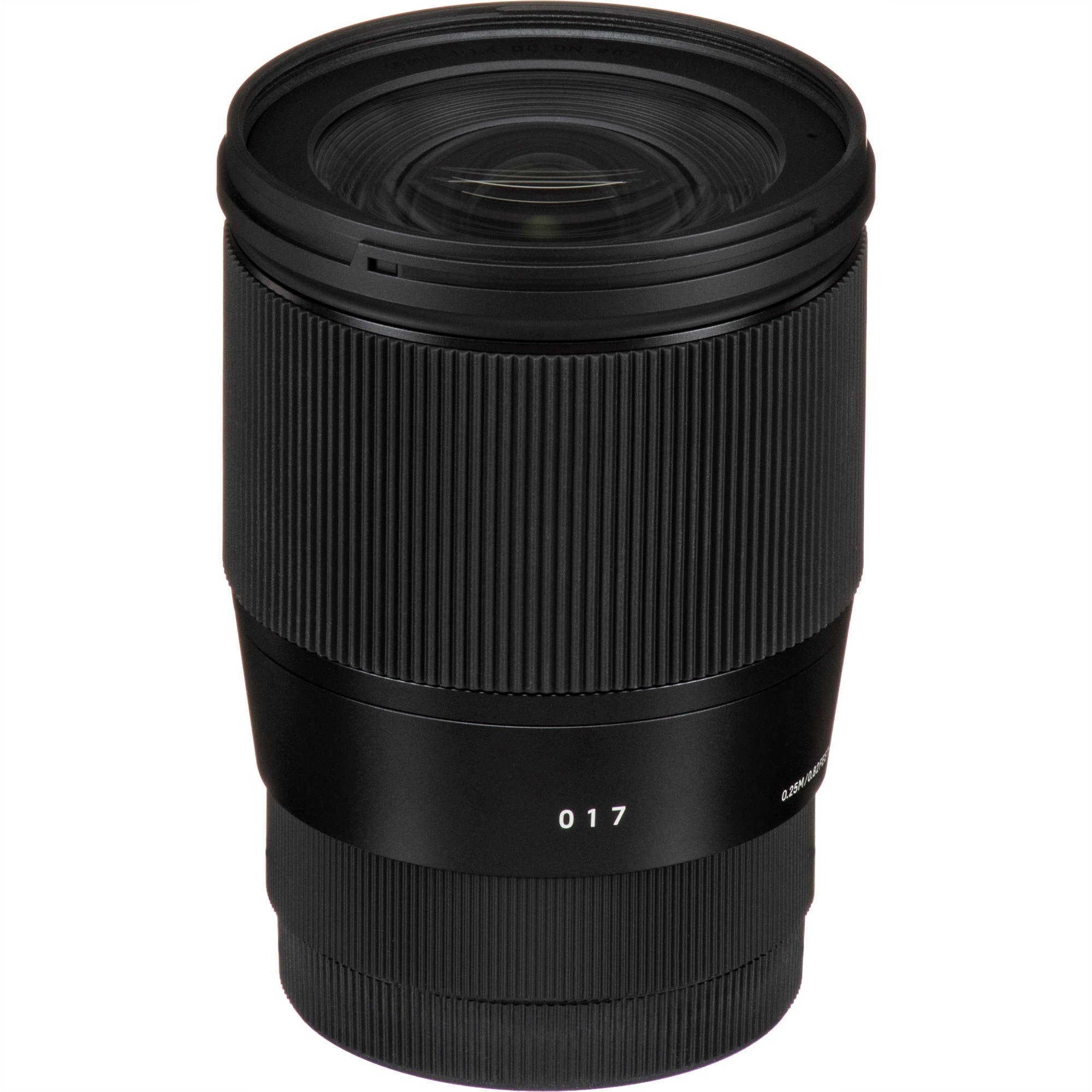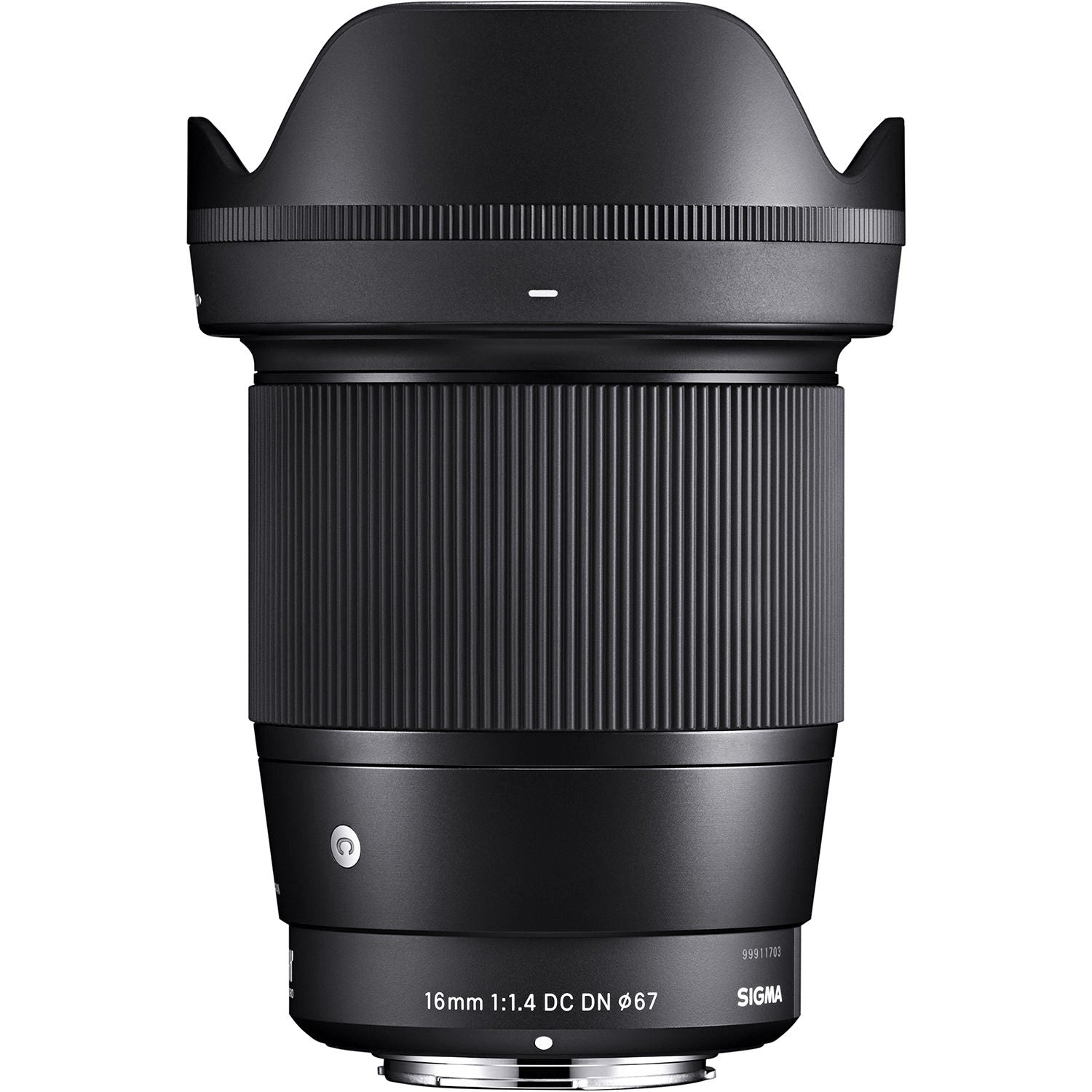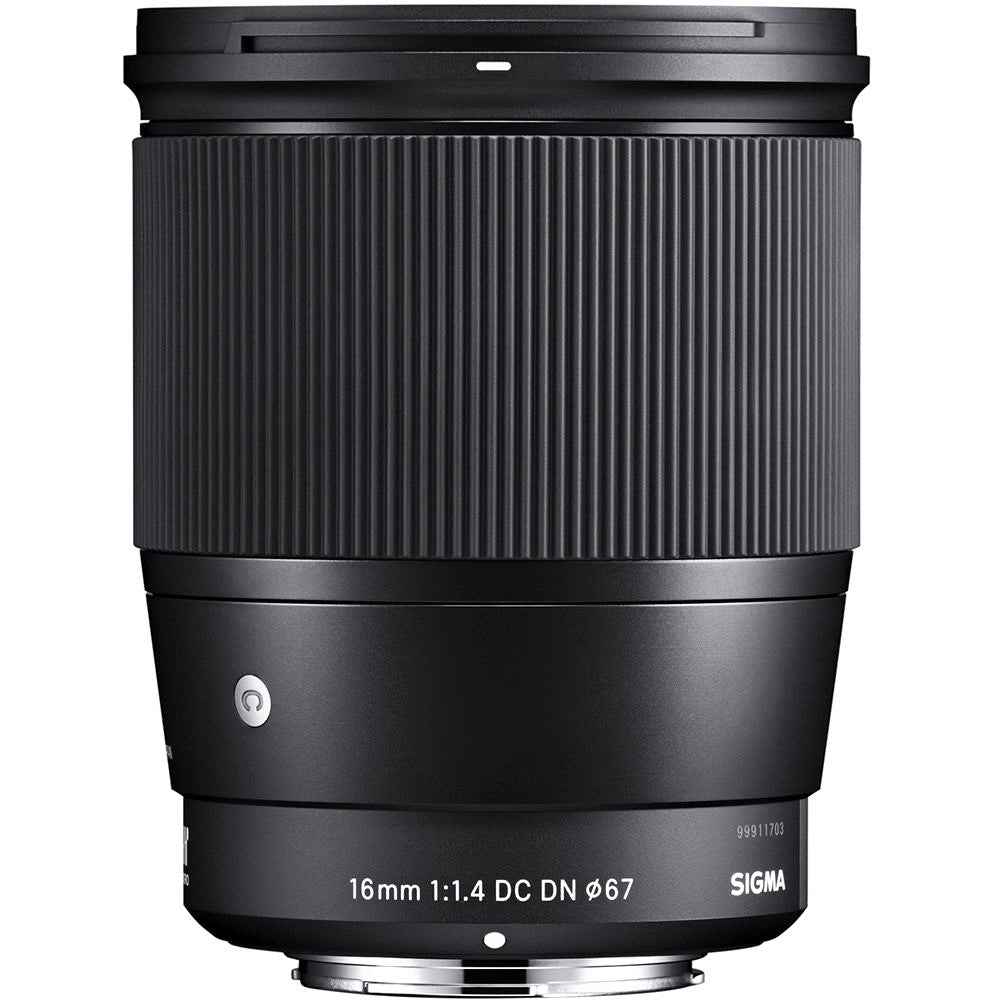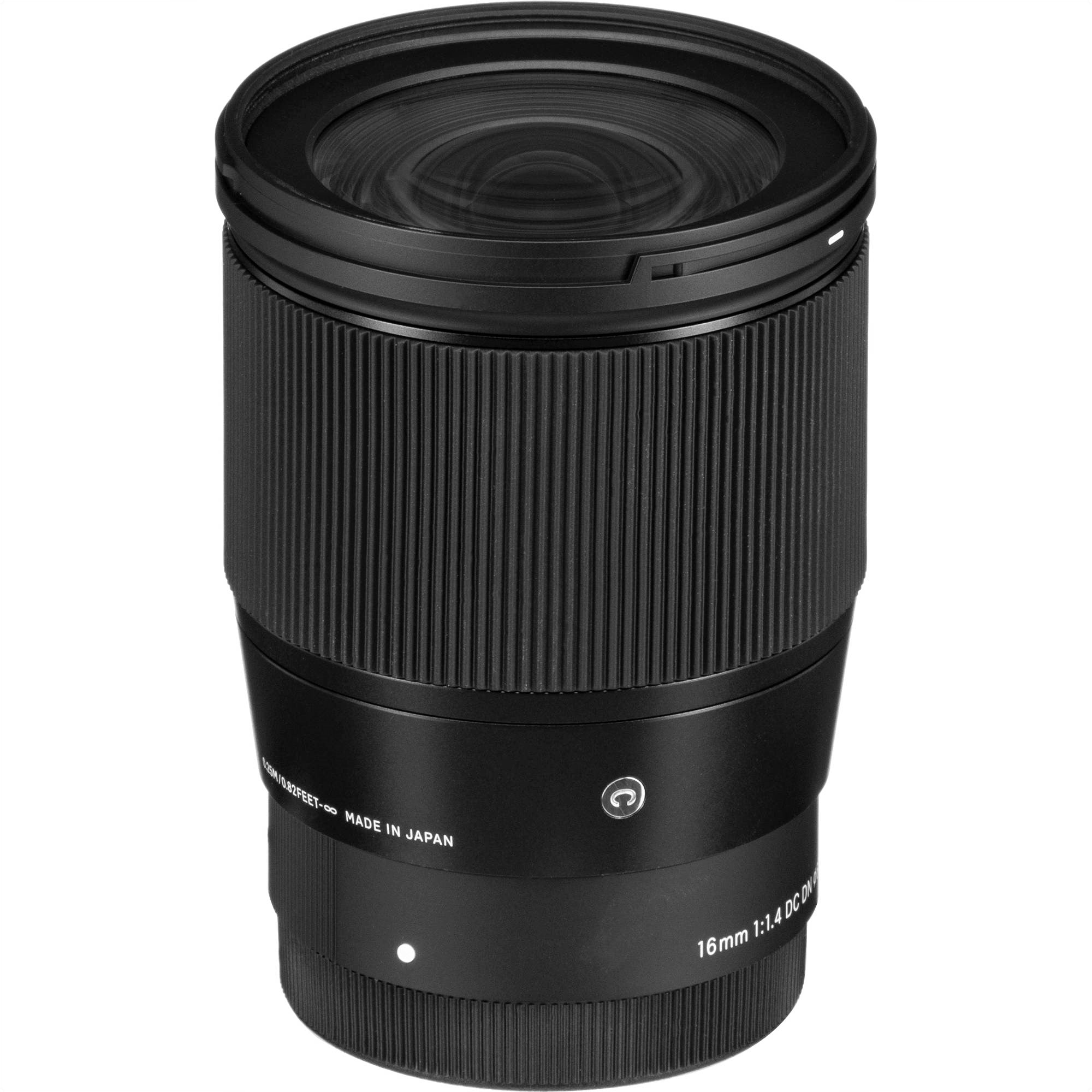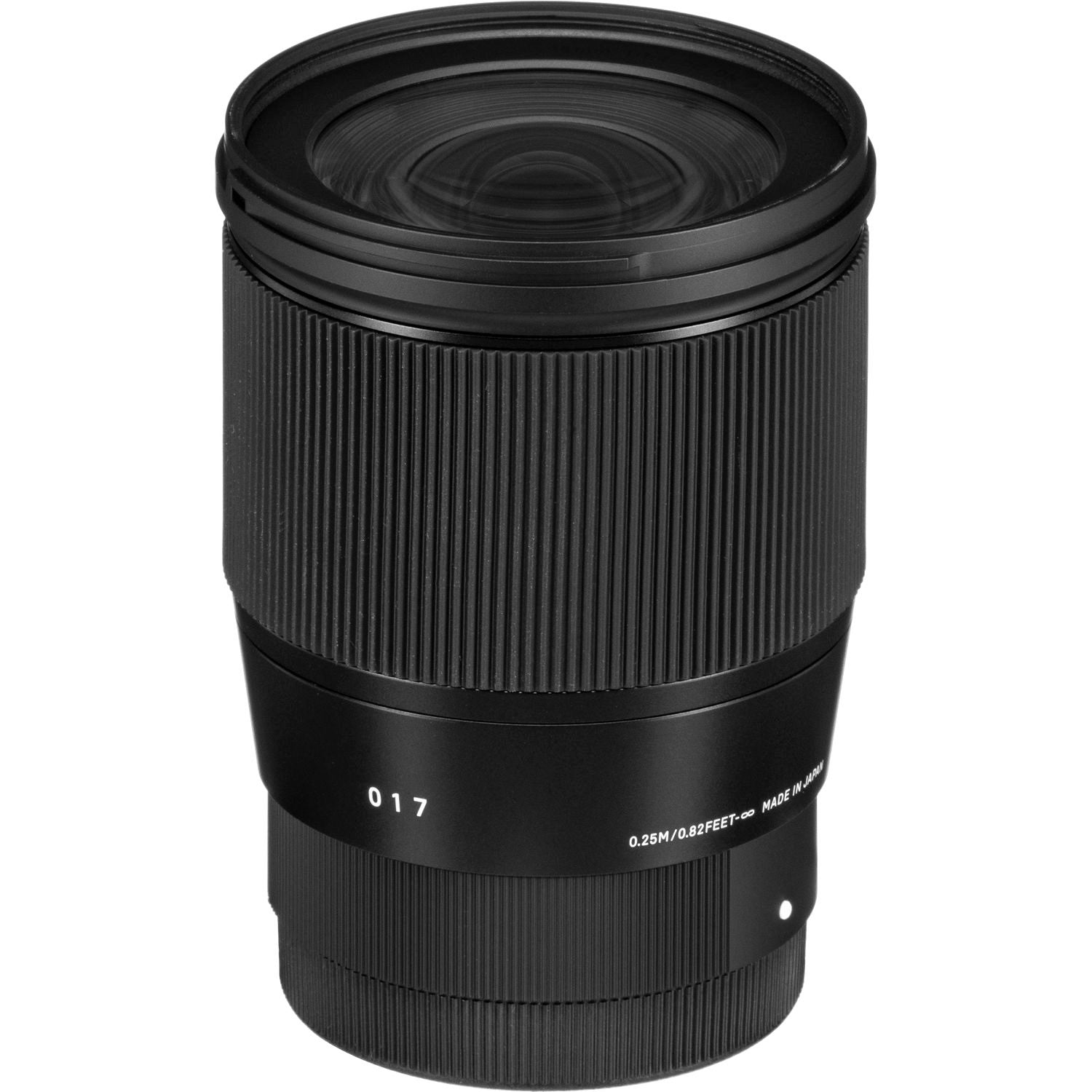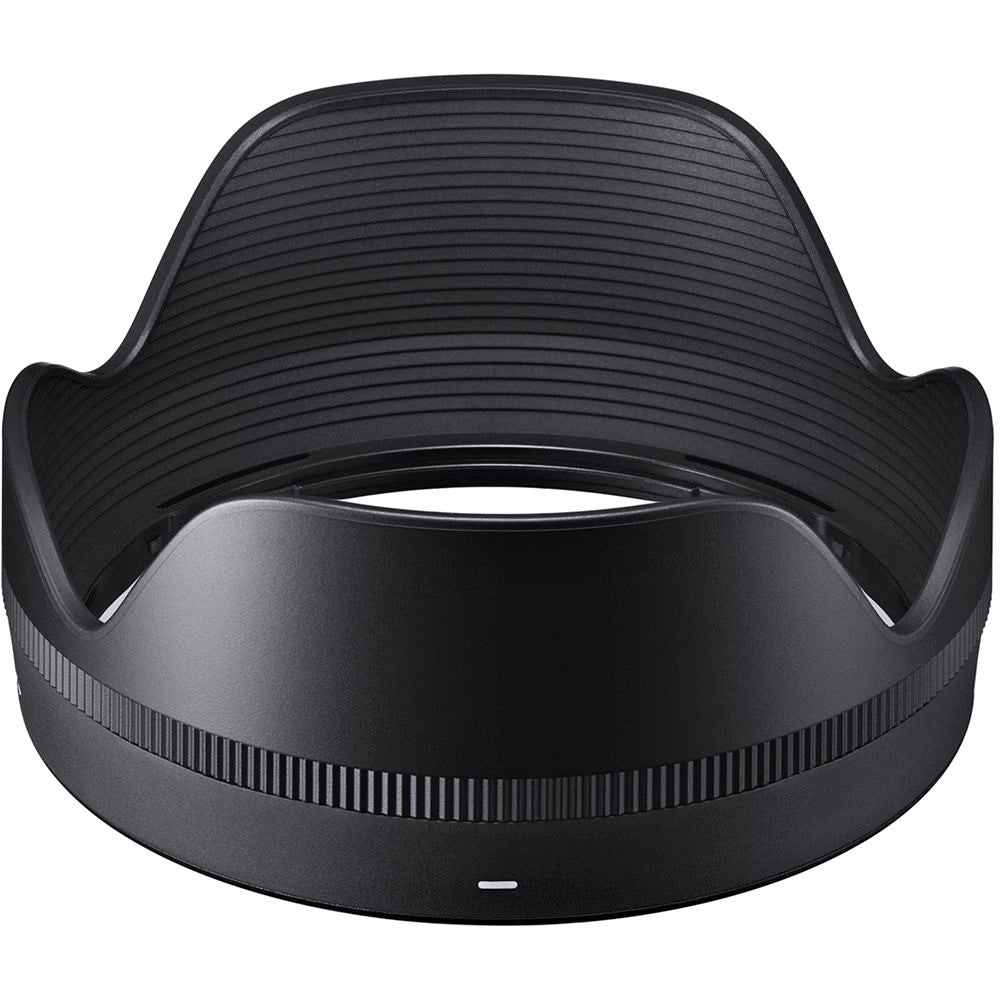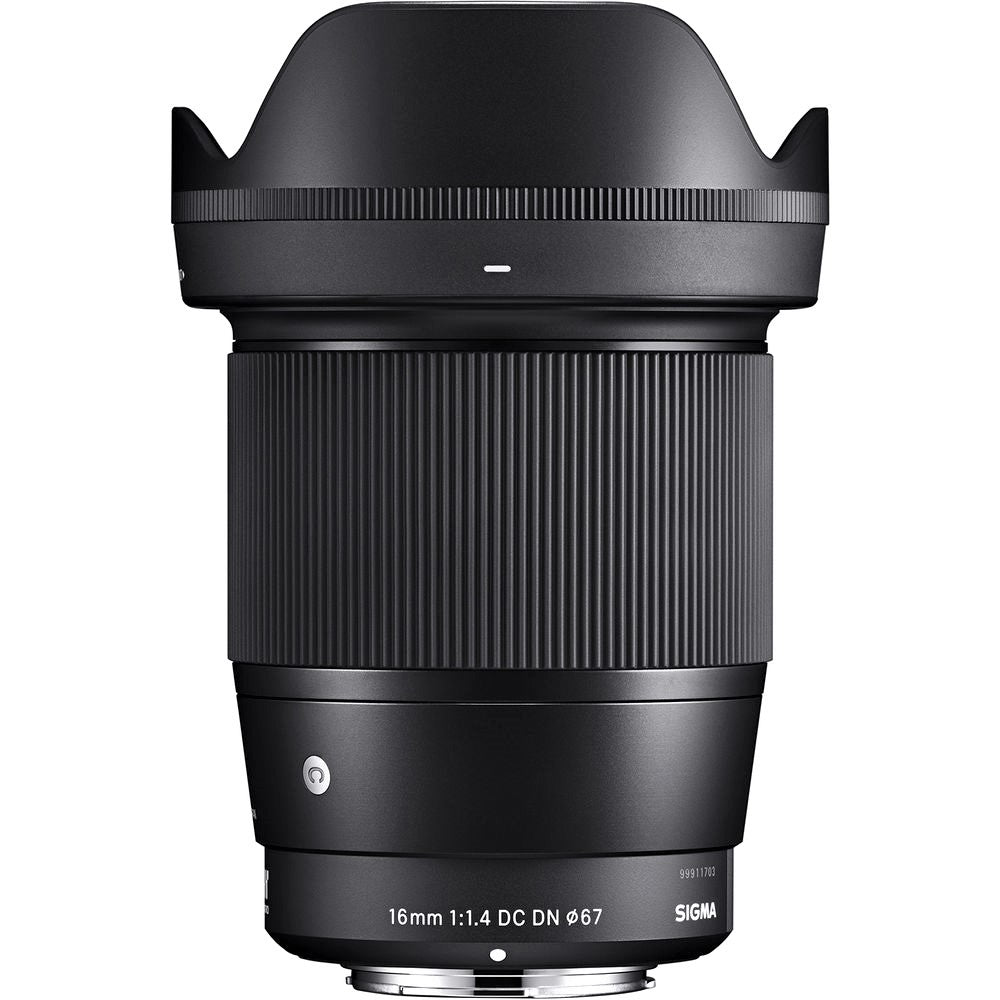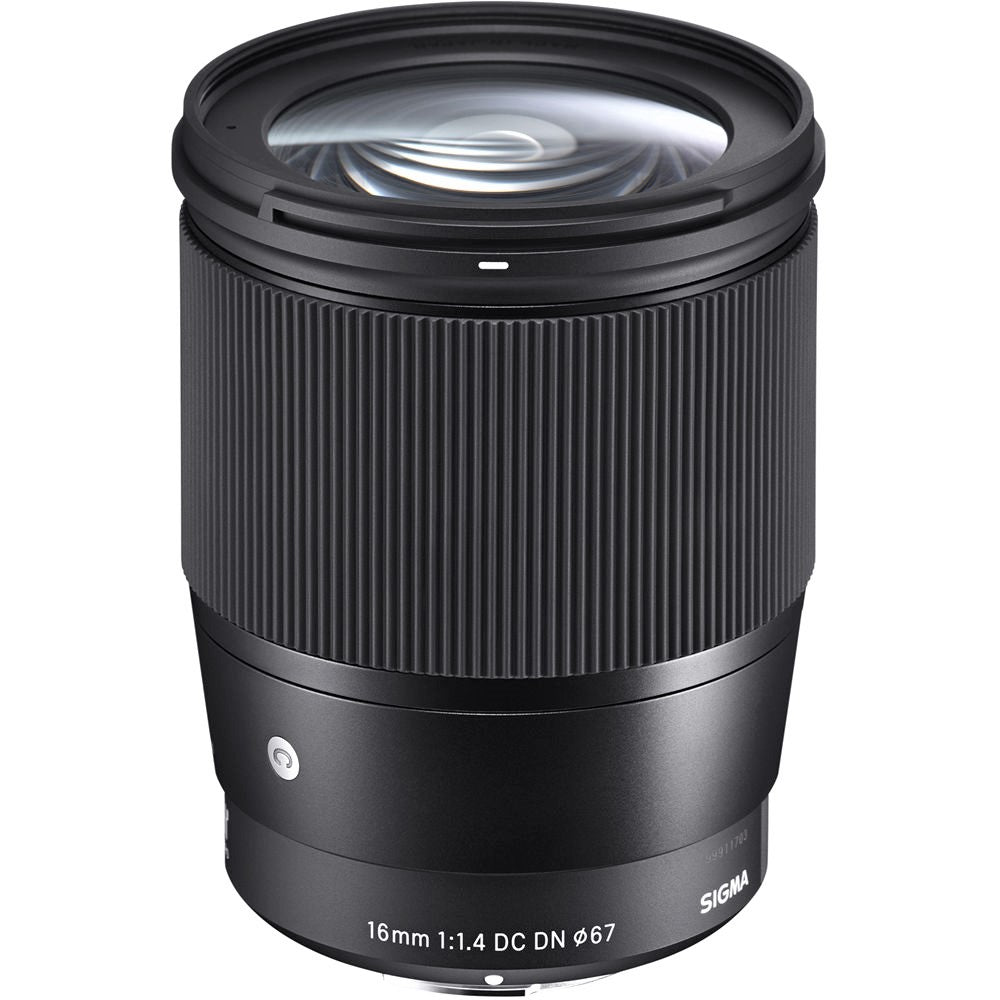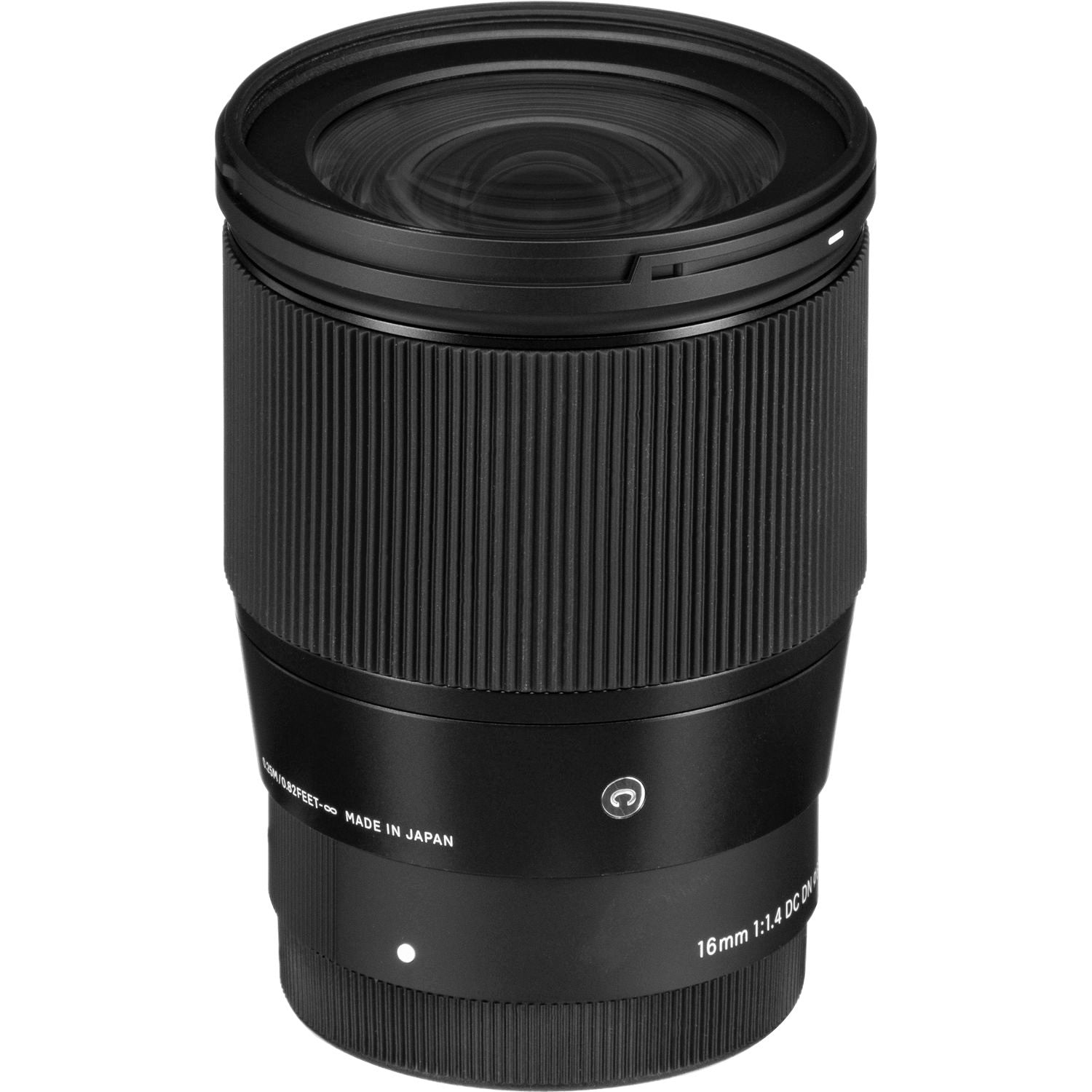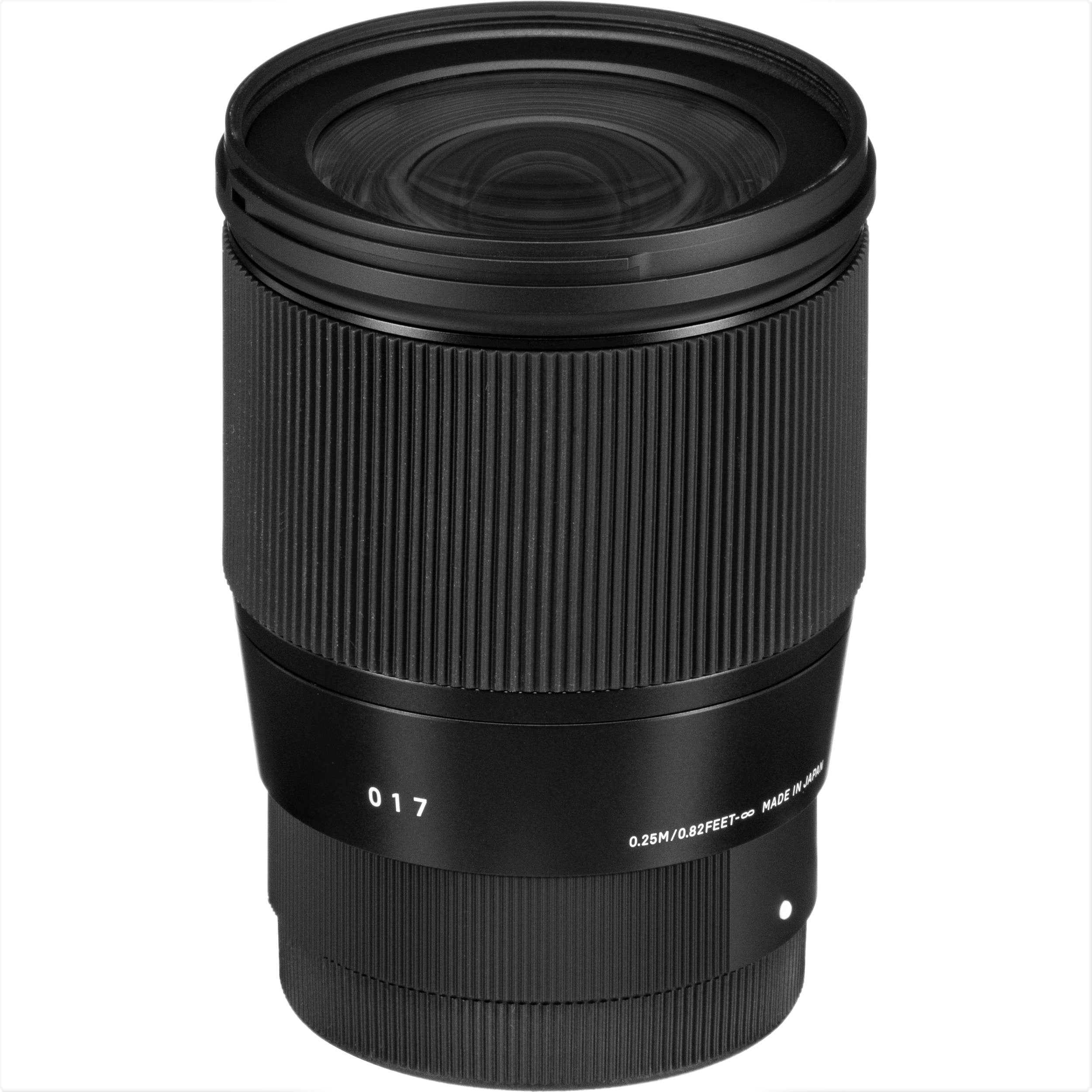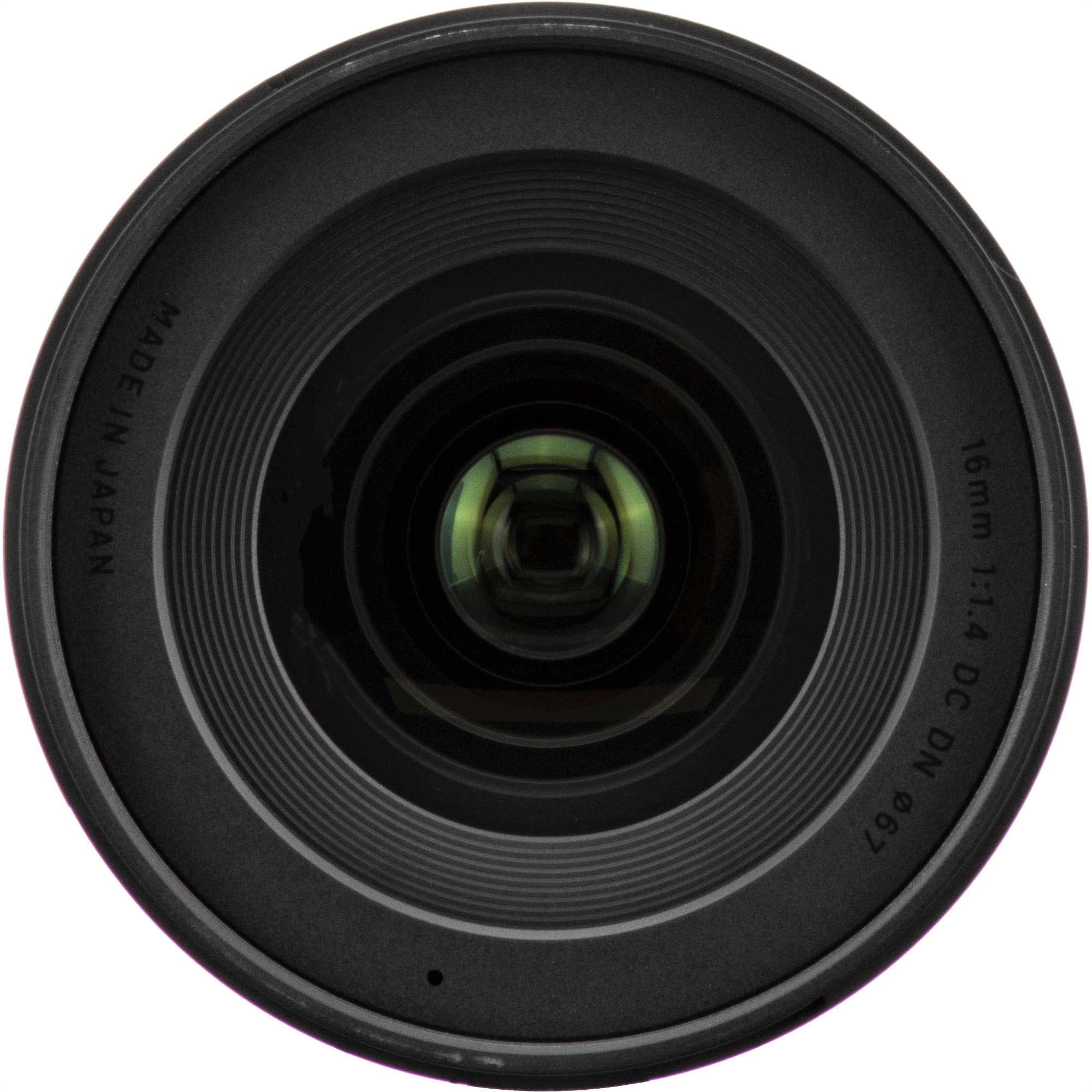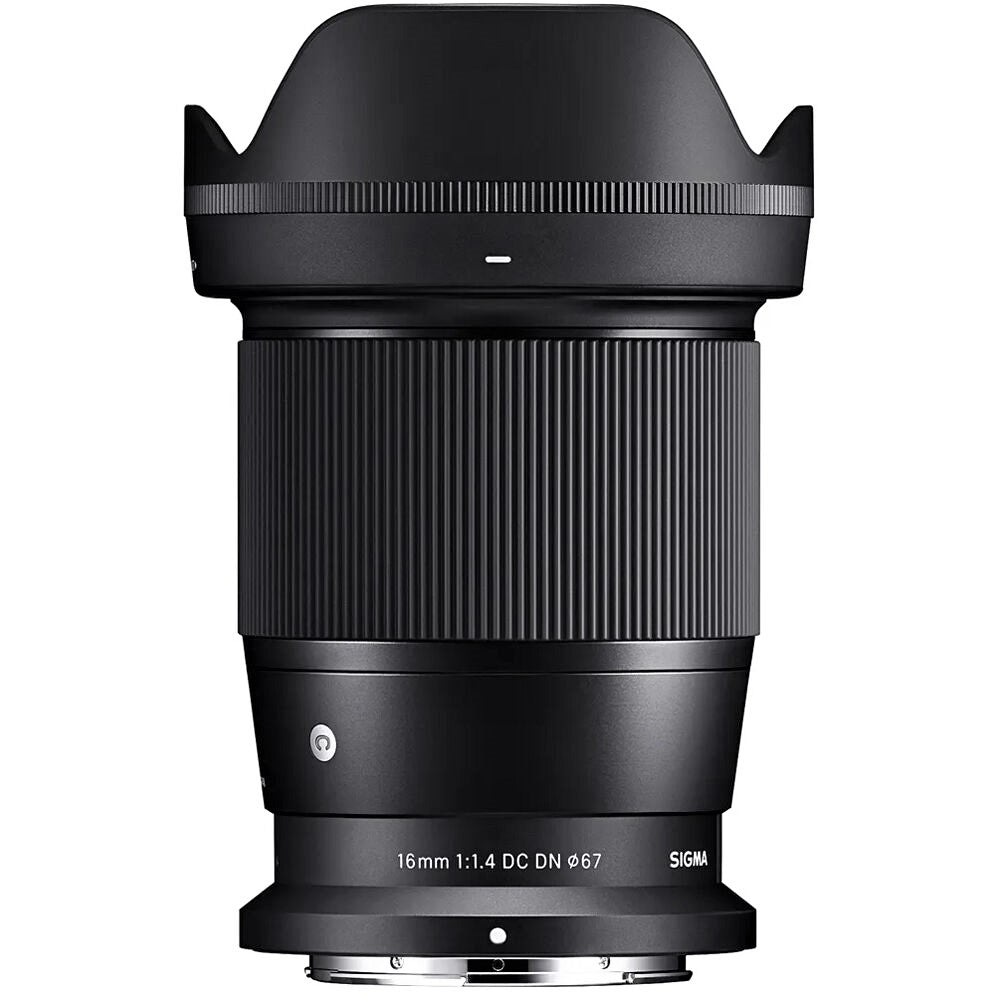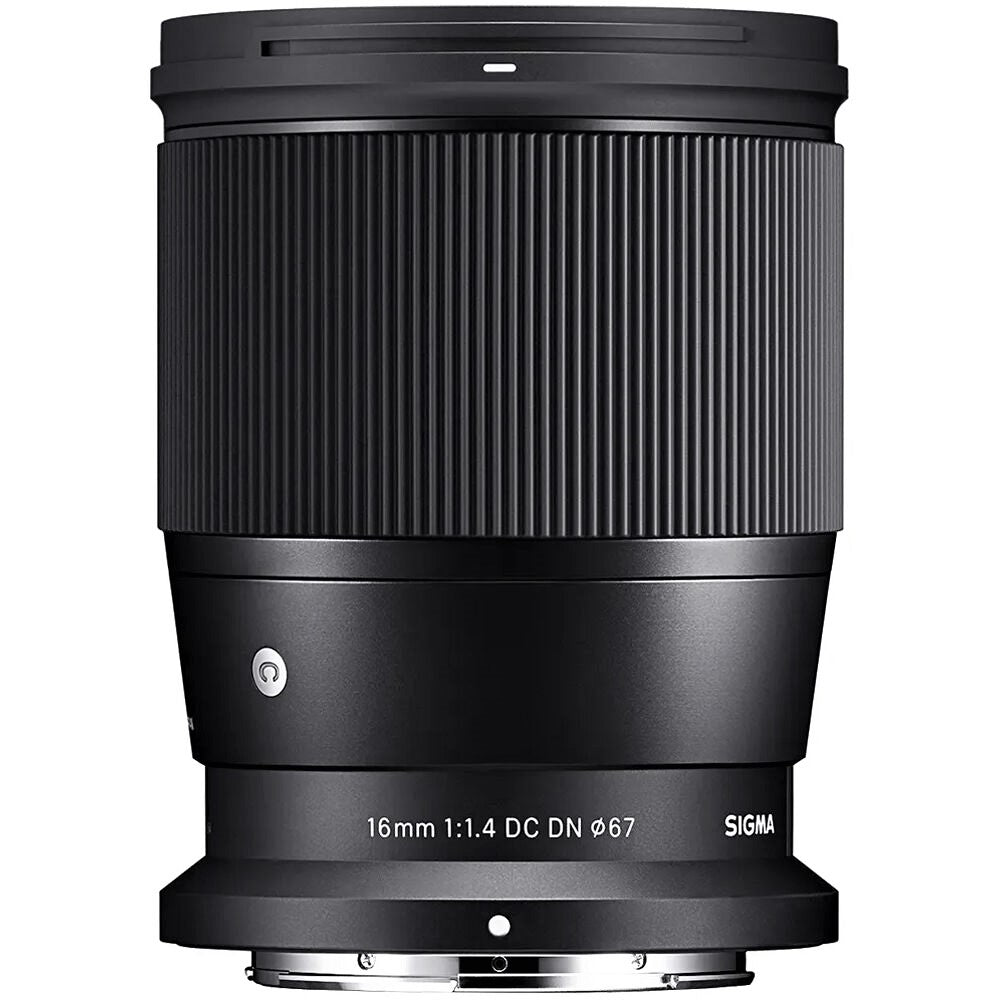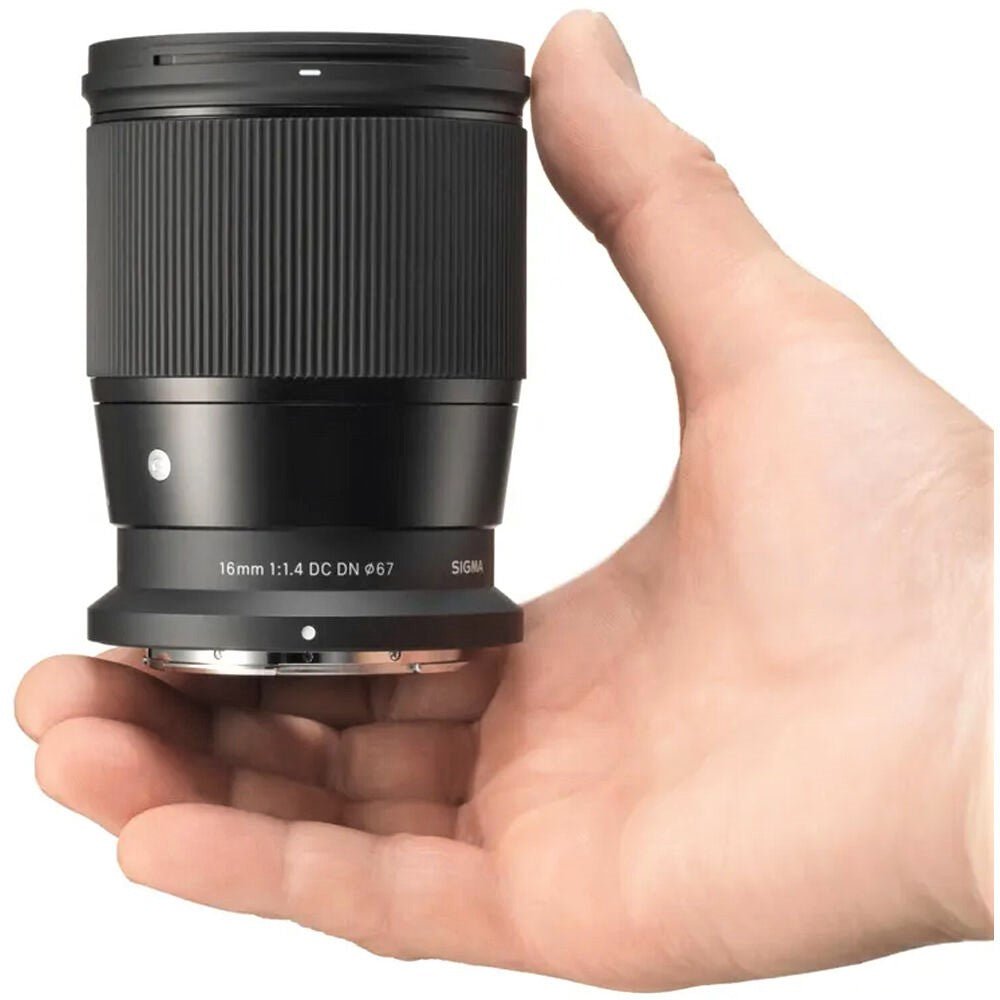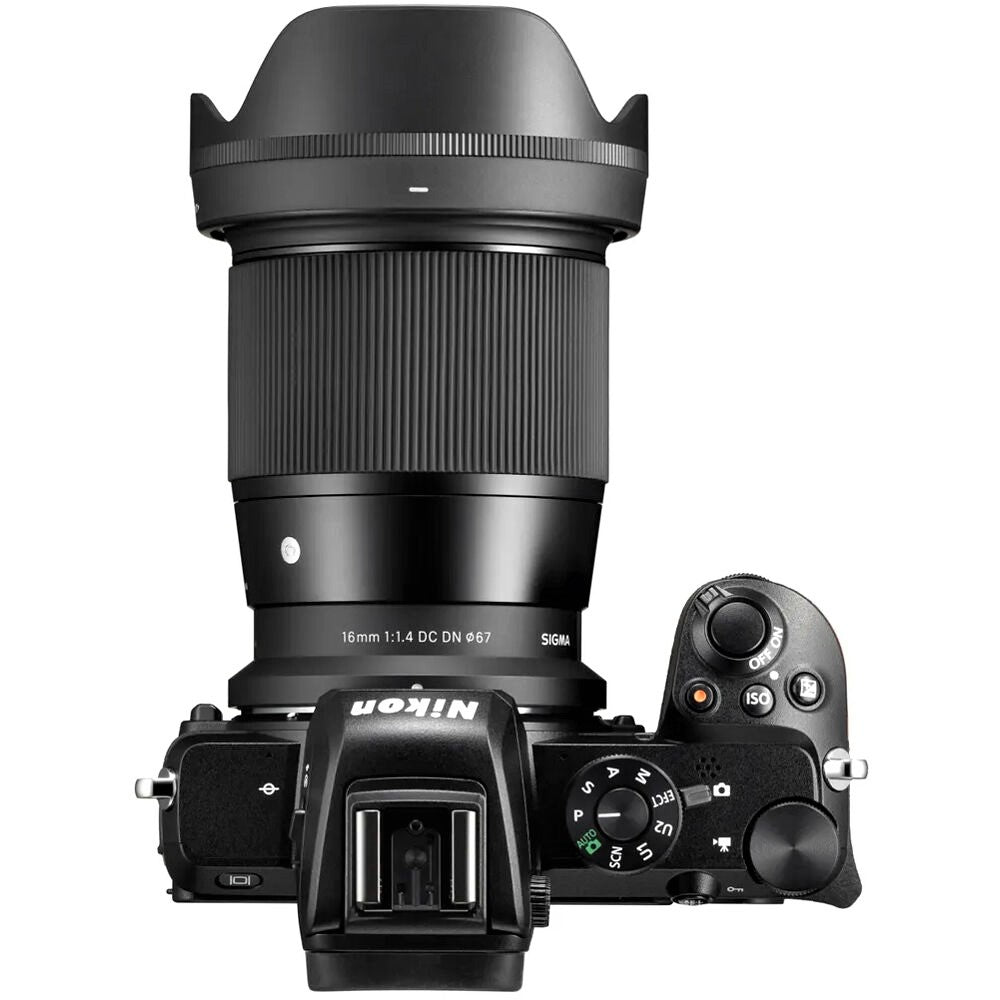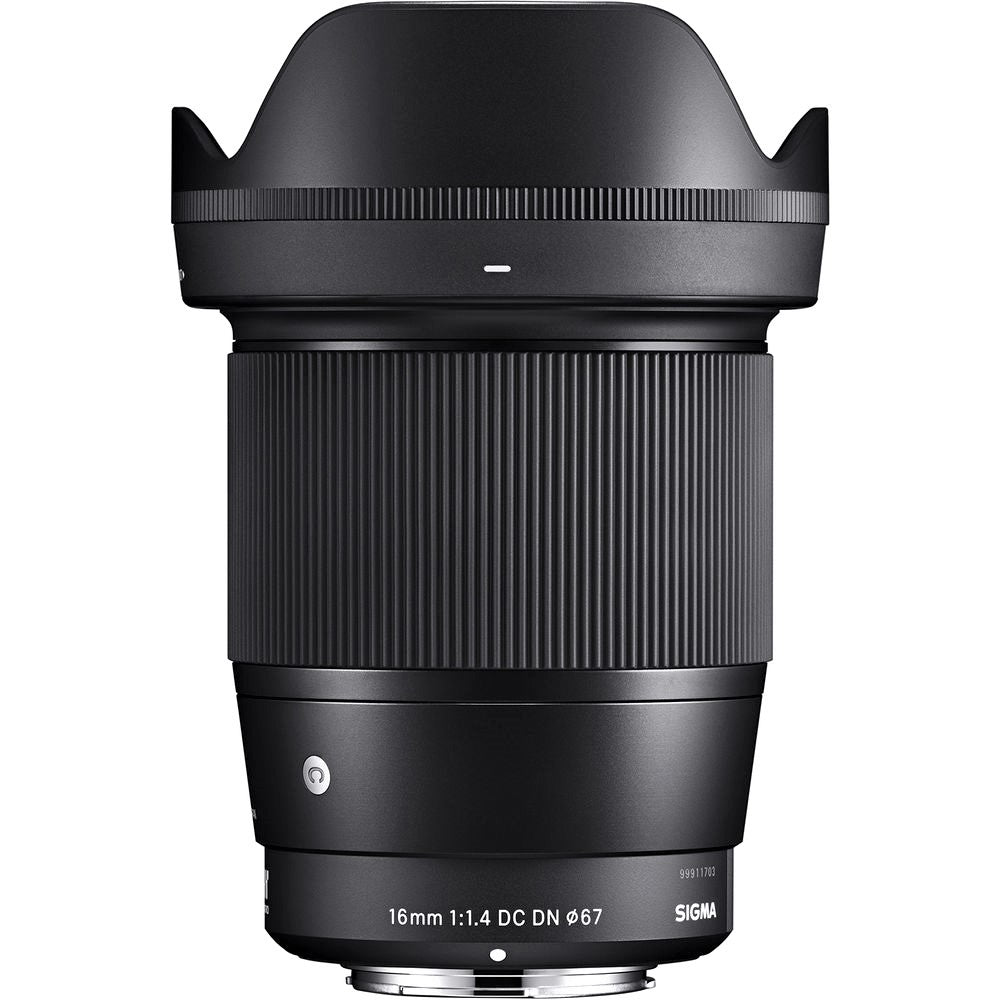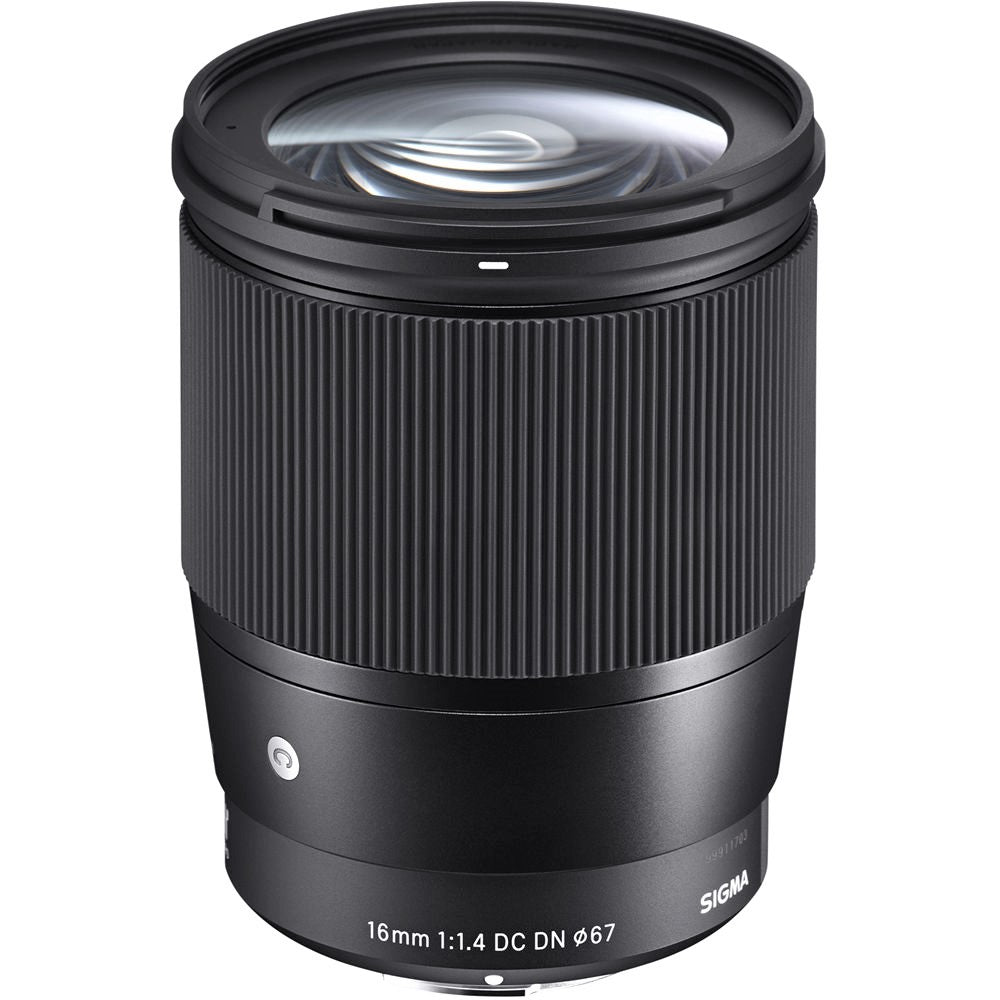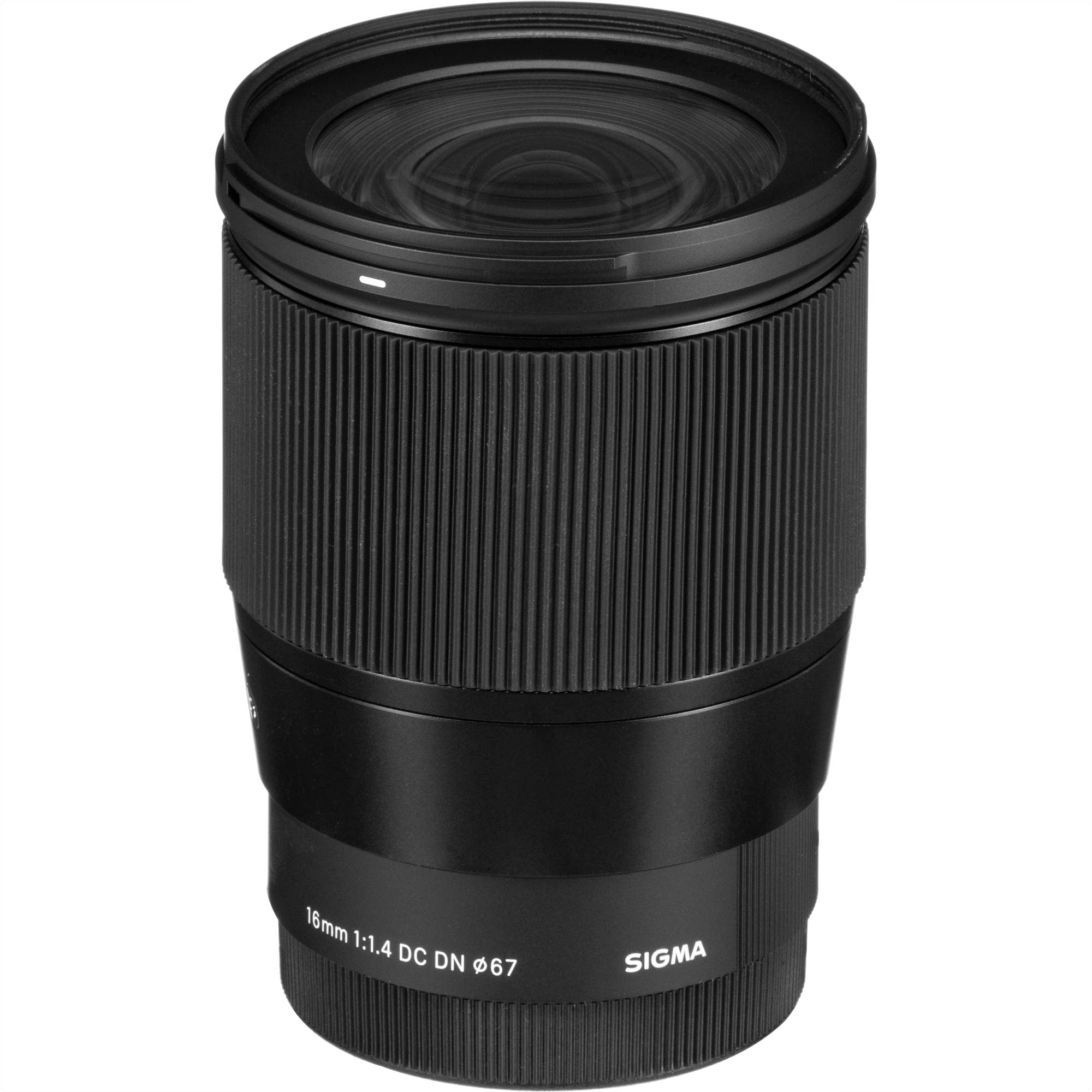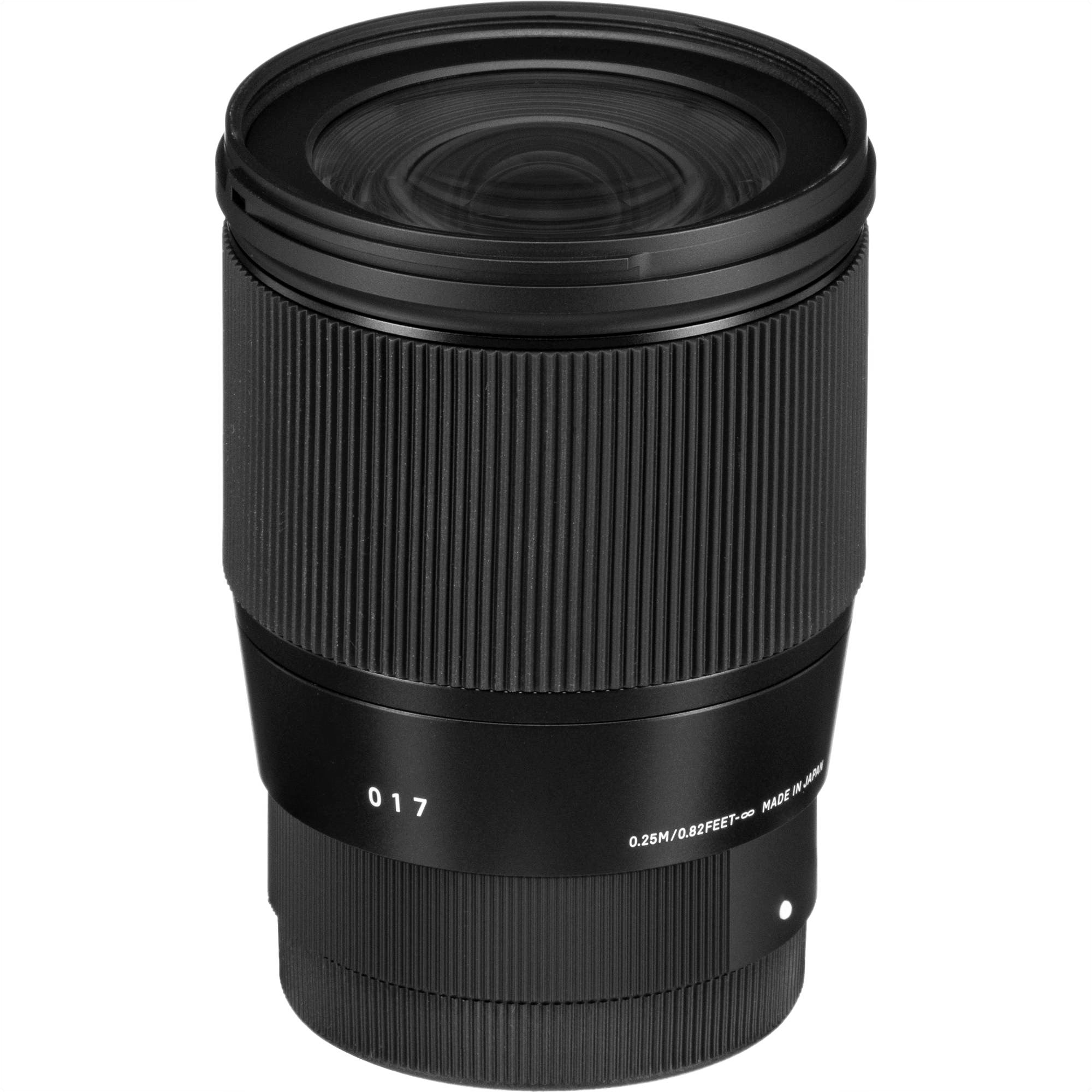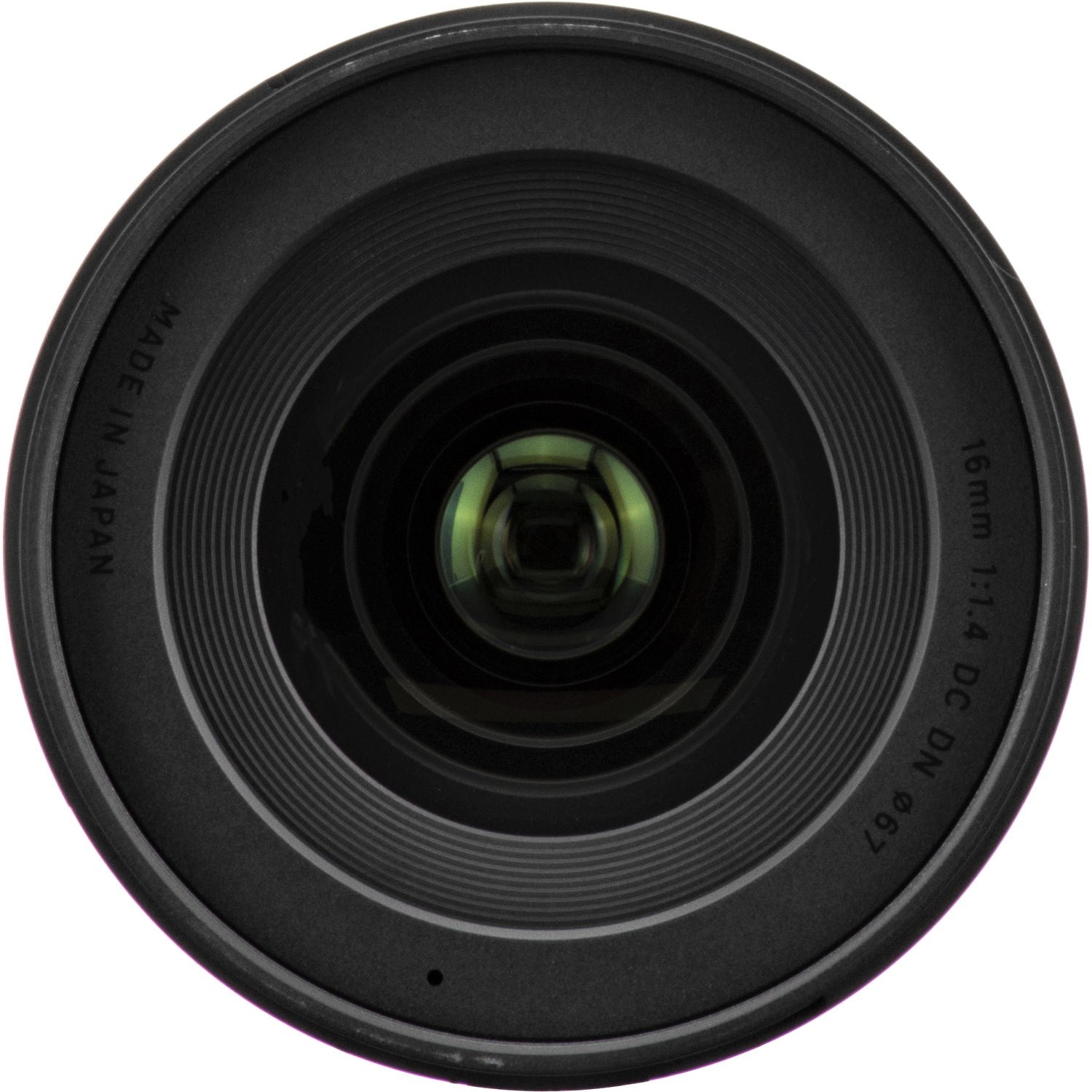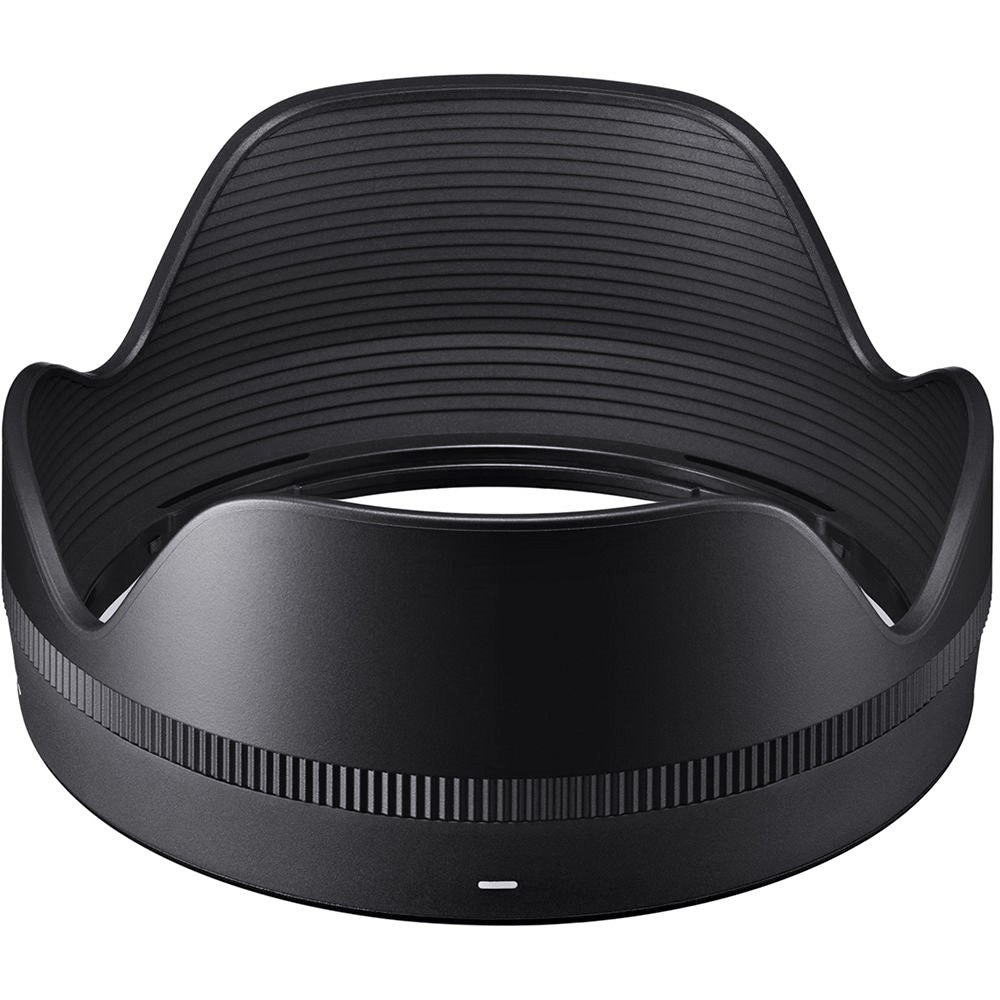 Sigma 16mm F1.4 DC DN Contemporary Lens
FREE Shipping for orders $100 above
Add $25 for 2-day expedited shipping
Ask about our Refer a Friend Program!

Got A Question? - Ask Our Team
Blending a wide-angle perspective with an exceptionally fast aperture, the Sigma 16mm F1.4 DC DN Contemporary Lens is the world's first interchangeable lens for mirrorless Canon EF-M, Fujifilm X, Leica L, Micro Four Thirds, Nikon Z, and Sony E-mount cameras in the APS-C format to offer a 24mm focal length (35mm equivalent) and f/1.4 brightness. Adept at working in low-light conditions, this Sigma 16mm lens is characterized by its bright f/1.4 maximum aperture. It affords increased control over the depth of field, allowing for precise selective focus.
Sharing its development concept with the Sigma 30mm 1.4 lens, the Sigma 16mm 1.4 lens features a lens structure with 16 elements in 13 groups and includes the finest materials. It effectively reduces optical aberrations, providing remarkable resolution even at wider apertures and across the entire range. The optical design, combined with a precise stepping motor, delivers seamless autofocus performance, particularly beneficial for video shooting. Plus, the lens mount is equipped with special sealing, making it resistant to dust and splashes for added durability and reliability.
More details: 
The stepping motor delivers excellent autofocus with quiet performance - The optical design and stepping motor deliver smooth autofocus during video shooting. The Sigma 16mm f1 4 lens design fully accommodates the Fast Hybrid AF of Sony E-mount cameras for super-fast autofocus functionality. Using face recognition AF results in consistent autofocusing on faces, even as the subjects move.
Combining compactness with outstanding optical performance - The Sigma 16mm f 1.4 DC DN features SIGMA's inner focus technologies, while lighter lens elements in the focus lens group make possible a more compact actuator. Moreover, this lens offers outstanding stability whether the photographer is shooting handheld or has the camera placed on a surface. Structurally, the lens features materials and parts that contribute to its compact, lightweight structure.
Large lens hood (supplied) to keep out harmful rays - The lens hood cuts harmful rays that can negatively affect photographs while also minimizing reflectivity within the hood itself. The hood also features a rubber construction and a non-slip groove to make it easy to hold in a variety of shooting situations.
High-precision, rugged brass bayonet mount - The brass mount combines high precision with rugged construction. Its treated surfaces and enhanced strength contribute to the exceptional durability of the lens.
Mount with Dust and Splash Resistant Structure - The mount features a special sealing* for a dust and splash-resistant structure to make the lens an excellent choice in a wide variety of conditions. *Except for Sigma 16mm f1 4 Canon EF-M.
Designed to minimize flare and ghosting - SIGMA's Super Multi-Layer Coating reduces flare and ghosting to help photographers produce sharp and high-contrast images even in backlit conditions. The included lens hood can be attached to block out extraneous light, which can have a negative effect on rendering performance.
Rounded diaphragm - The 9-blade rounded diaphragm creates an attractive blur in the out-of-focus areas of the image.
Compatible with Canon EF-M, Fujifilm X, Leica L, Micro Four Thirds, Nikon Z, & Sony E-Mount Cameras

APS-C - f/1.4 to f/16
25.6mm (Full-Frame Equivalent)
Flare and Ghost Reduction
Rounded 9-Blade Diaphragm
Stepping Motor AF System
Super Multi-Layer Coating
Mount with Dust and Splash Resistant Structure
Lens Construction

16 elements in 13 groups
---
Angle of View

L-Mount 83.2°
Sony E-Mount 83.2°
FUJIFILM X Mount 83.2°
Nikon Z Mount 83.2°
Micro Four Thirds Mount 68.1°
Canon EF-M Mount 79.9°
---
Number of Diaphragm Blades

9 (Rounded diaphragm)
---
Minimmum Aperture

F16

---
Minimum Focusing Distance

25cm / 9.8in.
---
Maximum Magnification Ratio

1:9.9
---
Filter Size

φ67mm
---
Dimensions (Diameter × Length)

L-Mount φ72.2mm × 90.3mm / φ2.8in. × 3.6in
Sony E-Mount φ72.2mm × 92.3mm / φ2.8in. × 3.6in
FUJIFILM X Mount φ72.2mm × 92.6mm / φ2.8in. × 3.6in
Nikon Z Mount φ72.2mm × 94.3mm / φ2.8in. × 3.7in
Micro Four Thirds Mount φ72.2mm × 91.1mm / φ2.8in. ×3.6in
Canon EF-M Mount φ72.2mm × 92.3mm / φ2.8in. × 3.6in.
*The length of a lens is measured from the filter surface to its mount.
---
Weight

L-Mount 415g / 14.6oz
Sony E-Mount 405g / 14.3oz
FUJIFILM X Mount 405g / 14.3oz
Nikon Z Mount 420g / 14.8oz
Micro Four Thirds Mount 395g / 13.9oz
Canon EF-M Mount 405g / 14.3oz
Sigma 16mm F1.4 DC DN Contemporary Lens (

Canon EF-M, Fujifilm X, Leica L, Micro Four Thirds, Nikon Z, or Sony E

)
Sigma LCR II Rear Lens Cap
Sigma LCF-67 III 67mm Lens Cap
Sigma Petal-Type Lens Hood for 16mm f/1.4 DC DN Lens
Limited Warranty
Whats in the Box?
Sigma 16mm F1.4 DC DN Contemporary Lens (

Canon EF-M, Fujifilm X, Leica L, Micro Four Thirds, Nikon Z, or Sony E

)
Sigma LCR II Rear Lens Cap
Sigma LCF-67 III 67mm Lens Cap
Sigma Petal-Type Lens Hood for 16mm f/1.4 DC DN Lens
Limited Warranty