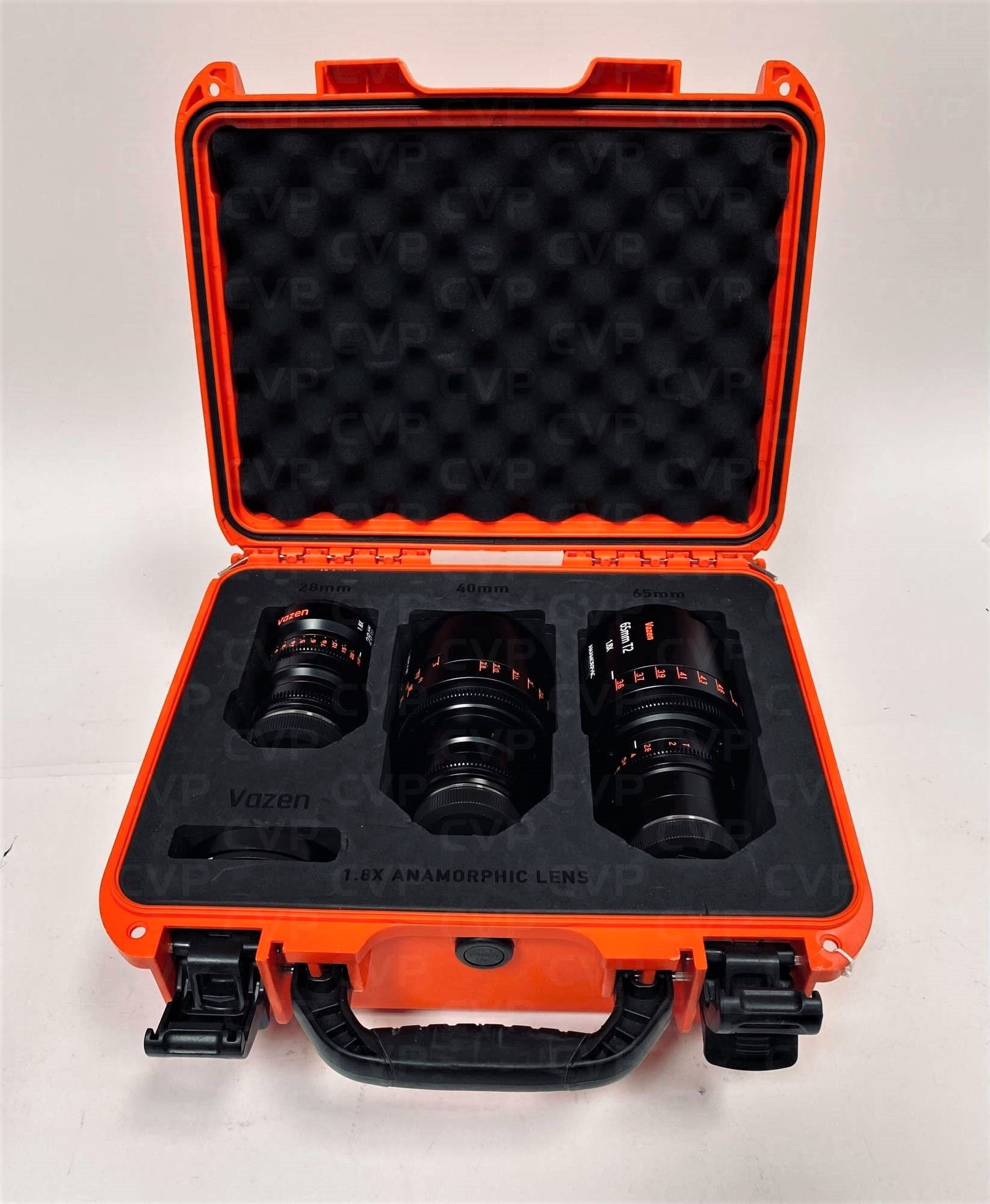 Vazen 28mm, 40mm, 65mm RF Lens Bundle with Hard Case (Blue)

Pickup available at 9420 E DoubleTree Ranch Rd #107
Usually ready in 2-4 days
Vazen 28mm, 40mm, 65mm RF Lens Bundle with Hard Case (Blue)
9420 E DoubleTree Ranch Rd #107
Pickup available, usually ready in 2-4 days
9420 E DoubleTree Ranch Rd #107
Scottsdale AZ 85258
United States
480.386.6981
Shoot Anamorphic on your RF Mount Camera and bring the Anamorphic Look to your Production with these Lenses!
The Vazen 28mm, 40mm, and 65mm RF Lens Bundle with Hard Case (Blue) produces the much sought-after oval bokeh and recognizable amber horizontal flare relatively small for anamorphic glass. It also provides consistent focus ring positions and simplifies swapping lenses, adding to the speed of your shoot. The 28mm lens has a T2.2 aperture and features a compact design, making it suitable for handheld and gimbal shooting, and the 40 and 65mm lenses feature a T2 aperture. The three lenses come in a single polymer hard case with laser-cut foam.
Vazen 28mm T2.2 1.8x Anamorphic Lens (RF Mount, Blue Flare)
This lens provides a 2.39:1 widescreen look with oval bokeh and blue flares for Micro Four-Thirds sensor cameras with a Canon RF lens mount. It provides a 1.8x anamorphic squeeze and covers Micro Four Thirds cameras like the Panasonic GH5 and the Z CAM E2 and is also compatible with the RED KOMODO in 4:3 1.8x anamorphic mode with slight vignetting visible in 6K mode at T16.
Vazen 40mm T2 1.8x Anamorphic Lens (RF Mount, Blue Flare)
This lens provides enhanced anamorphic flares and a dramatic cinematic aspect ratio to your scenes for cameras such as the RED KOMODO and Canon C70. It also offers enhanced blue flares and a soft, oval bokeh among other aberrations and provides full coverage of the MFT sensor format and covers the full height of the KOMODO sensor, meaning there is no vignetting after a 1.8x squeeze and 2.39:1 crop.
Vazen 65mm T2 1.8x Anamorphic Lens (RF Mount, Blue Flare)
This lens creates a 2.39:1 widescreen aspect ratio for cinematic imagery with the signature anamorphic look and blue flares on cameras with an RF mount. It features a front anamorphic element with a 1.8x squeeze and is suitable for use on cameras such as the Panasonic GH5, the Z CAM E2, or the Blackmagic Pocket Cinema Camera 4K and 6K.
Vazen 28mm T2.2 1.8x Anamorphic Lens (RF Mount, Blue Flare)
Anamorphic 2.39:1
Cinematic 2.39:1 widescreen look
1.8x anamorphic squeeze
Flare and Bokeh Effects
Creates blue flares and oval bokeh effects
Micro Four-Thirds Coverage
Micro Four Thirds sensor coverage
Canon RF mount
80mm Front Diameter
80mm front diameter is compatible with a wide array of matte boxes
Vazen 40mm T2 1.8x Anamorphic Lens (RF Mount, Blue Flare)
Covers 4:3 MFT sensors and full height of RED KOMODO and Canon C70
1.8x squeeze and 2.39:1 crop at 17:9 KOMODO sensor
Wide T2 to T16 aperture range
2.7' minimum focus distance
Blue color anamorphic lens flares
Vazen 65mm T2 1.8x Anamorphic Lens (RF Mount, Blue Flare)
Focus scales marked on feet
300° focus rotation
3.6' minimum focus distance for tight shots
Enhanced blue flares, oval bokeh, and other aberrations with a 1.8x anamorphic squeeze
Wide T2 to T16 aperture range
Relatively lightweight, compact form factor
Cinematic widescreen 2:39:1 aspect ratio
95mm front diameter to match other lenses in the Vazen anamorphic lineup
Front and rear lens caps and a hard case are included
Vazen 28mm T2.2 1.8x Anamorphic Lens (RF Mount, Blue Flare)
Front Cap
Rear Cap
Hard Case
Limited 3-Year Warranty
Vazen 40mm T2 1.8x Anamorphic Lens (RF Mount, Blue Flare)
Front Cap
Rear Cap
Hard Case
Limited 3-Year Warranty
Vazen 65mm T2 1.8x Anamorphic Lens (RF Mount, Blue Flare)
Front Cap
Rear Cap
Hard Case
Limited 3-Year Warranty
Hard-Shell Case