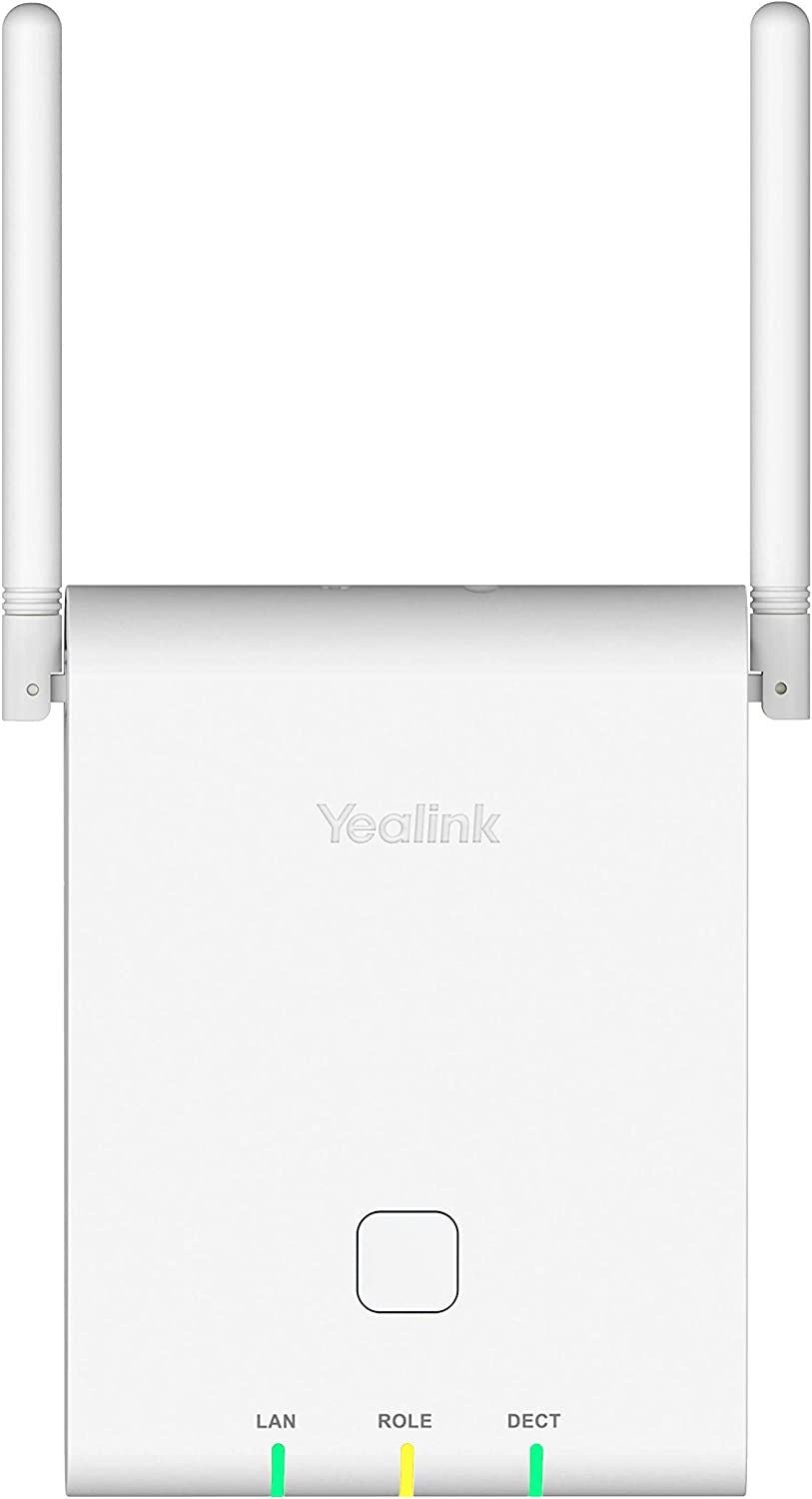 AUTHORIZED DEALER | Yealink
Yealink W90 DECT IP Multi-Cell System
Pickup available at 9420 E DoubleTree Ranch Rd #107
Usually ready in 2-4 days
Yealink W90 DECT IP Multi-Cell System
9420 E DoubleTree Ranch Rd #107
Pickup available, usually ready in 2-4 days
9420 E DoubleTree Ranch Rd #107
Scottsdale AZ 85258
United States
480.386.6981
FREE Shipping for orders $100 above
Add $25 for 2-day expedited shipping
Ask about our Refer a Friend Program!

Got A Question? - Ask Our Team
Consisting of three elements - a Virtual Integrator Manager (VIM-optional), a DECT Manager W90DM, and a base station W90B, the Yealink W90 DECT IP Multi-Cell System is designed to provide organizations who require wireless coverage with full ease of deployment. This DECT multi-cell system intends to create an extremely scalable and reliable solution for organizations of any size and shape. The VIM system supports up to 10 DM, 600 base stations, 2500 handsets, and 2500 simultaneous calls while the W90 multi-cell system supports up to 1 DM, 60 base stations, 250 handsets, and 250 simultaneous calls, which ensures one call in each handset.
The DECT phone allows you to get rid of the limited wireless signal coverage of only one base station. It can work with Yealink W53H, W56H, W59R, W57R, W73H, W78H, WH62, WH63, CP930W, CP935W and DD Phone (T54W DD Phone is not applicable to VIM system) with seamless roaming and handover of the calls, making freely mobile communication in and between each zone achievable. Both W90B and W90DM join the modern, compact design with Yealink HD voice quality that sets free your ears and gives you an elaborate audio experience.
Sync Level 1 Base Backup - Yealink W90 DECT IP Multi-Cell System supports sync Level 1 base backup. When the Level 1 base goes offline, other bases in the system can be used as the backup Level 1 base, and the backup can be completed within one minute to replace the Level 1 Base so that the system can quickly maintain normal use.
Headsets Registration - The Yealink W90 DECT IP Multi-Cell System supports the WH62/WH63 headset registration. It can be registered separately and used on W90B alone or paired with other handsets. After pairing, you can switch the handset and the headset to process the calls freely.
Seamless Stability - The rotatable external antennas ensure further signal range, industry-leading coverage, and flexible steering for complex areas, which truly saves the amount and cost of bases in deployment with industry-leading coverage. Moreover, the Lan Sync guarantees stable roaming even in poor signal transmission environments or strong signal interference like warehouses with overcrowded cargo or several iron gates.
Easy Deployment - The Yealink W90 DECT IP Multi-Cell System provides an easier and faster setup for users: the DECT Deployment Toolkit for quick base location, IP discovery tool for quickly getting IP of DM, and auto-sync level for self-organizing network without manual operation. Instead of complex steps, it takes less time from deployment to daily management for a large system.
Wide Coverage - Available for 10 DM, 600 bases, 2500 handsets, and 2500 parallel calls, the Yealink W90 DECT IP multi-cell system is tailored for large spaces and multi-locations & bases, delivering unified communication solutions, especially for warehouses, hospitals, hotels, supermarkets chains, cruises, authorized car dealerships, offices, retail formats, etc. Virtual machines and more bases will be supported in the future, boarding the coverage once more.
Full Scenarios - The Yealink W90 DECT IP Multi-Cell System supports various devices: W53H, W56H, W57R, W59R, W73H, W78H, CP930W, CP935W, DD Phone, which definitely matches different employee roles and full scenes communicating demand from mobile, desk to conference with flexible scalability.
Multiple Phone Books - Offers easy access to multiple phone books, including Local Directory, Remote Phonebook, LDAP, and XML Phonebook. Additionally, it is broadly compatible with PBX contacts.
No Perception Upgrade - You can upgrade the W73H, W78H, W57R, and W59R handsets with no perception. The upgrade of the handsets will be completed within two minutes. The channel will not be occupied during the firmware transmission, and the handsets can be used normally.
Phone
Sync over the Air and LAN (Seamless handover and roaming)
Each VIM System:

Up to 10 DM
Up to 600 base stations
Up to 2500 handsets
Up to 2500 VoIP accounts
Up to 2500 simultaneous calls
Up to 8 WB (4 active handsets) calls per base
Up to 8 NB calls per base

Each W90 Multi-Cell System

Up to 60 base stations
Up to 250 handsets
Up to 250 VoIP accounts
Up to 250 simultaneous calls
Up to 8 WB (4 active handsets) calls per base 
Up to 8 NB calls per base

Up to 2 simultaneous calls per handset
Call hold, call transfer, 3-way conference
Switching between calls
Call waiting, mute, silence, DND
Caller ID with name and number
Anonymous call, Anonymous call rejection
Call forward (always/busy/no answer)
Speed dial, voicemail, redial
Message Waiting Indication (MWI)
Music on hold (server-based)
Local phonebook for up to 100 entries per handset
Remote phonebook/LDAP/XML phonebook
Phonebook search/import/export
Call history (all/missed/placed/received)
Reset to factory, reboot
Keypad lock, emergency call
Broadsoft directory, BroadSoft call log
Broadworks feature key synchronization
Shared Call Appearance (SCA)
XML browser
IPUI registration
User access level
DM backup (W90 multi-cell system)
Management
Auto-provision via TFTP/FTP/HTTP/HTTPS/RPS
Auto-provision with PnP
Handset upgrade: OTA (Over-The-Air)
Configuration: browser/phone/auto-provision
Trace package and system log export
Audio
Full-duplex speakerphone
Hearing Aid Compatibility (HAC) compliant
DTMF
Wideband codec: Opus, AMR-WB (optional), G.722
Narrowband codec: AMR-NB (optional), PCMU(G.711μ), PCMA(G.711A), G.726, G.729, G.729A, iLBC
VAD, CNG, AGC, PLC, AJB
Network
SIP v1 (RFC2543), v2 (RFC3261)
SNTP/NTP
VLAN (802.1Q and 802.1P)
802.1x, LLDP
STUN Client (NAT Traversal)
UDP/TCP/TLS
IP assignment: static/DHCP
Support outbound proxy server backup
Security
Open VPN
Transport Layer Security (TLS1.0/TLS1.2)
HTTPS (server/client), SRTP
Digest authentication
Secure configuration file via AES encryption
Support SHA256/SHA512/SHA384
DECT
Frequency bands: 1880–1900 MHz (Europe), 1920–1930 MHz (US) 1902–1906 MHz (TH), 1910–1920 MHz (BR)
DECT Standards: CAT-iq2.0
Interface
1 x RJ45 10/100M Ethernet port
Power over Ethernet (IEEE 802.3af), Class 1
Physical
Indoor Range: 30 m-50 m (The ideal distance is 50 m)
Outdoor Range: 300 m (in ideal conditions)
Wall mountable
Three LED indicators on W90DM/W90B:

1 x LAN (Power Indicator & Network Status) LED
1 x Role LED
1 x DECT LED
External Yealink AC adapter: AC 100-240V Input and DC 5V/1.2A Output

Color: Pearl White
Dimension: 134 mm x 100 mm x 28 mm
Operating humidity: 10-95%
Operating temperature: -10 to +45 °C (+14 to 113 °F)
Storage temperature: -30 to +70 °C (-22 to +158 °F)
Package
Package contents:

W90DM/W90B
Expansion Screws
Quick Start Guide
Power Adapter (optional)

Qty/CNT: 10 PCS
Giftbox size: 158 mm x 203 mm x 63 mm
Carton meas: 420 mm x 338 mm x 167 mm
N.W: 2.8 kg
G.W: 3.4 kg